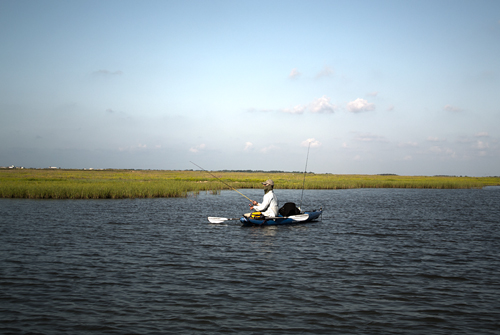 Matagorda – An all and nothing place, where there are no crowds or McDonald's.
I lay my head down to sleep Monday night, and as I sometimes do, turned on the thrift store white noise sleep machine on the table beside my bed. It's always set to beach waves, and as soon as it clicked on I realized just how fake, how like simple static it sounded compared to the last two nights with the Matagorda surf sleeping in my head.
After the whirlwind weekend trip to the coast, that didn't matter though. It was a dead man's sleep.
The one thing about salt that helps me appreciate the landlocked freshwater is … the aftermath of a salt trip. Now I grew up on the salt, and nothing else but the salt. We knew what rust was, what cleaning everything – flushing boat motors immediately, breaking down our Penn or Garcia Mitchell reels into all its simple pre ball bearing parts, and putting it all back together again for the next trip. Nowadays, if I fish 150 days a year, you can bet as few as 10 are on the salt. There is such a thing as not enough salt … in my diet anyway. What happens though is it's easy to forget what rust is, and begrudge the half-day cleanup that is mandatory for any fly, conventional, kayak wielding fisher on the Texas Gulf Coast.
And it's also easy to forget just what else the salt can bring to the fight as well. Wind, sand, grey sticky stinky mucky mud topped off with sunburns, cuts, fatigue, oyster rash, and lest I forget mosquitoes by the millions. Freshwater is a powerful solvent that washed the salt out of my memory, so that's why I have to get back to it as often as personally and economically possible.
This trip was spearheaded by none other than PFC Salas who has spent considerable time on Matagorda, to the point where he knows it like the back of his hand. The diversity of Matagorda is what should attract you to this place. That as well as the fact that we all search for "a place that hasn't been discovered yet," and although it's on the brink, Matagorda is that place. The Matagorda fisheries diversity includes extensive marsh, flats, jetties and surf fishing possibilities. Charter a boat, and you are headed for some deep sea action. Bring a kayak, and the world could be your oyster.
To give you an idea of just how "undiscovered" Matagorda is; there's no McDonald's, there's no Wal-Mart, there's no Valero, none of that stuff is in Matagorda. Just one of these missing conveniences could be enough to stop many from reading, or it could perk your interest even more. There's one convenience store that reminds me of the early days on South Padre Island (try 1966), and Andy's Sand Box – a convenience store where Andy grilled behind the long counter, sold basics, and Grandma always bought me an ice cream sandwich on the way out. It always melted before we got to the car, and I was in a little trouble for the remainder of the ride to the 3401 Gulf Boulevard house (between Campeche and Bahama).
Matagorda really does bring back memories of that more innocent time. Of course the world crossed the rubicon of "undiscovered" a long time ago, thanks mostly to technology. There was a fishing tournament going on last weekend, and there were plenty of extra people there for that event (which I knew nothing about). My first impression was that it looked primitive and completely overrun at the same time.
To be continued …
Category: Culture on the Skids, Destination Fly Fishing, Fishing Reports, Fly Fishing for Redfish, kayaking, Life Observed, Texas Gulf Coast