carp on fly guide texas fly fishing lake ray roberts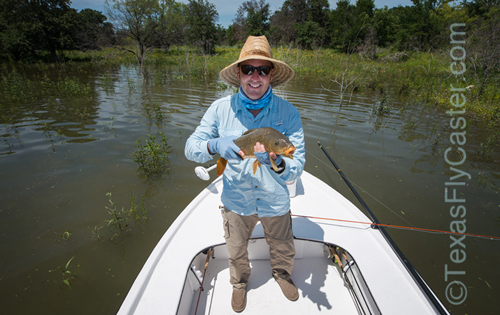 I thought I should go ahead and put out this report on my outing Tuesday … an outing with an old, old customer from way back in the BOGO days! He was willing and able to hang tough for two years, as the circumstances on Lake Ray Roberts changed, and the circumstances in my throat changed. Heck! He even had another kid in the meantime! Hats off, and thanks to Brandon Smith for his patience over all these years, and his patience today as we reached, ran, and found carp on Lake Ray Roberts.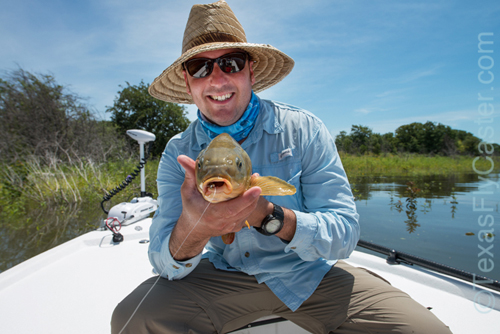 [ppw id="134517786″ description="Carp on Fly Guide" price=".10″]
Today was a day when I had to throw out what happened yesterday, and start from scratch. I saw carp yesterday, in one place, and today? they were gone. What happened? I am not sure, but it looks like a green algae has moved into areas, coves and such, of Lake Ray Roberts, and that moves the carp, and all fish – OUT.
DAMMIT JIM – I am not a scientist. It could be algae, or it could be simply pollen. When I looked at it though, it wasn't just laying on the surface as pollen does, but it is down deeper as well. It shouldn't come as any surprise with such a sudden influx of freshwater that Ray Roberts and other lakes will now be dealing with algae blooms (again this year).
Anyway, we did finally find fish, and while they did take the heavy-eyed Coyote Carp Fly (available at PoPs Fly Shop by the way), the take of the "Stupid Simple" fly was instantaneous. Clarity was the culprit. And there was little clarity around in general.
[/ppw]
Category: Fishing Reports, Flats Boats, Fly Fishing For Carp, Guides, North Texas, Technical Poling Skiffs