Sometimes the invisible alchemy that draws people into one another's orbits brushes against our personal atmospheres so directly, the result can be akin to the aurora borealis – the invisible becomes visible and manifest. And then it's gone again.
After we set up the tent for CIMARRONA, my wife's hat and wool art business, I stood back and looked at the row of tents, people working at their own pace, raising tents, placing displays, adjusting products, and that rush came upon me.
We had never been to the Edom Festival of the Arts in East Texas, and the rush was thinking about what tomorrow could bring – boom or bust, everyone or no one, rain or shine. It's the same feeling I get when hitting new water for the first time, and I just happen to hit it right. This event was on the smaller side, a perfect size to get back into the swing of things for the busy season to come.
The setup went smoothly, without a hitch, and we zipped up the tent and headed out on an evening adventure. As we were driving down the main, and only drag of Edom, we saw a friend of ours from the "Art Scene" working the street signs (No Parking) around into their proper place in front of his studio.
Ken Carpenter is a jeweler I have known for going on seventeen years. He makes some of my jewelry because he's willing to make men's jewelry – an increasing rarity these days. In this economy he's focused on the proper market – women.
We hollered at Ken and rolled off the road and onto the shoulder. We were looking for food, and Ken named a couple of places further down the road in Ben Wheeler, Texas. As we drove up to town, we decided the place with the big open garage doors, lots of people and cars would be it – The Forge.
Inside The Forge felt just like any great indoor-outdoor eatery you would find in the Texas Hill Country. Rusted tin, rough cedar, and rough people mingled with the smoothly sanded. While the menu had a share of the micro brews, it also had a new twist – Texas Micro Distilleries. Yes, how about Texas bourbon, gin and vodka? Now this intrigues me, but only to the extent that I get instant headaches (headaches instantly) from these spirits, enough so that I don't dabble much in them. The food, well, it was great and served in realistic amounts. Across the street from The Forge, I spotted the Flying Fish Gallery … and thought, now maybe we are onto something.
As I surveyed every inch of the place, my eyes set upon a poster, "Hog Fest" were the words that stood out. Now, for me, being from the jaded DFW messtroplex, I assumed they were talking about Harley Davidsons.
Boy, was I wrong. Apparently, we had landed smack dab in the middle of the feral hog capital of Texas, although I am sure that's open for debate. Anyway, this coming weekend there's a wild hog parade, complete with a wild hog parade queen, snouts for parade goers, and festivities for everyone's "taste."
If you know your geography, you know that Ben Wheeler is neither in the Texas Hill Country, nor deep set in the Texas Pinywoods. It lies only about a hundred miles east-southeast of Dallas, on an easy drive that edges into the pines without you being swallowed by them.
The one thing I have always noticed about this part of the State of Texas is all the water people think they have to have. Ponds, everywhere ponds. Their sizes vary, but their appearance never does; fishy, very very fishy. I don't see any coincidence with the Texas Freshwater Fishery being in Athens, Texas. My head was on a swivel as we we headed toward Edom and later Ben Wheeler, but I didn't see any hand painted signs inviting me in to fish anywhere. I am glad they have their water, just a bit jealous perhaps.
The next day back at the Festival, we unzipped the corners of the tent and pealed back the walls wet from dew. Last night's drive back to the hotel was treacherous because we were looking at the clear air, star studded night sky all the way back. Unlike North Texas, the morning dew was probably drinkable.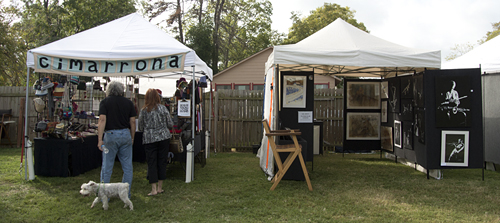 Tent ready, merchandise ready, we're ready, and the waves of people filter in and around, like looking at ants from high above – trying to figure out white sugar cubes. There were men and women looking at the "Angler" hat, one that I designed and Cimarrona makes, and I demonstrated how it works, and added my own true stories about how warm they are when fly fishing in the cold … yada, yada yada.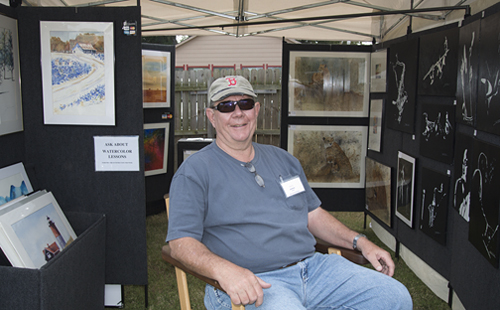 Jim Koukl and his art at Edom Festival of the Arts. He's a jazz lover, and has a series of black-and-white paintings of jazz musicians.
When it slowed, I kicked back in my director's chair in the back of the booth, and from my left, at three arm's length, I hear, "Did I hear you say you fly fish?" I admitted it. To which this big guy in sunglasses, (kicking back in his booth the same) says, "I used to be an Orvis Guide."
Out here in Edom, Texas, at the Edom Festival of the Arts, Cimarrona booth planted randomly next to Artist James Koukl's booth. Imagine that. My attention became undivided.
If you want to meet someone with a colorful life, look no further. Dr. Koukl is an associate professor of biology at the University of Texas Tyler. He flew medi-vacs in Vietnam, has had all kinds of life adventures in between, is an artist, and now tells me he used to guide out of the Jones Creek Orvis endorsed fly shop back in the late 1990's. Not only that, there used to be not one, but TWO fly shops in Tyler, Texas, at one time (Back Country being the other). Knock me over with a partridge feather.
And Jim is still going hard at it. In fact he had just returned from Broken Bow, where he guided, and showed me the sows (he caught five brooders) he caught there recently. They were as big, if not bigger than any rainbow I've ever seen from Broken Bow. Let me repeat, five, cinco – he caught five of these monsters. I guess the hatchery thought these brooders had done their last, and decided to let them roam free (he landed five of these monsters) … for just a little while.
I was mostly amazed by the idea that of all the gin joints in the world, we ended up in this one … talking about Broken Bow, and other secrets yet to be revealed … stories to be written and fish to be caught at will, in East Texas. Combine some of the knowledge Jim was willing to share, with the hundreds, if not thousands of private ponds in this area, and all I can say is, LET'S GO!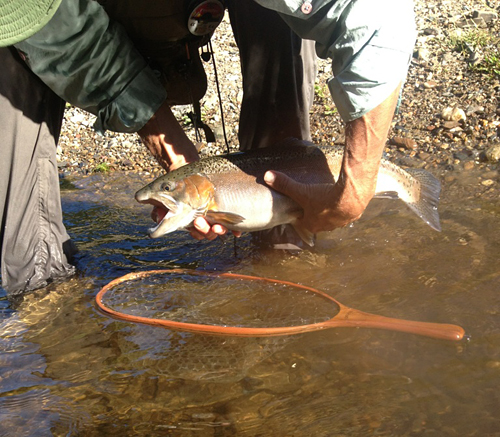 October 2012 – Rainbow Trout landed Broken Bow, Oklahoma. Courtesy – James Koukl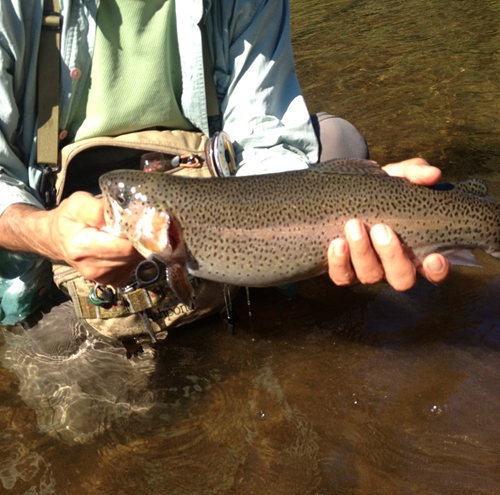 October 2012 – Rainbow Trout landed Beaver's Bend, Oklahoma. Courtesy – James Koukl
Category: Culture on the Skids, East Texas, Fishing Reports, Guides, Life Observed, Oklahoma Report, On The Road