Monday Morning Sidewalk Melting
Good Monday Morning! If you are lucky, as I am on occasion, you may be able to retreat this week, and leave the bricks laying loose on the new sidewalk, the new front porch sitting and waiting for it's shiny new custom-welded borders … the list goes on and on. And it's all outdoors. Thankfully, I am allowed to "tap-out" this week after two solid weeks of outdoor home improvements, and maybe get back to the fly side of life.
CASTING LESSONS ONGOING
I need to remind readers that if they are looking for fly rod casting lessons, we can get out early in the morning and spend a couple hours – starting from scratch, tuning up, fine tuning and maybe even moving up into the weaponry of double-hauling or the finery of dissecting a high mountain Colorado trout stream. Be sure to CONTACT ME for more details. Remember that my lessons come with a private video series that attendees can access – BEFORE – the lesson even begins!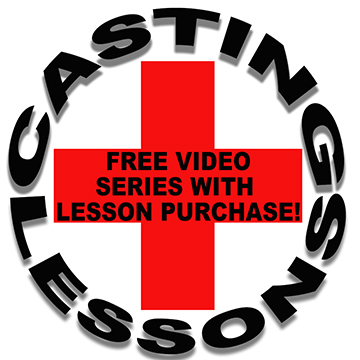 Stick around for my upcoming book review of the new ORVIS book "The ORVIS Guide to Finding Trout," by everyone's favorite Tom Rosenbauer, 2023 Lyons Press. This book, and a new TFO Signature III fly rod will go a long way toward cooling your crotch in Arkansas, or maybe someplace like Leadville, Colorado, if you prefer the west!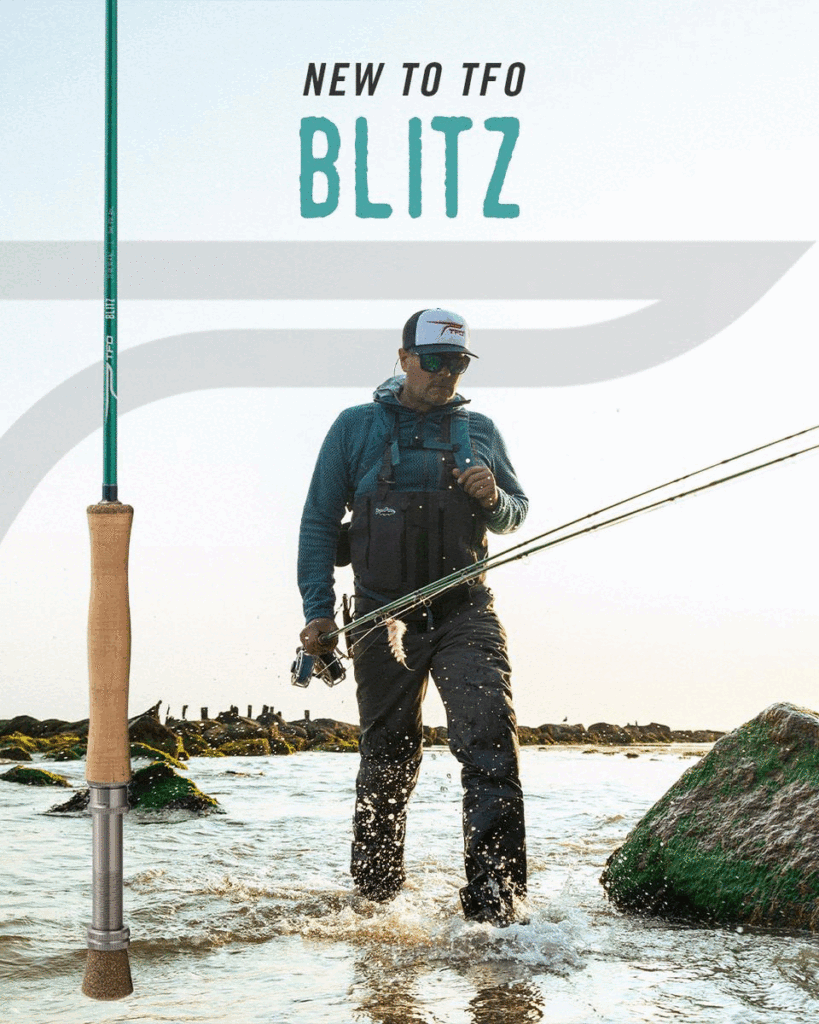 NEW TFO FLY RODS HIT THE MARKET
TFO Fly Fishing has a couple of very noteworthy new fly rod models out now, and I, for one, am wondering just how fast the new TFO Blitz could possibly be? I mean … the Axiom II-X is a virtually perfect balance of salt speed and touch, but faster is better, right? Well, TFO has placed the Blitz, at least visually in ads, as slower than the Axiom II-X, faster than the Mangroves! We'll see. The price point on the Blitz shows a lot of pride, at $429. which matches the II-X. So there is no cost decision to be made between those two. TFO is still one of the best entry point rods on the market, while the Redington Rods are coming on VERY VERY STRONG these days. I will let you know my impressions, as I continue to rebuild my lower range of fly rod weights*.
---
IN CASE YOU MISSED IT: HERE IS MY VIDEO REVIEW OF THE Redington Fly Rod Combos on YouTube. My results were very surprising to me!
---
TFO followed up the Blitz announcement with a great entry point priced Signature III rod line, ranging from $169 to $179. and this is a full ranging line of rods! The Signature III starts at a tantalizing 6' 2-weight, and runs all the way to a 9' 10-weight, all described as "Moderate" speed rods. My eyes are on the 7'-6" 3 weight for the mountains this year. *But there are a ton of holes in my fly rod quiver – after realigning for saltwater. That Signature III 3-weight would be a great start toward rebuilding. There's nothing quite like realigning the realignment is there?
TFO DISCONTINUED: The Axiom II, the Axiom II Switch, the Signature II and the TFR. Just to be sure you are paying attention: TFO, to my recollection has never announced "discontinuation" of any of their rod lines. That is new (to me at least), and noteworthy. The past model, had their aging rod lines simply fade to black with little-to-no fanfare. We all know changes at TFO Company have come pretty quickly in the last few years – in comparison speed of change in the early years of the TFO Company.
WHOLESALE FLY MATS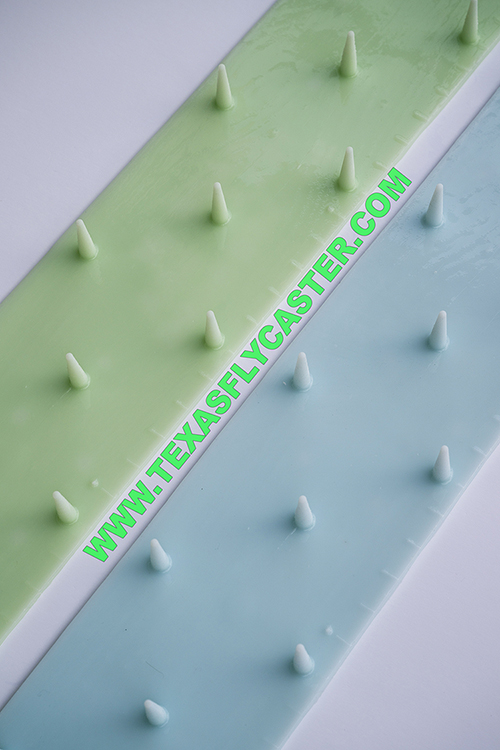 If you have a real brick-and-mortar fly shop or are dealing skiffs, and want an "add-on" accessory, my fly line mats are now in the wholesale marketplace! CONTACT ME for more information on starting a wholesale purchasing account and the paperwork will be sent to you immediately! You will be happy to know, you are still dealing with ME directly, and only me – to purchase a USA – Texas Made product. This mat is on three Continents now, and for me, a fun product to talk about, produce and sell. Custom colors are still available at no extra charge, and a brand new customization option is available for wholesale accounts!
DIRTY WATER FLY TYING EVENT
Thanks for reading this last Monday of June 2023! Be sure to hit the fly tying event tomorrow night – in Plano, Texas, and put on by Dirty Water Fly Co. The last one I attended was a PACKED HOUSE event, and it's great food and refreshments in a great location! HERE COMES JULY!!!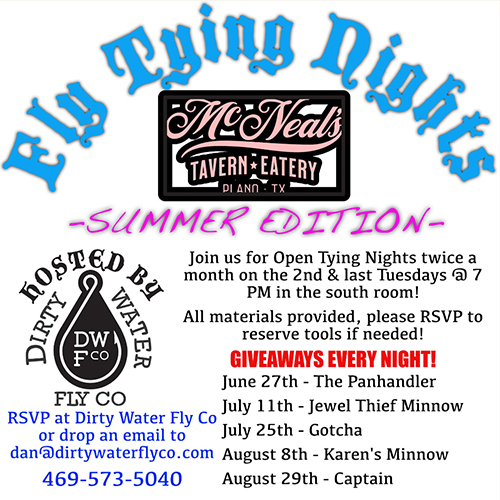 Category: Body-Mind-Soul, Book Reviews, Casting, Eating and Drinking, Equipment, Fly Fishing for Trout, Fly Rods, Fly Shops, Fly Tying, Industry