Salas and his first ever common carp caught on fly last weekend at Lake Ray Roberts.
Conditions are tough at Lake Ray Roberts if you are interested in carp, and that's mainly because we've had too much of a good thing – rain!
I am beginning to wonder if or when they are going to open up the gates at Lewisville Lake, and take that lake down. Until they do, Ray Roberts will be sitting pretty on a full lake, and hoping they will have somewhere to go with their water if the levels continue to rise.
What all this means is that the carp are up in the tall grass and new plant life, like ragweed stalks that grew up during the drought. These natural obstacles go a long way toward defending carp from good presentations, and they also give them the upper hand when hooked. I've threaded my way through more than a few dead bushes following a hooked carp as it looks for open water. The result is a comedic display of splashing hopscotch.
However, we did manage to get out last Sunday, find shelter from the wind, and finally find some carp willing and able to be cast on. They aren't running unusually big so far, but at about a three to five pound average. I did see a tail from a distance that was the largest I had seen in quite some time. And I didn't even get close.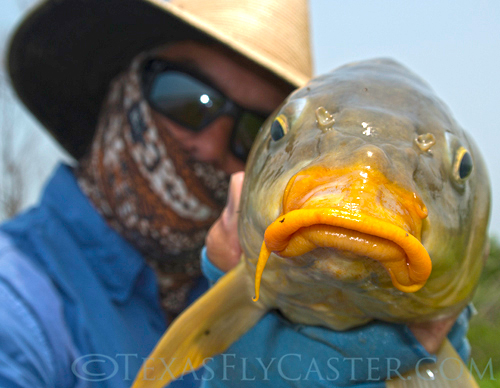 Turn that frown upside down. Lake Ray Roberts carp on fly.
Bass have me stumped again, and I am still searching for their patterns just about every day now. The main question on bass right now is WHERE?
Let me know if you've found any fish anywhere, and I will be sure to run your photos on the bottom right column where I have switched to Instagram as twitpic seems to be falling apart. The account for Instagram is … you guessed it, texasflycaster.
SALT
It looks like there will be some salt in my air next week, as I head for Galveston for some R-n-R with family. They are looking for their vacation digs for this summer, so if you know of any great locations to rent along the Gulf Coast from Galveston on down to … wherever … let me know.
I have one friend who has two houses at the San Luis Pass (SLP)- Tuck's Landing, and we will be taking a look at those. The SLP is a wild place with lots of caution necessary. The thing is, once you are on the Texas Gulf Coast the next spot, the next port, the next fishing village just doesn't seem all that far. It is Texas after all.
Category: Culture on the Skids, Fishing Reports, Fly Fishing For Carp, North Texas, Texas Gulf Coast, Texas Gulf Coast