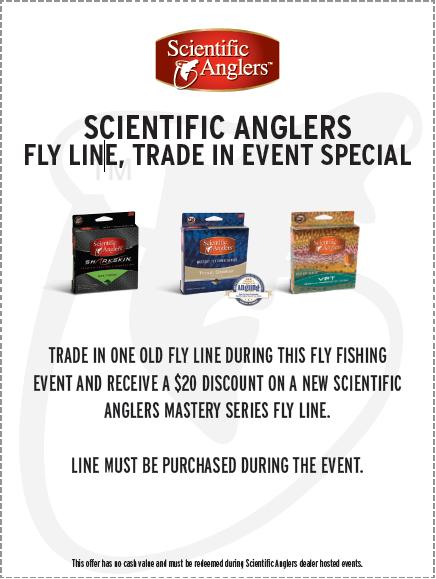 Need a new Fly Line? Well this weekend's event will help you save some money on your next line purchase!
This is how the Fly Line Trade In Program works
Promotion is only valid at this Saturday's (June 16, 2012) event.
Customers can trade in any old fly line the day of the event and receive $20.00 off the purchase of any Scientific Anglers Mastery Series fly line
That's it! Just bring in an old fly line and the coupon above to get a discount on your next one! We look forward to seeing you this Saturday!
Event Info:
Rep Day with Eric Kraimer
Eric Kraimer is our Scientific Anglers, Rainy's Flies, Buff, Ross, and Simms representative and he will be here to answer any questions you have about their products. Eric will also be giving a presentation on wet wading and will be showcasing several products that will make your summertime fishing trips even more enjoyable! Eric will be in the shop from 10:00A.M. – 3:00P.M. We look forward to seeing you here!