blue river oklahoma fly fishing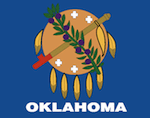 Before I knew better, I was thinking I could guide on the Blue River in Oklahoma at the catch-and-release area. I was quickly set right; the owners of that piece of the Blue River don't allow guiding there. As much as I would like to think it would be for some altruistic reason, I imagine it is actually for liability reasons. I guess my mind remembered seeing Steve Hollensed up there (I think guiding) a long time ago.
Nevertheless, I made the drive to the Blue River on Monday, and was still surprised at the number of people in the catch-and-kill area, so much so that I just drove through and drove out to the catch-and-release (c-n-r) area just off Hwy.7. I am still unfamiliar with the backroads, so I backtracked to the paved roads, hit 7, pulled in at the cattle pens and parked. There were two vehicles there, a stark contrast to the catch-and-kill area! The c-n-r area is so roomy that you could fish with this few people, and never see or know they were there.
Once I started putting everything together, I realized I had left a big bag of gear that included leaders, weight and a few other things that we consider necessary for when the trout at the Blue River c-n-r are finicky. Thankfully, a nice Oklahoma fly fisher, whose name escapes me now, was good enough to lend (I'll make it up to you somehow) a Texan one of those silky thin trout leaders. Thank you for that generosity.
I can't remember the last time I went freshwater trout fishing. I guess it has been awhile. I knew it had been awhile since I had been to the Blue's c-n-r as I trudged my way up the road to the falls at the top of the catch-and-release area. Had I known for sure that I was going to the Blue, I would've brought my bicycle. A bike is the smartest thing you can bring to this place. Ride a bike, and add about an hour to your fishing time.
TIPS FOR SUCCESS
Watch the video I slapped together, and get your a few inside tips there. The problems I didn't mention in the audio are few. The leaves are starting to fall at a faster pace, and that can foul your mends and strips, and the weather needs to be worse rather than better – as in as bad as you can possibly stand. And don't forget to try different spots in the c-n-r area because I occasionally see fly fishers "placing" fish in different runs, including behind them (up falls). The c-n-r area is also a barbless area, so don't forget to smash. Water levels were as high as I have ever seen them; I assume the aquifer is recharged, and flowing more than in the past. That part was especially refreshing. As per flies, everyone has their own opinion, brown hare's ear, brown scuds, woolly buggers … feel free to think a minute — all of these are basically fish chow colored flies, and probably appear to be a disintegrating chunk of chow when they're subsurface.
And if you want me to take you to the source of all this fun, just buy my gas and bring your bicycle!
Category: Adventure, Destination Fly Fishing, Events, Fish Podcasting, Fishing Reports, Oklahoma Report, TECHNICAL, Technique