So it is Monday, and here on South Padre Island, we have the first "blue norther" of the season. It may be blue around here, but that's not to say it's actually cold blue, or hardly "blue steel!"
Wind is the king of the Lower Laguna Madre, and that we have in abundance today, yesterday, the day before that and the day before that. What is, "abundance" you ask? Well that is a wind that can hold steady at 30, drop to 15, and not below that … for days on end. And you may say to yourself, "well what is that good for?"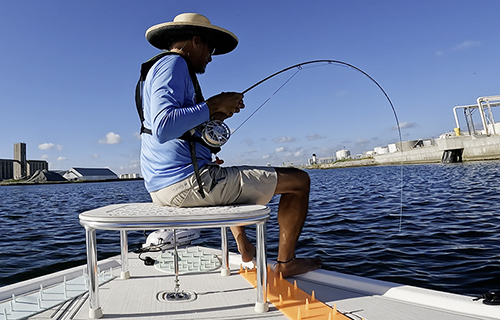 I have yet to see what the winter fly fishing season in the Lower Laguna Madre holds in the way of the action we had just a few weeks ago, but seasons always change and so must our fly mindsets going into uncharted times.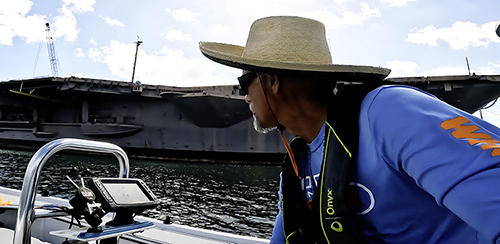 My fascination with the Brownsville Ship Channel continues, mainly because it is pretty easy to wrap a freshwater mindset around it. Structure, hideaways from wind, bait, electronics – essentially all the things a bass fisherman tracks can be called into play in the Brownsville Ship Channel. Will it still be there on this temperature dive?
If not, where does a fly fisher go to fling a fly in the face of a fish, in all this … vastness? While one voice says, "just pick up where you left off in the Channel," another says, "but there's easy escape from the wind in the Arroyo Colorado," and yet another says, "yeah, but those potholes in the Bay's grass prairie?"
Now subtract about 80-percent of your days for weather, and 10-percent for miscellaneous … the voice you hear needs to be clear enough to follow instructions, and damn the doubt. The constraints take you from a birdshot shotgun blast to a single arrow from the quiver in any given week. Accuracy of the aim, down here, is at a premium.
LAST WEEK
The thing about being in a new context, like the Ship Channel, is sometimes the simple things can still play tricks on me. For example, I swear, SWEAR, I saw schools of jack crevalle running along the open Channel concrete shoreline last week – moving in slaughter fashion at about five feet down. Yes, the Ship Channel water was that clear last week … actually it was clearer than five-feet.
But the result was none of those baby or big jacks, but the meanest of the mean ladyfish I have ever come across – these small nuisances bending my saltwater eight in a perfect U as they tried to break me under the boat. I am amazed at how abundant, and how reviled, this nuisance fish is here these days. Ladyfish are literally everywhere! Sure, they are insane fighters and jumpers that fight to the death, but in the end? They're ladyfish.
THIS WEEK
We obviously have a drastic change in the weather, with a bit of a fight coming back up off the canvas – warm winds this morning are fighting the change, and the kite board community is rejoicing in the battle. This is a world destination for kite boarders. If you know how kites work, they need wind. So take out the kites, and you have a world destination for wind. There's a sobering deduction.
We will try and fit something fly in between the wind, rain and whatever else comes this week. Winter here is something new to my memories. You can read more about that HERE. If you are a South Padre, South Texas local, and have something to add? The skiff is here, and the deck is devoid of casters other than myself. The platform is open.
Thanks for reading, and be sure to add to the conversation!
Category: Adventure, Body-Mind-Soul, Destination Fly Fishing, Fishing Reports, Fly Fishing World Destinations, Lower Laguna Madre, Saltwater Fly Fishing Texas