artistic look Beaver's Bend Oklahoma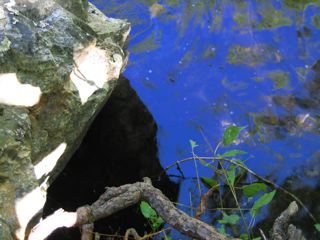 Beaver's Bend Oklahoma Fall 2008 – Photo by Leslie J. Kregel
Those who know me, and know my Significant Other, call me lucky. I would have to agree, as my skills at the mating game have proved completely useless in the past. And now LJK has picked up her own fly rod in an effort to join in on my fun. Of course it's early, so there are many chapters she has yet to write, but this one certainly brings a balanced perspective I sometimes lack. I've seen and been in some beautiful settings thanks to the fly, but wound up sitting back in my chair in the comfort of home, and thinking only of fishing and not the surroundings through which the journey passed. I need to work on that.
———–
[ppw id="92840712″ description="Fly Fishing Beavers Bend Oklahoma" price=".10″]
It was a lovely day to be walking through the Ouachita woods. Mid October in eastern Oklahoma, the skies were blue and the water was gin clear and I was doing my best to be a real fly fishing woman. I had the stuff- my fly rod, flies, spankin' new waders, clippers and nippers, my fly fishing hat, and polarized sunglasses. My husband was patiently pointing out the places that those lovely stocked gems would be hiding, demonstrating the casting moves that would bring that fly casually past the hungry trout – luring it out into the open and into the strike zone. But when the fish turned up its little fish nose at the flies I tied on- the long hike began.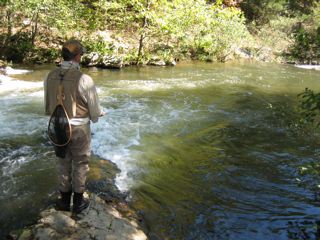 Beaver's Bend Oklahoma Fall 2008 – Photo by Leslie J. Kregel
Now I like to hike- I love it in fact. I'll hike for days, for miles, carrying fifty pounds on my back, through rain, sleet, hail and snow- and I'll keep going back for more. Somehow- the hunt for trout in Oklahoma- turned into Leslie's Hike of Humility. Although my brand spankin' new waders had fitted boots- that were my size- after the first half mile they honestly felt more like buckets on my feet than shoes. The waders themselves felt just fine when I was standing there in Cabela's- but mobility is limited to a geriatric safety walk. To complicate matters, the area was loaded with poison ivy- and I am extremely allergic to the stuff. So- put it all together now, my friends, and you see what I mean. Safety shuiffle, keep the rod tip down, climb down that bank, watch out for that poison ivy, buckets for shoes and a big brown plastic overalls… you get the picture.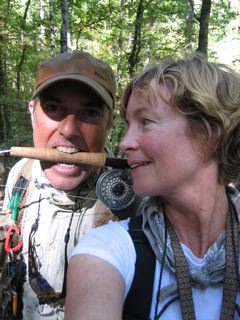 Beaver's Bend Oklahoma Fall 2008 – Photo by Leslie J. Kregel
Honestly. I think I would do fine with a little more practice. I can learn to move gracefully with buckets for shoes- and hey, brown plastic could be the new black. And even though I did not catch a single fish, I know they are out there. Ahhh, the power of the intermittent reinforcer.
– Leslie Kregel 10/08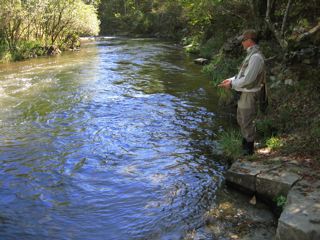 Beaver's Bend Oklahoma Fall 2008 – Photo by Leslie J. Kregel
[/ppw]
Category: Culture on the Skids, Fishing Reports, Fly Fishing for Trout, Life Observed, Oklahoma Report, On The Road, Paid Reading Content