saltwater fly fishing texas jetties fly fishing #flyfishing quintana park freeport fly fishing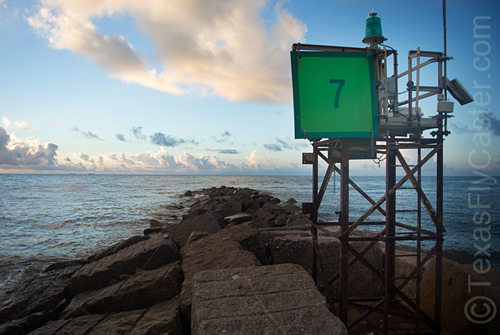 The first things I had to say about the jetties at Quintana Park, about an hour-and-a-half south of Houston, were certainly skewed by a point blank sighting of a school of marauding jack crevalle. That was three short weeks ago, and with that still in the front of my mind, I headed back to Quintana jetty (the south jetty) that bounds the channel at Freeport.
In order to beat the Houston traffic it was a 4:30-am departure that allowed an arrival just as the skies started to light up in the east. First one there, for about 30-seconds, and followed by two very nice and friendly Vietnamese fishermen. These are the regulars, same as I saw and talked with last time. These fishermen are a fantastic information resource, and fly fishers wouldn't be doing their due diligence if they didn't glean information from the regular locals.
The locals travel a bit heaver than fly fishers, and I was flying light anyway, so I was the first one out on the paved walkway (I told you this was civilized jetties fishing!) and walked straight to the end of the sidewalk where the channel marker tower is impaled on the sidewalk. Actually it was a walk-run in order to escape the swarm of young aggressive mosquitos. I later found hundreds nestled into everything in my truck, sleeping, waiting for me to get back before they lifted and attacked in cloud formation. This mosquito business is serious stuff, and without a wind (as it was again windless) the mosquitos have the distinct advantage. Yet another good reason for the wind to blow!
I had my Sage Z 10wt. ready to go in about 60 seconds. At least there were some smacks visibly working the bait on this solunar 4-Star morning, more than I saw last time on the Quintana jetties.
[ppw id="81652285″ description="Second Helping Quintana Saltwatr" price=".10″]
I started working parallel to the jetties – both ways – and fanning casts with my 10wt, a 9-foot 30-pound fluorocarbon leader, and a fly, another fly, another fly, and another … I started wondering if the 60-pound bite was giving the fly away, and cut back to the straight 30-pound leader, figuring I would add it back if a smack cut me off. Changing flies again, to a green weighted double rabbit that was immediately, cleanly cut clean off. Of course that was the only one of those I had.
Back to bait patterns, all sizes and shapes, didn't do the trick or turn the losing tide. I was beginning to think this would be a repeat of the virtual skunk of three weeks earlier.
Working his way up the jetties, casting an ultralight spinning reel, and working a surface plug, came a fisherman I easily recognized from three weeks earlier. He was working the entire jetties, walking, casting working. By the time he got to me, he was marveling at seeing a fellow fly fisher around his local jetty.
"I fly fish, but not here," he said. "What rod are you using?" I answered. "Yeah, I don't do anything that big." He went on to tell me he's local, he's retired and he's extremely befuddled by the lack of fish on this jetty. "It used to be normal to catch twenty specks a day! I don't think I've caught twenty all year this year," he said – as frustrated as anyone I have ever had the pleasure to randomly talked with.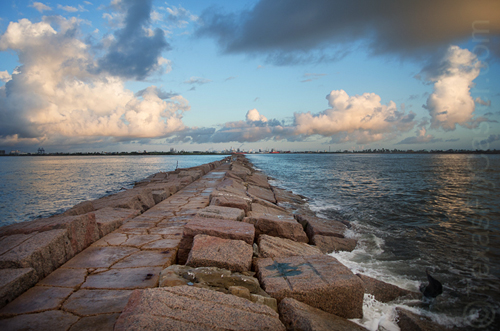 "You know, I cheat," he said. "Yeah? How's that," I replied. "I look for fishermen, not fish. If there are fishermen there, there's fish." Truer words were never spoken. My old, old adage came back to bite me, so at least something was biting. I looked back down the long jetties at the two Vietnamese fishermen, not exactly busy harvesting from the Gulf of Mexico. This quality of information makes for informed decisions about whether to stay or go. The fishermen weren't here, and there weren't many across the channel at the other jetty either. My dim bulb was beginning to shine a little brighter.
A saltwater location like this one can look absolutely fish infested, bait everywhere, nervous, occasional sightings (I saw tarpon this morning – a pod of baby tarpon and two or three 40-60 pounders), but the volume, the volume of fish just isn't here. Despite optimal conditions across the board, bait and all, I packed in this location, and called it. Two strikes at Quintana jetties, no fishermen, no catching … it was time to go.
Next time to the Houston area, you can expect extended fly fishing for flounder (that run will be on by the time I get back there) and a focus on the land cut on the Bolivar Peninsula.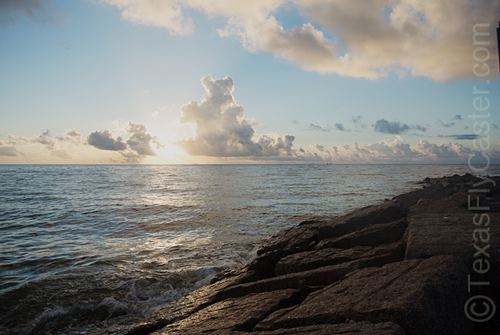 [/ppw]
Category: Adventure, Culture on the Skids, Destination Fly Fishing, Fishing Reports, Jetties Fly Fishing, Texas Gulf Coast