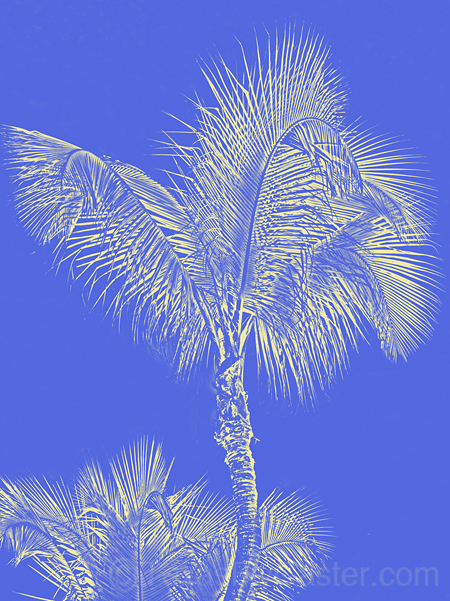 So maybe I am a little lagged after driving to Miami and back to Denton, Texas, in four, count them, four days. However, the trip to Miami, Florida, was always defined by me as a "turn and burn," and that's exactly what it was Turn and Burn.
I really can't tell what day it was, Thursday I think, that I got up extra early from the dive hotel (a Motel 6) in Fort Lauderdale and decided if I was going to see the Florida Keys, then I had to hustle out there and take myself a little gander. And so I did.
Checking out of the Motel 6, aka. abandoned Fort Knox, before sunrise, I keyed in the route to my phone's Google Maps app, and headed south, and more south, and more south followed by west, and south. Note to self: The Florida Keys are not just a hop skip and jump from Miami. It's a drive. One sign said, "Key West 140 mi." I knew my visualizations of a chain of islands in the front windshield, all connected by a fantastic bridge … all in front of me like some pearl necklace reaching beyond the horizon, well that vision was off – by more than a mile.
Not only were there none of the visions, the visibility itself was limited by Florida glade thicket that reached right to the road. A solid wall of vegetation that revealed nothing. And once I hit Key Largo, it was the same, with only brief moments opening to bridges over cuts that allowed passage of boats, gators or whatever. Currently, it was long lines of boats – like a parade moving at a respectable pace, a respectable distance apart, all with the same obvious intent – CATCH FISH. In as many different ways as differently configured boats; deep sea, flats skiffs, bay running boats … all with one focus CATCH FISH.
Between those brief moments was a long ride along a two lane one-way beach-ish road that had faded garish businesses (think Laguna Heights before Port Isabel), boat shops and various lodgings and realtors. Sidewalks hosted runners, walkers, bicycles and the tall, skinny, bearded old dude dressed up in morning drag – all white doing his best Marilyn Monroe waggle with his reusable grocery bag draped so nicely.
The strange thing, more strange than Marilyn, was that between the respective two lanes going either way, was an entire community of similar businesses, meaning the roads were barely visible to each other, and it served to arouse undue curiosity; what was over there?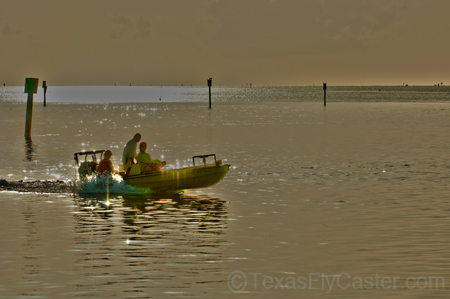 Planing out on the way to the expansive Florida fishing grounds, Islamorada, Florida.
THE END OF THE WORLD AS I KNOW IT
I knew my time would necessarily be limited, so I had to pick an end point to shut the whole adventure down, and turn back. That end point was Islamorada, Florida. I had to touch base at Islamorada before turning for home. I was quite content to turn back because other than those brief moments with peaks at locals, and the occasional business community, all the drive to that point was again concealed (from the road) in the South Florida thicket that seemed visually impenetrable.
I stopped at a spot where a larger bridge allowed for boats to pass through, and took a few pictures. To my right was the most open of waters you could imagine. To the left was the bridge and boats pulled up a short distance from the bridge with dive flags out, and divers apparently diving and resurfacing – spearfishing. Obviously it didn't matter what anything was about – everything was about fishing, one way or another.
TOMORROW – I finally get my eyes on the prize. A Mitzi Skiff at Monster Marine, and lunch at a Cuban restaurant.
Category: Adventure, Flats Boats, Life Observed, On The Road