texas drought fishing effects #flyfishing weather

North Texas, at the bullseye of a prolonged drought in its fifth year, looks like it may be getting a drop on the tongue today.
While local Central North Texas lakes are gleefully reported to be going up a foot at a time this year, many are still deep in the negative, and Western Texas is drying up and blowing away. I wouldn't be surprised to see dust storms whipped up from out west and delivered here next fall, on the edge of cool fronts, or in any direction anytime the wind chooses to blow. And the wind does blow out west, doesn't it?
One talking weatherhead had a simply profound statement that stuck with me, "It hasn't rained when it's supposed to rain," so that bodes ill for the dry season.
Based on where it has been raining, I think the trip south to Honey Creek, Northwest of San Antonio and near the Guadalupe, may be an eye-opener … to see green plants on moist soil and waters at capacity, actually flowing rivers and creeks? The wonder of it all. It certainly has the potential to be the right place at the right time.
THE HAVES THE HAVE NOTS
If you do take the time to enlarge the maps below (click), they'll reveal some interesting FACTS. The amount of area that was NOT suffering from the Texas drought has actually increased in the last year, while the amount of area that HAS BEEN suffering from the worst level of drought (I call it Epic) has increased too – in fact doubled. So we can deduce that the lines that separate Texas into extreme and no drought are getting a lot closer together. A few miles in one direction, or the other, can mean drastic differences in fishable waters.
And if you're planning a summertime trip to fly fish in the USA, the National map tells the story for you – head east.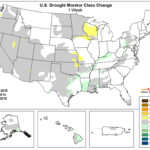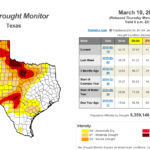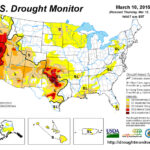 Category: Causes, On The Road, Science and Environmental