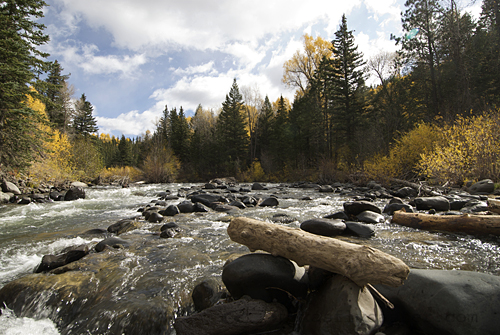 NOTE – This post is looking back and forward, so if you are lost, just do a search for "Pagosa Springs," or any other topic from this post that you think would fill in the blanks.
If I had to choose a part of Colorado, not the smallest state by the way, to settle in for the long haul, it would have to be the southwestern plot that includes Pagosa Springs, Durango, Silverton, and east to the Conejos and (cheating just a little) south into New Mexico's Navajo Quality Waters.
It is an area that isn't completely overrun with non-natives (humans that is), is a bit warmer, and not the center of all things tourista. It doesn't have a university dominated culture like the People's Republic of Boulder, and it isn't the conservative hotbed of Colorado Springs.
For a place that qualifies as fly fishing mecca, I am having trouble locating sources when it comes to fresh current information on fly fishing that area of the San Juan or the Animas. And that makes me think about the entire process of a Do It Yourself, or DIY trip.
Before the explosion of information access provided by the internet, there was probably more miss than hit when it came to nailing down the possibility of catching fish in some faraway place. I would imagine guides felt a lot less threatened talking to one person on the phone, unlike now when the entire world hangs on their every written word. It reminds me of the Police song, "Too Much Information," often times, when not only is there information, there's too much of it that isn't any good, or is completely out of date.
There should be an expiration date on information on the internet, unless it qualifies as universally necessary and always good. There are places that we fly fish, where mother nature has changed the actual course of things in recent years, and right now there are message board conversations about going to Texas Hill Country rivers that are completely dried up! Why is that? Old information.
And once a fly fisherman, local sage, or a guide, grabs an audience by the eyeballs, and knows he's got them reading, look out. You could be in for a cat-and-mouse game of "secret spots," "secret fly recipes," and whatever else they can think of to extend their readership and power over others. In this decade of writing about fly fishing, I am finding that typically, it's not what a fly fishing "informant" puts in their information, but what they leave out that leads to "wasted" time and effort. (see the story on the current Texas red tide for example)
Start At The Beginning and Begin At The Start
Fly shops are still the last bastion of the most valuable thing we can't readily buy – information. There are two of those in the Pagosa Springs area, and they are Wolf Creek Anglers, and Let It Fly. I have been into both shops. Sometimes you will want to hang out for awhile for a couple of reasons –
1 – to shake off that "typical Texan" thing that says, "hey, I'm just here to drain your brain and catch your fish. Then, I'll be gone."
2 – You never know who's going to walk in with wet waders and muddy boots. How much more fresh can information get? If they smell fishy, even better. I never get that close though. I shut up, and listen – I listen hard.
Wherever you may go, if you are going to take, you need to give. That's the plain truth. Here in cyberspace, everything is free – good, bad and otherwise. And these days, I've discovered that's about all anyone is willing to pay – zero. Information has value, and good information has higher value. Think about walking out with some flies, or a local t-shirt to show you appreciate the knowledge. My closet is half full of t-shirts from mom-and-pops, and you better believe I'll be wearing one of theirs the next time I walk in their shop. If you are cybersearching for information, feel free to give back to your favorite website sources as well.
If you know anyone who's spent considerable time where you're going, or just gotten back – that's a start. For me, that's Joel Hays. He sprang to life when I told him I had a job in Pagosa Springs last month. Joel and Alvin Dedeaux both said "get ahold of Pops at Let it Fly." That is a pretty heavy endorsement. The post on Pops was well received and you can look back on it here – Let it Fly Pagosa Springs.
Besides Texas Fly Caster posts on Pagosa Springs, and the fly shops, there are a few discussion boards on the topic of fly fishing in the Pagosa Springs area. You can definitely glean information there as well, but beware of the dates on the posts.
Most guides live by the mantra; "Get a guide!" They know how much time a guide will save you when wanting to actually catch fish, and it's true. Guides take virtually all the guesswork out of an unfamiliar location and can reduce days of search and guesswork down to hours of zeroing in with current information and conditions. IF you can get a guide, do it. In Pagosa Springs, both of the fly shops are a great source for guides.
[display_podcast]
END OF THE SEASON
As the cooler weather sets in and the aspens begin to turn, Pagosa Springs fly fishing goes into a new mode. Summer crowds have been gone awhile, there's snow in the high mountains, and if it's still fall temperatures, there's probably runoff just about everywhere. The days of wet wading in town are over for this year. Opinions on what can catch are varied, with some preaching big meaty flies to entice fish seeking those last shots of high protein, and others preaching nymphs and smaller terrestrials like ants. If you have the time, try them all. I didn't. In five days on the ground, I had roughly six hours on the water, so I quickly went rogue (again) and tied on a #10 sparkly black woolly bugger with a tungsten gold beadhead. Drifted down, I caught some cutthroats along Williams Creek below the reservoir, as well as a couple of rainbows.
I was tiring of driving, so for the next outing, I decided to fish in town. I had heard of some good successes recently (big fish), and the water was looking pretty agreeable. The City of Pagosa Springs makes it pretty simple to fly fish along the San Juan in town. Just park behind the Malt Shop in the park parking spaces and walk in. Really. The video is from there.
I headed east along 160 for my last shot, to East Fork, along East Fork Road stopping at the bridge. This area is a showcase of the rugged beauty of Colorado. The water runs fast and the grade is steep. This is classic water that requires all your knowledge of holding spots, how to approach it, and what to use. I did not see a single fish, so if any were present, they were likely in the deep pools, and I had nothing to bring them on. In the two hours I had on the water there, the fish count was zero, but I was able to take in some wonderful scenery and make some new images as well.
All in all, it's easy to forget the fact that a huge portion of Colorado's trout population, caught throughout the warmer spring and summer, are stocked just like everywhere else – except in greater numbers – much greater numbers. And in order for the economy to be stimulated, (my speculation is) they will go a bit heavy in town. So start in town.
As the season winds down, so should the trout populations. Folks from the "Chicken Fried Nation" like to eat their trout, and they do. Don't worry though, an entire new crop will be there next year waiting for hefty folks in waders to do their weeble wobbling wading, just to throw them something they saw a day ago. Of course I'm going back, I hope a bit more trim and wobble free.
Be sure to go to the right side of the site and enter search terms to find older stories on; Pagosa Springs, Navajo Quality Waters, Bridge Campground, the Conejos River, the Piedra River and more.
Category: Colorado Report, Fishing Reports, New Mexico Report, On The Road, TECHNICAL, Technique