dargel boats yeti on a diablo houston boat show sundance skiff maverick skiff texas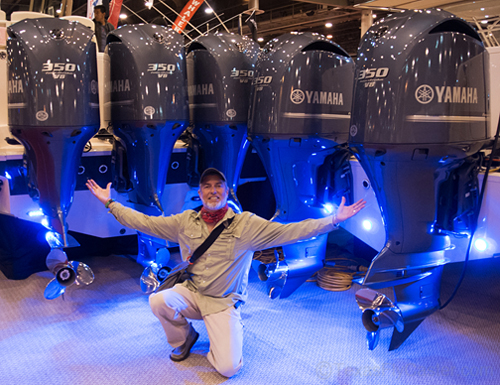 A full hand … Big is in. That's all there is to it – BIG TEXAS SIZE is in at the Houston Boat Show 2014.
It's so cold … how cold is it? It's so cold folks here in Houston are running around like the sky is falling. It's so cold in Denton, that homeless folks are getting a room. It's so cold in Galveston, that the fish can't find the fishermen. You may as well go back inside, put another log on the fire, and sit back down at the fly tying bench.
Just about everyone around here (Houston) is either sick with flue-like symptoms, or the flue, and if they are well, they're holed up staying away from everyone else trying to avoid getting sick. Not me! I dove right into the masses yesterday, and went to the Houston Boat Show just outside Reliant Stadium.
This slideshow requires JavaScript.
HOUSTON BOAT SHOW
If you are in range, the Houston Boat Show is a fantastic study in the economics of boating Texas Style. It also provides a reality check for Texas Fly Casters who may have thought we really have a foothold in the Texas fishing economy. We don't.
In all the square footage that is the Houston Boat Show, I found two bona fide flats skiffs. Two. Not two manufacturers. Two token boats – a Sundance and a Maverick. There were also plenty of other "peddlers" there selling rods, lures, clothing and all manner of conventional fishing equipage.
The socioeconomic observations were priceless. Huge boats draw the most interest. Now when I say huge, I mean huge. And there were significant areas for bass boats and plenty of aluminum jon boats as well. But the crowds were around, inside and all over the monster boats. Texas equals big, and big equals Texas.
DON'T LET THAT slow you down though! If you are in range of the boat show, you really should go see the folks at Austin Canoe and Kayak, where I ran into Thomas Flemmons of Diablo Paddlesports. He was parked right next to the roto-molded Diablo at the ACK booth, and I must say that if we ever get water back in North Texas, that roto-mold boat is going to be a hot ride. Thomas also has a new deck add-on for placing a Yeti Cooler where the seat is on a Diablo. Now you can sit on a cooler and paddle, then stand on the cooler to see fish!
My favorite, local to Houston, all-in-one tackle (including FLY TACKLE) shop – Fishing Tackle Unlimited – has significant real estate at the Boat Show too, and they also have a load of kayaks and 15% off kayaking accessories there as well. Perhaps wisely, FTU is not in the boat business other than their extensive and comprehensive kayak department. Kayaks and kayaking is becoming a widespread phenomenon here in the Houston area, from where I sit in the Woodlands all the way to Galveston kayak stores are popping up all along the way.
THE FISHING REPORT
I fished a half day in Galveston, investing all that time at the San Luis Pass. With ambient temperatures, tide and water temperatures what they are, I figured I needed to try to get as close to deeper water (without a damn boat) as I could. The backside of the SLP has the guts and current that would normally make things interesting, but apparently things are so cold (how cold are they?) that there are no fish signs, no bait, and the biggest indicator – no fishermen – anywhere to be found. You know what I say: see the fish, be the fish catch the fish. There was none of that – period. I didn't waste as much time as I did on Black Friday and Blue Saturday this time though. It was off to show new repatriated (back from two years abroad) Charles Brooks (remember Charles from the days of fishing Fairfield?) around Galveston Island, and what I have experienced there.
While I was fishing at the SLP, photographs were still coming in (dinging my phone) from friends fishing in Florida and new photos arrived from down in South Texas, I assume it is the Brownsville Ship Channel, of snook down south. Snook. It seems folks really are zeroing in on the snook there, and the photographs I am getting (look at left side column "Insta Fish Foto") show not just snook, but monster, Florida caliber, Texas snook. I have got to get me some of that!
Category: Culture on the Skids, Fishing Reports, Texas Gulf Coast