redfish tour ifa texas stops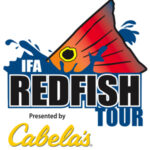 IFA redfish tour announced for 2014 – (Not Kayak Tour)
The Inshore Fishing Association (IFA) Redfish Tour presented by Cabela's recently announced the 2014 tour schedule, complete with 200 percent payback at each event. The schedule includes two regular-season events in each of the tour's five divisions and a championship event.
The IFA Redfish Tour kicks off on March 8 at Punta Gorda, Fla., and wraps up the regular season at Sarasota, Fla., on Sept. 27. After a successful 2013 championship with huge weights brought in, the two-day, entry-fee championship will return to Houma, La., on Oct. 24-25. Tournament registration for the 2014 season will begin Jan. 2, 2014. The field size for each event will be limited to the first 100 boats that register.
The IFA Redfish Tour will offer an impressive 200 percent payback plus several lucrative contingency opportunities. Also, for an additional $250, anglers can sign up for the Angler's Advantage program, which allows participants to compete in an even higher payout bracket.
Anglers can register for 2014 events beginning January 2nd. Simply visit www.ifatours.com or call 478-836-4266
2014 IFA Redfish Tour Schedule (subject to change)
Atlantic Division
May 3 – Charleston, S.C.
Aug. 16 – Georgetown, S.C.
Florida East Division
April 26 – Titusville, Fla.
June 21 – Jacksonville, Fla.
Florida West Division
March 8 – Punta Gorda, Fla.
Sept. 27 – Sarasota, Fla.
Louisiana Division
May 17 – Empire, La.
Aug. 2 – Lafitte, La.
Texas Division
April 5 – Port Aransas, Texas
June 7 – Aransas Pass, Texas
Championship
Oct. 24-25 – Houma, La.
Note – I don't know if you are up to date on the IFA tour, but
Category: Adventure, Tournaments and Contests