Good Monday Morning friends, wanderers and fly fishers. This is the original Monday Morning Sidewalk. It is where we feign recovery from the weekend while applying the salve of sobriety (in some cases) to ease our reentry into the week we work.
Holding a Paper Plate
When we say our "plate is full," you have an instant visual. But when we see a paper plate fold over with the weight of a brisket and potato salad, and other add-ons we so desperately want and need? Now you are getting MY picture. The plate hasn't bent yet, but I can feel that moisture soaking through and my fingers are telling me … we are at capacity.
On tap this week? Taking two friends out today and Tuesday to show them the carp action at Lake Ray Roberts. Looking out my newly formed back porch perch, I can see the treetops bending to-and-fro, and with my internet cable once again cut by the month of street destruction out my front door … I can't easily check the internet to see if "to and fro" should be hyphenated or is spelled correctly. So we're going to let it all ride this morning.
Yes, there is more carp action than you can shake a stick at right now. That is despite a huge influx of water that has pushed into the weeds, making the task just a bit more difficult. Essentially, our perfect and improving conditions got rained on – hard. So we went from perfect to normal North Texas. But, as you can see from this photograph – from Saturday evening, we added back two major opportunities – shallow bass, and tons of gar roving around in the fresh upper water column.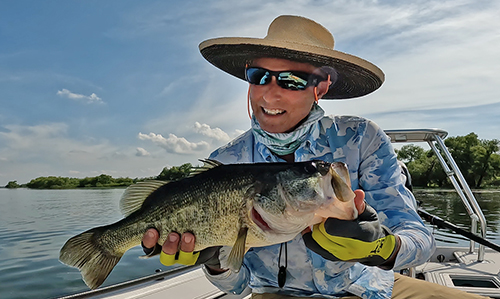 This bass happens to be a spot. You can read all about the encounter here – TexasFlyCaster on Instagram. I am still kicking myself on this fish, so be sure to read the Instagram account. 
I have two more prescribed days on the water this week, and I want to sandwich in some OMOT for patterning that bass action I found on Ray Roberts. The gar that roam around this area are a solid 48-inches, so there's that too. But wait, there's more on the plate …
Looking Ahead
Saturday, it is a whirlwind trip to Port Isabel, Texas, to do some information gathering and then on a "turn-and-burn" come back to DFW the same day. It is just enough before surgery next week, that I do appreciate the distraction from the distraction of surgery. (It's a minor thing with major recovery time.) 
You'll certainly see an explosion in digital productivity on the recovery side of next week's cut, as my movement and lifting suffers curtailment for a prescribed time and weight. I'll still be able to lift a memory card, camera and fingers to a keyboard, even a frayed keyboard such as this.
Speaking of Plates
What's on your plate this summer? It is official, you know? Summer has arrived and I think most of us are ready for that word s u m m e r. If you are jonesin' for Colorado, or New Mexico? It may help to know before you go. Maybe we can get a friend who loves that area to let us in on fly fishing conditions as they are right now – in New Mexico and Colorado very soon.
Don't forget to subscribe to the Patreon Fly Fishing foray! I am going to start video posting about this trip to Port Isabel this week, and hope to assemble those videos into long-form at some point win-or-lose. You will also see videos and maps that are quite helpful for those of us who fly fish DIY style so much of our lives! Thanks for reading!
Category: Adventure, Body-Mind-Soul, Destination Fly Fishing, Fly Fisher Health and Wellness, Fly Fishing For Carp, Fly Fishing for Largemouth Bass