blastoise pokemon fly fishing #flyfishing texas fly
DANNY AND EMILY HIT THE Pokémon Trout
So Emily and I were tired of the rain and wanted to get out and about. She wanted to play Pokémon Go I naturally wanted to fish. After checking the radar and forecast of areas I was willing to drive to and noticing it's raining everywhere but the coast. With little debate we decided on Galveston being our best bet because as you Pokémon goer's probably know it's loaded with Pokémon and if you didn't know now you do. So the plan was to walk the seawall let Emily hunt Pokémon until it was dark and then go paddle and fish the night lights.
 After probably an hour-and-a-half or so, I was getting bored and noticed how nice the surf was looking clarity-wise for Galveston. I decided to grab the fly rods and try my chances in the surf and let Emily continue her Pokémon Go game.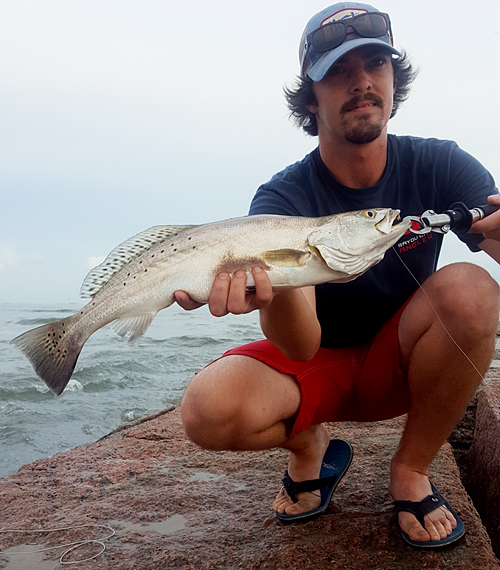 I rigged up the 8wt with a float line and a chartreuse foam popper and a pink clouser dropper to imitate a popping cork, and rigged the other rod with an intermediate line and a big black and purple EP baitfish. As soon as I got to the jetty rocks, I noticed nervous bait in the first gut of the surf. I started working that area with the popper dropper. Probably about 5 minutes into that nervous bait started getting blown up and I don't mean that normal trout sucking sound you hear — I mean 18 to 20 something inch trout getting airborne and bait flying in every direction! It was a sight to see!
Then boom my popper gets inhaled and it's on! After a hell of a fight I pull up a 22" trout my personal best until the next cast. That very next cast two feet from the rock edge I watch as a beast of a trout murders my popper and I stick him good. He didn't like it all and immediately earned the reel! The only trout to do so all day. After a decent game of tug-o-war and keeping him clear of the rocks I netted my new personal best  Speckled trout right at 25 inches just a beast of a trout on the fly rod or any rod.
This action continued for around 30 minutes and I even scored a double up two 18 inch trout at the same time! Then It seemed like the trout either left or were tired of that popper and things went kinda quiet. I switched over to the intermediate and started throwing that streamer. Maybe 10 minutes or so went by and the trout started exploding again, and again I started sticking 18 to 20 inch trout. I had a few break offs and cycled through a few flies mostly black, black/purple tarpon bunnies and pink clousers until I limited out.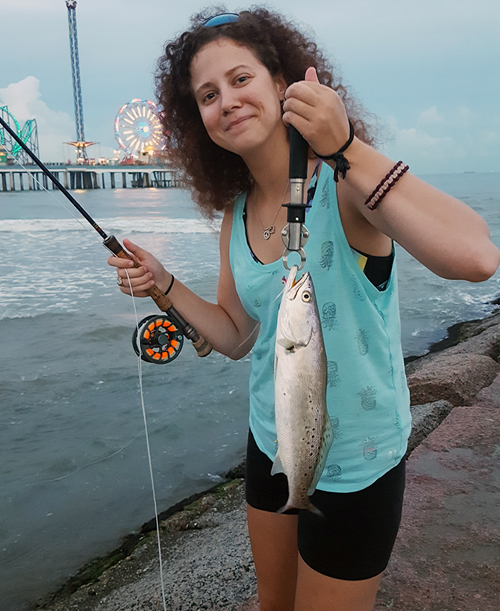 Emily had joined me somewhere in the beginning and had watched all this go down. So when I limited out she was very willing to take the fly rod and keep it going. She made 2 or 3 cast's and scored her first Speckled trout on the fly at around 17 inches. Then she upgraded to a 20-inch'er soon after and another 17 inch'er after that. By that time it was getting dark and we packed things up.
We were so successful we decided against night light fishing. Emily hit a few Pokémon Go stops and headed home to fillet some dinner. All-in-all an awesome spontaneous Pokémon Go/ Fly fishing beach trip. Emily caught her first Blastoise and speckled trout and I upgraded my personal best trout. It's all about keeping both parties happy!
NOTE — THANKS TO DANNY AND EMILY for their story from Galveston, Texas. That weather looks familiar doesn't it? All I can say is: Right Place. Right Time! and RIGHT ON! www.houstonflyfishing.com
As always – if you have a story you would like to submit to Texas Fly Caster, what are you waiting for?
Category: Adventure, Complimentary Reading, Fishing Reports, Gulf Coast Report, Texas Gulf Coast