blue river fly fishing oklahoma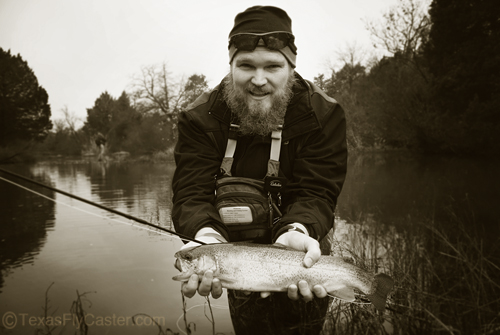 This is one of MT's trout from the Blue River Monday. I Photoshopped out the flesh wound on this shot just because.
So I was wondering why my favorite associate principal here in Denton, at Ryan High School, was champing at the bit to go fish the Blue River, and get a quick trout fix – A S A P! Little did I know that Denton Independent School District now has what they call a "Fall Break," much like spring's "Spring Break." Monday, had to be Monday. The family dynamics were going to accept nothing else, so of course I was again IN. Joel and Matt and I rounded up, loaded up … a comedy routine ensued … and we were off to Oklahoma.
This slideshow requires JavaScript.
Now, while I had a fun solo outing on the Blue River catch-and-release a little more than a week ago, I had mixed ideas about how fishing would be a week later. I thought it could be a lot tougher this time …
What I did know was that Oklahoma has water, plenty of water. And that's enough to make me roll the dice on all the other variables I could find.
It's hard to forget how the water was dropping off a shelf the last season I was on the Blue. In the slideshow, you will see that those falls are almost level ripples now. That was a two foot drop last time! As we know, the rain that has passed us by the last two years, has not passed Oklahoma by. If you listen back to the first story I did on the Blue River, an interview with Barry Schrader you will learn something about where the Blue's water comes from. Their aquifer is being recharged, and they don't suffer as much of the human wasting of water (due to population) as we do here in Texas.
I hope you enjoy the slideshow. It was an even better outing (than my last) for us, and the fact I wasn't flying alone always makes it a lot better. It's always good when I can turn fellow fly fishers on to what I have figured out too. I even managed to catch my largest male rainbow trout to date, one that caught us all by surprise, and took forever to land with my little TFO BVK 3 weight. I'm not sure how long it was, but it was slabby and had a good kype growing on it. Very unexpected.
Have a great Thanksgiving tomorrow! Stay warm, and enjoy the things you like, and stay away from those you don't. I'll be road tripping to Houston, and you know what that means – Black Friday on the Fly in Galveston, Texas! I may even get two days out of this trip, but my first look at the solunar charts isn't optimistic.
TECHNICAL NOTE – the "FLY FONE FOTO" block isn't working anymore, so be sure to just visit the feed at Instagram –
Category: Adventure, Destination Fly Fishing, Events, Fish Podcasting, Fishing Reports, Oklahoma Report