Right Down The Middle
Reminder: If you don't fish weekends, a seven-day, Saturday-to-Sunday trip? It's suddenly a Monday to Thursday window to chase fish around vast areas of their own worlds.
We're firmly melted back into the North Texas fish camp now, after a harrowing drive back from South Texas Sunday. Sure it was only harrowing for the last thirty-five miles, because somebody on a big fat Harley decided to phone God on I35W about a mile in front of me, just south of Downtown Fort Worth, shutting the highway down, but hey … one more person got the answer to the ultimate question in life. The reason why DFW has so many catastrophic highway accidents? There is zero law enforcement working these roads, and everyone thinks they are ready for the NASCAR.
I don't have to remind you that it is significantly hotter in North Texas than it is down in the Borderlands, and substantially hotter than the South Texas Gulf Coast … but I reminded you again anyway!
DOWN IN THE VALLEY
The defoliated cotton bowls are drying in the Valley, and the seed corn is rattling on the stalk. While I have secretly been harboring a few photo story concepts for extensive dry-land photography work, those two and all the agriculture in the Valley seem to be subjects worth picking. The Valley remains a garden where if you stick it in the ground? it will grow. Grandma may have had a green thumb, but she also knew she had good dirt.
I made it to the Island briefly, over the weekend, Saturday, and yes, that was a bad idea. Summer traffic is in full swing, but I will let the photographs (BELOW) show one door that isn't swinging just yet. It'll make a fantastic South Padre Island coffee shop someday. It is what it is. And I can't wait for that great coffee to be poured up for me before a cold winter day's surfing or fly fishing!!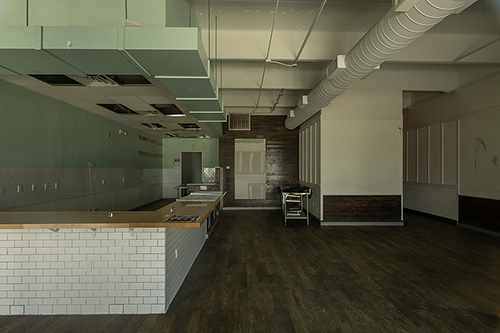 BUT THE FISH
While touching base on the Island proved to be daunting, I took a hard look at Boca Chica Jetties from the South Padre Island Jetties Saturday. The water was green, clear and unusually calm. So calm in fact, there were SMALL boats and kayaks fishing the ends of the Jetties. Couple that with the complete lack of fishers on the Jetties, and I headed to Boca Chica (almost no fishers on either Jetty Saturday afternoon) to try that shorter jetty with, literally, zero people on it.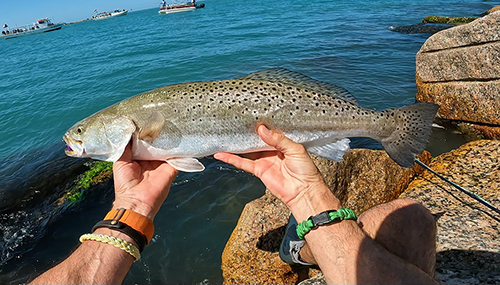 I was caught up in changing flies all last week in the Lower Laguna Madre, but a deep Clouser along the rocks, brought this sea run speckled trout out from under the rocks and held her by the lip until I could fumble down the rocks and land her – much to the delight of the tourist fishing boats sitting right off the Boca Chica Jetties as well. Someone, without shouting (that is how calm it was), said, "nice trout!" and I held the big girl up twice just for an encore and clean release of the biggest sea side trout I have ever caught. Most certainly above the TPWD slot size limit, what I noticed is the fatness of the tail that is unlike what I had seen on any trout before. To see that fish, in the clear water, come up and flash on the purple and black Clouser? Well, I won't be forgetting that, or the fight, anytime soon … well worth the cost of admission. It's so hard not to flinch when you see a bite like that coming.
ON THE LAUNCH PAD
On the launch pad, sits one rocket, and next to that another – almost like a Tesla assembly line, but perhaps a little less reliable. Back in the assembly buildings (for lack of a better term) sits three more rockets in various stages. This tells me Elon is motivated, perhaps by all the great fortunes he is gathering from Twitter? Whatever the reason, SpaceX Boca Chica looks to be a busy place for some time to come. It could be hard to beat that last launch at SpaceX though!
Category: Backcasting, Destination Fly Fishing, Fishing Reports, Fly Fishing for Trout, Gulf Coast Report, South Texas, Texas Gulf Coast