texas fly fishing #flyfishing
Current Temp. – 33-degrees
Wind – 20mph sustained
Wind Chill – 21
Get a wind chill calculator here – CALCULATE CHILL
Ice and snow on the ground
CRAPPY WEATHER TIME
What a weekend! We have eleven souls lost just thirty miles mostly south and a little east of here, and the weather is again the news. The weather is enough to tilt my opinion on who to vote for in the 2016 presidential run, truth be told. If you think this is normal, how much of this normal can you take? The futurists predictions of a new northward (in the USA) migration to escape these patterns may actually come true in my lifetime. Weather is one of those things I think about these days in terms of; Is this all there is? Is this as good as it gets? It's not an asset to where we live anymore.
CRAPPIE TIME
There is plenty of water being released at Lake Ray Roberts, and with these rains, I am trying to imagine where things end for Lewisville Lake. There was contained flash flooding in Denton Sunday, which runs off into Lewisville. Temperatures are so cold that it could shock these lakes pretty good – depending on volume. It's almost time to pull the trigger on a cooling lake! Make sure you get a look back at the story on Texas Power Plant Lakes.
Meanwhile, you can get a hook on crappie that are hanging close to the concrete walls of the Dam at Ray Roberts – if you're ready to battle some weather. I would suggest white/red, chartreuse/red, black/red, black/yellow in whatever you like -Clousers and woollys for example. You're going to want to tap the concrete and let it fall (give some slack to keep it from swinging away from the walls). This can be a blast on a three or four weight! I'm even thinking about using an indicator to keep me in the zone longer.
KNOW BEFORE YOU GO
Check the flows at the dam. Check the weather (at top of page and on your phone apps). If the wind is out of the south, it's a losing proposition. If it's out of the north,  you're in like Flynn.
THE WEEK AHEAD
Family and Christmas certainly slowed down the publishing over the weekend. So you can look forward to a blizzard of stories (containing original content) this week.
Lefty Kreh & Ed Jaworowski's "The Complete Cast" Part 1 & 2 review
Top 10 Fly Music Countdown Parts 1& 2
A trip somewhere
Don't forget – If you are thinking of spending that Tailwaters gift certificate, they're on the move to their new location and are closed.
GOOGLE MAP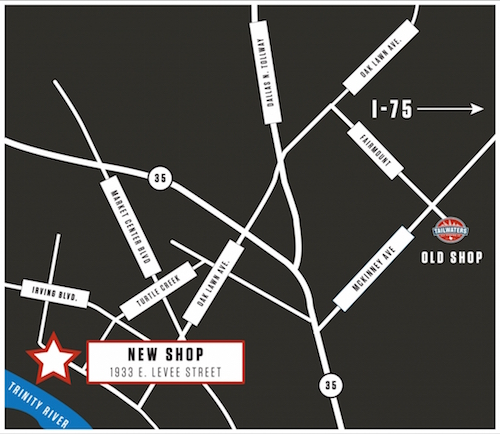 Category: Complimentary Reading, Culture on the Skids, Fishing Reports, North Texas