A Perfect Weekend Gives Way
You already know I don't fish on weekends. As tempting as it was over the last two perfect days here on South Padre Island, I kept my lines dry, and watched the weather on the local news last night.
From winds so calm, I could fly my drone (a tiny weather window here), we look at top wind speeds of 30-mph today and 40-mph tomorrow. The Lord giveth, and the Lord taketh away.
Weather – Altitude and Attitude
I will be back in North Texas next week, for a weather attitude adjustment … I am still waiting on shipments from North Texas last week. I just hope the orders were not strewn all across the highway like some of the video I saw from your great snowboggle last week. My attitude was bent by the lows in the lower 50's here and my difficulty shaking off cloudy-rainy days. Hardly the same as North Texas, is it?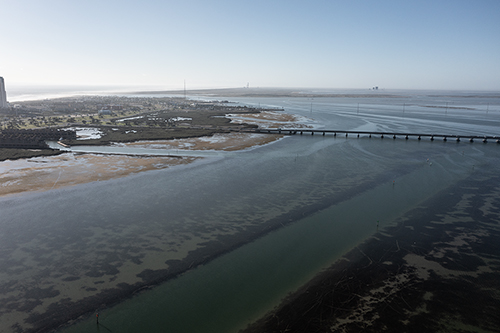 At altitude, you can plainly see what happens here when we have a big moon in wintertime – low tides are LOW, and throw in a north wind blowing water off the flats? Let's just say NO SKIFF is going to navigate dry flats!
As I am settling in for a long haul, I am finally getting my mind wrapped around the moon, tides and what the fish are thinking and doing … remembering my mantra: "See the Fish. Be the Fish. Catch the fish." – right? Well, part of that puzzle – the moon – is something I am honing in on … probably because it SEEMS easiest to comprehend.
We will be walking around the moon very soon. So stay tuned for my ideas on what is generally accepted as truth about when to fish in the moon phases, and those phases that just may have been historically written off – until now.
Thanks once again for coming along for the ride! It is amazing what positivity is generated by the simple appearance of the sun in winter – no matter how brief!
Category: Body-Mind-Soul, Fly Fisher Health and Wellness, Lower Laguna Madre, Saltwater Fly Fishing Texas, Science and Environmental, TECHNICAL