Good Monday Labor Day morning!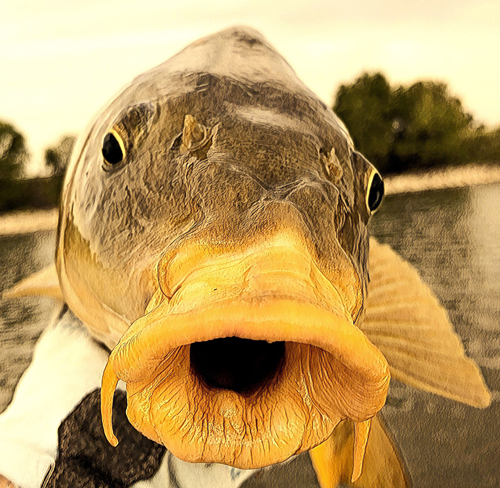 Ray Roberts Carp Fly Fishing Report
There's plenty of time left to get out to Lake Ray Roberts and get your lines wet — from what I saw from the poling platform of my friend's Hell's Bay Guide yesterday. Winds are way down, and you may have to come away from coves to get a cooling breeze on the water. It really is that still at times! Sections of Lake Ray Roberts, on a busy day yesterday, were glass or slightly refracted at worst. Smooth sailing. Clarity in places exposed to open water is 10/10. The Friday storm did have some effect, but it is settling out fast.
The carp are still convinced that they need to go down by around noon, even if the water temperatures are milder than they have been. Yesterday was no exception. Regardless of habitat, they were GONE GONE GONE.
Some Septembers the carp trail off quickly, and other Septembers they hang around … a bunch of lallygagging-free-lunchers looking for one last meal. This is looking like a "hang around" year on Lake Ray Roberts …
Texoma Still Producing Solid Striper Action
However, a lot of attention is being paid to Lake Texoma, on the Texas Oklahoma line, this year.t Apparently, the pattern is obvious and certainly something a fly fisher can take advantage of to catch some badass striper on the lake on fly. It's not a "no-brainer" and it is a bit of a "whack-a-mole," but the reward is a huge class of fish with some huge fish scattered within. IMAGINE how good that fishery could be if people were actually encouraged to CATCH-AND-RELEASE striper in Lake Texoma for a couple of years? Have you ever seen striper on a restaurant's menu? There's a reason for that.
So get to work on your striper fly box! Red/White and White/White Clousers are great – from synthetic to border collie, all work with good results. Use a black eye on the White/White for good measure.
Remember the action heats up on Lake Texoma when it gets colder!
HIGH IDEALS
I have the highest of ideals when it comes to trying to spend time in Oklahoma this year, but the whole thing really hinges on having a real winter there. Overcast, ice and snow are the ideal conditions we're after, conditions that tend to produce the most freely feeding synthetic trout. I certainly am prepared with layers and flies, but I am afraid to open my fly box and find rusty hooks – IT HAS BEEN THAT LONG!
Bayou City Fly Fishing Weekend
It looks like a quick run to Houston this weekend coming up, so if you know of any quick pond fly spots near Spring – Woodlands — feel free to share! The ponds there are probably in pretty good shape, and I haven't had any of that in awhile, so whether it's cruising carp, or some bass action – I am open for a couple of hours at some point next weekend – a couple hours at best.
Texas Technical Poling Skiffs
My friend's Hell's Bay Guide is a perfect example of a person abiding by old the Airstream adage, "Never make changes, make only improvements." The list of his improvements is long, and he has many, many examples of what you can do to an "off the shelf" new-used Hell's Bay to make improvements. His latest improvement was to move his two (spiral cell) batteries from the stern to the bow of the boat, which shifted about 70-80 pounds to the front of the skiff. I can honestly say, that poling that Hell's Bay now feels different on the pole. It seems straighter and seems to have a little more of its own "momentum" for lack of a better word. Depending on what you're after in a technical poling skiff, this can be extremely helpful. Poling this skiff long, straight distances is a dream (remember this is a longer skiff anyway).
Category: Fishing Reports, Fly Tying, Houston Fly Fishing, North Texas, On The Water, Technical Poling Skiffs, Texas Skiff