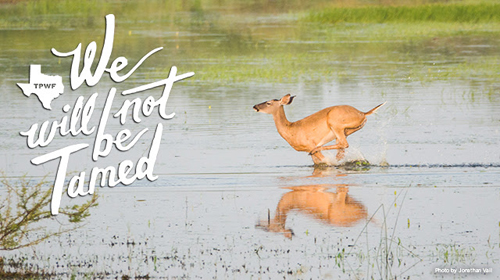 Since 1991, Texas Parks and Wildlife Foundation (TPWF) has played a vital role in conserving the wild things and wild places of Texas.
From ensuring the long-term health of Texas rivers and restoring native wildlife, to enhancing Texas State Parks and helping advance the capabilities of Texas Game Wardens, TPWF continues the important work to conserve the wildlife, habitat and natural resources of our state.
TPWF members are important partners in these conservation efforts.
When you become a member of TPWF, you are supporting…
89 State Parks
47 Wildlife Management Areas
191,000 miles of rivers and streams
4-million acres of coastal waters
1-million+ acres of public hunting land
649 bird species
550+ Game Wardens, and so much more.
Will you join with TPWF today to help ensure that every Texan, now and in the future, can enjoy, explore and be inspired by the wild things and wild places in Texas?
Category: Causes, Life Observed, Science and Environmental