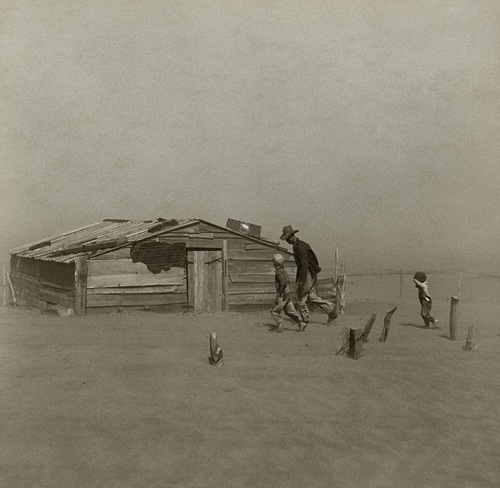 The Great Depression dust bowl – Cimarrona, Oklahoma. Photograph – Arthur Rothstein
Some Music to Feel Better by – [display_podcast]
So June is the sixth month in a non Mayan twelve month year, and after all, we're still here.
That's not to say it hasn't been a quite difficult and memorable first half of 2011. If things had gone as planned, we would have had rains that lead to releases of water from lakes that lead to hybrids and stripers aplenty. What's the saying, "God laughs when man makes plans"? If I had a dollar for every time I was texted, e mailed, and called with "are the hybrids running?", well, I would already be on the Texas coast fishing for tarpon. Sorry, once and for all guys, it (hybrids) just didn't happen this year.
THE FORECAST
And unfortunately, the forecast for the foreseeable future does not leave any room for optimism in North most of Texas. We don't rely on snow pack to make our waters run. We rely on rain, and the rain gods are not abiding our rain dances. Lakes, caught in a vicious cycle – no rain means water your yard, are dropping at incredible rates, and the wind … the wind … the wind.
If we could sum up this spring in one word, it would be WIND. The wind started blowing a couple of months ago and for the most part, say three days in two months, has been blowing ever since. Not only does it do an injustice to fishing, it also leads to increased evaporation. Unless you have lived through this spring, you really may not be able to get a grasp on the constant sound of wind, through the trees, behind the swells, in your ears and always against your transport.
For example; I traveled to San Marcos last Thursday and it took a tank of gas. I came back Sunday, and it took half a tank of gas. Now, anyone who knows me knows I am not the mathematical type much past tying my own leaders and a rod weight for any given fish, but at roughly $3.50 (usd) a gallon for mid-grade petrol I will be close to home for a couple of weeks or more.
The whole gas price scenario played out before, in 2008, but back then we didn't have … the wind. As bitter a pill as 3.50 gas is to swallow, throw in a little wind cutting your mileage by half, and South Padre Island may as well be Denver (draw your own circle and see where it takes you).
There are, of course, other consequences from the wind and drought of 2010-2011. Possum Kingdom, out west, pretty much burned up. Texans know that roughly 160 lakefront homes burned to their foundations, but since it wasn't Southern California, and since this is a Republican dominated state, it never really made the national political or news radar. Currently, Texas Department of Transportation is running "High Fire Danger," and "Burn Ban in Effect" along the major highways in Texas, and fires are breaking out off-and-on along the edges of the Texas Hill Country and civilization proper.
DUST BOWL
So not only do we have some of the same economic adversity (granted on a lesser scale) as was visited on Texas during the Great Depression, we now have weather conditions that are accumulating into a comparable scenario as was seen in the Great Depression. Take heart, fly fishers. If you want a reality check, at the height of the Great Depression the unemployment rate was nearly 25-percent, and the great dust storm, Black Sunday, April 14, 1935, actually killed people.
FLIP IT LIKE A FRESH FISH
OK, so this fly fishing thing is supposed to be fun, right? Well, if the temperature and humidity are every bit the same in Dallas, Brownsville (almost the same), and Houston, why not go to salt? Salt, in and of itself is brutal. It's brutal on gear, humans and human activity, but if given the choice of where to be during armageddon and the rampant running of the seven horsemen, you bet I'll take the salt.
Heaven knows I gave the San Marcos River my best shot yesterday in the River Bassin' Tournament held there, and my best shot wasn't … any good at all. Team Diablo got nary a single inch from me, and we didn't even show in the final standings once we all gathered back at TG Canoe & Kayak. I did let my teammate down, but we both learned enough to know how to do things at next year's tournament … that is if there is any water left (in a different river). Sure, all the fishermen there said it "was a tough day," but I guess I should lower my expectations of myself just about by, say, half.
On the flip side, I did see Alvin Dedeaux along the San Marcos guiding yesterday, and it was pleasant as always to come across such a nice guide, who was exceedingly tolerant of a flotilla of kayaks pounding the shoreline ahead of his clients for the sake of the tournament.
If anyone is interested, I can go into greater detail on the San Marcos River, and what little I learned about it while fishing there the past two days. If not, then we can get back to talking about the drought and the Great Depression. How does that sound?
There's no rule that says flipping has to have just two sides to land on, so let's try and land this one on its edge, and find a silver lining in the cards Texas has dealt us. It's either that, or pack up the Land Cruiser and head north.
Category: Central Texas, Culture on the Skids, Fishing Reports, North Texas, Texas Hill Country