I finally had some time to sit down and read my latest Guadalupe River Trout Unlimited newsletter, and it actually answered some questions that have been popping up as the weather begins to try and cool down, and Texas fly fishers begin to think rainbow trout.
The biggest question those who fish the Guadalupe for stocked rainbow trout, stocked by GRTU, is WHEN will the fish be stocked. I have to forewarn you that just about everything you read here from now on, could be a bit shaded by my recent read of An Entirely Synthetic Fish: How Rainbow Trout Beguiled America and Overran the World
"An Entirely Synthetic Fish," by Anders Halverson.
GRTU had essentially experimented with the size of rainbow trout they were stocking, choosing to have fewer fish in quantity, and larger sizes. They far outsized anything Oklahoma (Broken Bow, Blue River) had done – pound-for pound. I was immediately a convert to the Guadalupe, and espoused the private lease program GRTU has that allows access to waters stocked by GRTU.
THE BEST OF TIMES THE WORST OF TIMES
It was the best of times for the Guadalupe river rainbow trout fishers. Photographs of stringers with large huge trout trailing behind kayaks of conventional fishers flourished. (For the many readers not from Texas, a person has access to navigable waterways, and can pass along private properties unimpeded on that water.) The old state TPWD record for rainbow trout was quickly replaced. Regulations along this stretch of the Guadalupe permit harvesting of two one fish over 18-inches per day, and most photographs were accompanied by recipes and lip licking comments from the Chicken Fried Nation (-Randy Galloway- thanks I am keeping that one). Some of the old-time members of GRTU were starting to take notice.
The GRTU giveth, and the good lord taketh away. The drought came to stay in earnest in 2011, and it wasn't long before water releases from Canyon Lake, which precedes this stretch of the Guadalupe, began to be turned down. Down, down down. With a minimum release agreement in place, the remaining trout were assured of not being left in puddles, but their habitat was reduced in size and targeting became even easier. Release rates and water temperatures are measured all along this portion of the Guadalupe, but the flow rate has had a bumpy flatline that is in the range of 60 to 80 cfs.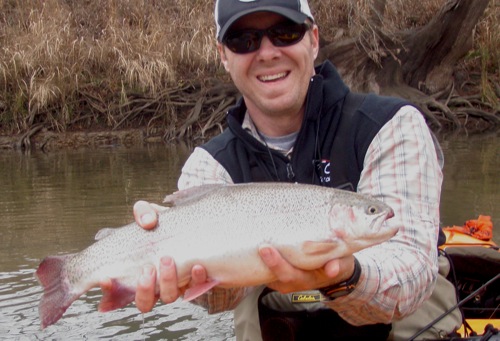 By the time we shot our pilot episode of Kayak Fishing Journal on the Guadalupe, it was a matter of skipping / portaging from one spot to another with the guidance of Alvin Dedeaux. Some fishy stretches were larger, and some were smaller. However, it was obvious the area was just like the rest of Texas – in distress.
It would be unheard of for Texas to string together a number of years without some weather catastrophe thrown into the mix. The achilles heel of the Guadalupe river trout fishery is drought, and that's what we've had for a year, and there's no great change coming to the situation.
Questions began popping up on how the fish and fishing was on the Guadalupe as the summer burned on, and it's obvious there will be survivors, holdovers, that become more active as the seasons change. Concerns about the Guadalupe also looked forward to the usual stocking of the GRTU areas; would they be stocked as usual, when will they start stocking, etc…?
What Everyone Wants To Know
Pretty much all questions are answered in the latest GRTU newsletter article by Jimbo Roberts the GRTU Vice President of Fisheries. Keep in mind that GRTU stocking of rainbow trout and Texas Parks and Wildlife stocking of rainbow trout operate independently.
Roberts is very open about the "issue" of stocking fewer, larger trout, over the stocking of more smaller trout by GRTU. As interesting is this logic is, the article states that the motivation for stocking larger trout by GRTU was motivated by the belief that larger fish are more likely to survive the Guadalupe's sometime extreme conditions aka – holdover. I've come to realize, through reading the "Synthetic" book that establishing an holdover aka – wild trout population, is the holy grail that has lead to increased regulation and protection in the name of that wild trout population. The word "regulation" can be enough for some Texans to chamber a round, but the odds of rainbow trout going scientifically wild in the Guadalupe hover around zero.
In the article, Roberts said his online research revealed no studies comparing the survivability of 12-inch rainbow trout to 18-inch rainbow trout, and with no research to back up the idea that larger fish survive better, and armed with a survey of members who think smaller fish are a better investment, the decision has been made to go with smaller stockers for 2011-2012. I think some common sense has set in. The average rainbow trout size stocked by GRTU last year, 18-inches, is the minimum size you can take from the Trophy Waters, so the first time they're caught, they're eaten for supper.
HERE ARE THE NUMBERS FOR 2011-2012
The stocking numbers for GRTU (not TPWD) rainbow trout stocking from Crystal Lake Fisheries read like this:
75-percent of the fish will be 14-16 inch rainbow trout
25-percent of the fish will be larger than 18-inches
3 planned stockings to total 12-thousand pounds of rainbow trout
1 additional stocking if conditions permit, in the spring
This translates into a 50-percent increase in the actual number of fish GRTU stocks.
The fish that are smart enough to stay in the Trophy Trout Zones cannot be harvested according to regulations. God help them if they get washed downstream!
GRTU is always seeking volunteers to help with stocking (know where they hide the lunkers), and they are also be looking at the Pott's stretch to see how they can create structure to create deeper, cooler water with more flow.
Looming on the horizon is the expiration of the Flow Agreement with GRBA, and a rate increase for the Lease Access Program of $10. per year to help offset the increasing cost of stocked fish. If you are unfamiliar with the lease access program, be sure to check it out. It's a great idea for those of you who don't paddle.
Feel free to do a search via the search box in the lower right column for keywords: Guadalupe, GRTU and other words related to fly fishing on the Guadalupe River. Past articles will tell you most of what I know, and where to go while in that part of Texas. For some fantastic reading, be sure to pick up An Entirely Synthetic Fish: How Rainbow Trout Beguiled America and Overran the World
"An Entirely Synthetic Fish," and learn just how rainbow trout "beguiled a nation."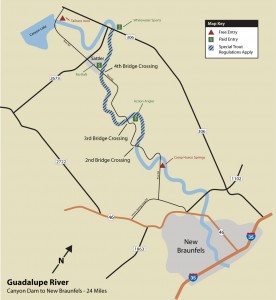 Category: Causes, Fishing Reports, Guadalupe River, Science and Environmental, TECHNICAL