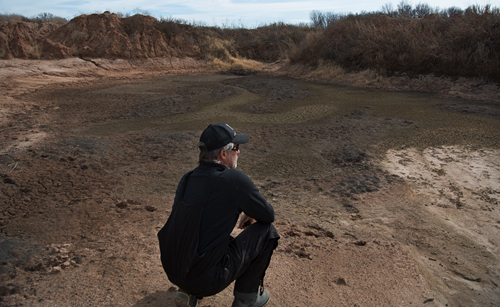 … Continued From "Isolation Avenue to New Thoughts on Holding Pond"
ON HOLDING POND
Dust devils are dancing across the site today. Nothing like the ones in the open fields near Bellevue last year, but one blast in the face is plenty. Here on "Holding Pond" I have radio, kitchen-sitting area, and little flat screen TV's connected to DVD players. Now you know why I've been stocking up on fly fishing DVD's.
So, it's really not nearly as isolated as, say, a backpacking trip in the Weminuche Wilderness of Colorado, but since I have quit the news, and news radio – COLD TURKEY – the things to fill the silence have become few and more precious. I do still take meaningless, shrill sports talk over music because, a) we are too far from music stations, and, b) the goofiness of sports talkers is new to me, and holds my easily divided interest.
Even though the news trickles to me from truck drivers, roughnecks, techicians and drillers, my typical response is to throw up both hands, palms facing them, and say, "Man, I don't know what you're talkin' about. I quit the news, and I'm ignorant." They usually say, "Well, let me tell you!" So I listen, and for the first time in my entire life, I have no response. I have no informed idea of what's going on, and it is good. It makes me want more … of less … news, and seek out true isolation – no radio and no TV.
Another residual of isolation is that there's time to consider the future of Texas Fly Caster. Certainly, it is as popular as ever, and it is a popular destination for information on fly fishing, but …
As we head into the sixth year of Texas Fly Caster, it's obviously time to redesign the site. I am working behind the scenes to have a new theme created that you'll recognize, but will have more choices in the information you see and can read – from the front page. And there'll be lots of cosmetic changes. Better colors, better static art and fonts should also enhance your experience at the new Texas Fly Caster.
However, there is this undercurrent through the internet that has generated concern among people who serve up information to the fly nation. Traffic is waning. Sites, businesses and discussion boards are folding up and calling it a day, or reduced to begging for nickels and dimes. I'm not above that fray.
Sites like this one remain on course from the original intent – to provide information about fly fishing and fly fishing culture in Texas and surrounding states. Originally, I was hoping for more constructive exchanges of information – your questions, and your answers, your experiences and your adventures. Over time, and for hundreds of reasons, it hasn't really turned out that way. It becomes very easy to consider a change in direction – hand-in-hand with a change in the look of Texas Fly Caster.
…MAKES ME THINK
Once all questions have been answered, all patterns discussed, all variables put to bed … and apparently they have been, perhaps it's time to seek answers to a different set of questions?
If you are new to Texas Fly Caster, fear not! The amazing thing about this site is it's archives, and they are searchable in a number of ways. First, take a look at the right column. There you will find "Popular Topics," and a "Search" box. I also added a new search element – the "Topics of Mass Discussion" which shows post categories and the number beside those words is the number of posts for that category. Read 'em and weep. There are well over 100-thousand words in the archives, and they await your discovery. And I will be refreshing the fundamentals for the sake of the new blood*.
If you've been on board here since the early days, fear not! I am pretty sure fly fishing by doing will still be a part of of TFC until its last breath. HOWEVER, if you're ready for more than the technical, stay tuned because it looks like we are headed into the intangible realm, the grey matters of the fly fisher's mind, body and soul. Time to drill some new wells, search for new fountains, plow new fields.
Have a great Christmas Holiday and check back during your break to make yourself familiar with posts you missed during the 2013 year. Check the archives!
NOTE – *Discussions about "New Blood"* are underway at the highest levels of fly fishing organizations across the United States as of this writing. Fly fishing's "New Blood" is drying up. Clubs are suffering substantial declines in membership, and businesses are trying to figure out how to hit the young target, and miss the demographic dead-end fast approaching. The same is true for websites across the fly nation. I've been a part of trying to land the youth of the sport for years, through participation in organizations like Fishing's Future, but you can expect even more of TFC's attention to be focused on the youth issue – problems and solutions – going forward.
Category: Culture on the Skids, On The Road, Technique, Writing