The drive out to my pond takes about forty-five minutes right now, and it's a commute that turns itself into something of a co-dependent relationship quite quickly. Not only do I have the good fortune to be on my own Walden Pond for twelve isolated hours a day, I also have about two hours of driving over the rolling grasslands of Central-West Texas.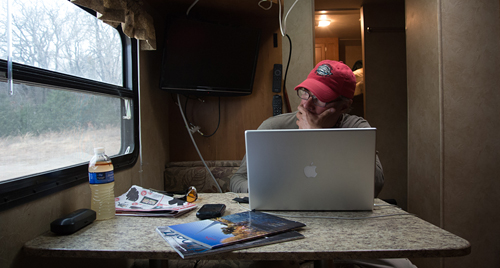 The flip side of isolation, especially if you are a bit less busy, is that there is a lot of time to think. And think I do.
Perhaps it's the strange coincidence of finally sitting down with Thoreau's masterpiece, the holidays, the end of the year, and so many other swirling variables within? Whatever the symptoms, the ailments and perhaps the hypochondriacal issues, isolation seems to be the cure.
Isolation, in this case is more human than mechanical. Out here in the middle, I'm set in a small trailer, wind rocked, overlooking a white caliche-like pad that, looking out the westerly facing window, has the well head out to the left, to the far left is the pond and to the right are the huge frack tanks connected by pipe to the well head. The Holding Pond is a place where shavings, runoff, and trash can go to be buried (like the landfills in town), for scientists in another millennia to find, fret over and catalogue. You may think all this the devil's work, but I think differently.
The job itself is pretty straight forward. We flow back water out of the wells on the Barnett Shale after the fracking process is done. The goal (for this driller) is simple: Maximize production by controlling flowbacks and leaving as much sand in the subterranean cracks as possible. Miles away from those fractures, we dance with the water and gas coming back up, measuring our returns and making sure they are properly disposed of. Pay out here ranges from just crazy to totally insane. This is crazy pay, but all that's a story for another time and another place. We do what we have to these days don't we?
TO BE CONTINUED …
Category: Culture on the Skids