New Fish Porn Videos for Fish Porn Watchers – F3T
You guys know I am a big fan of fly videos, right? They, "Give me fuel. Give me fire. Give me that which I desire!"

Metallica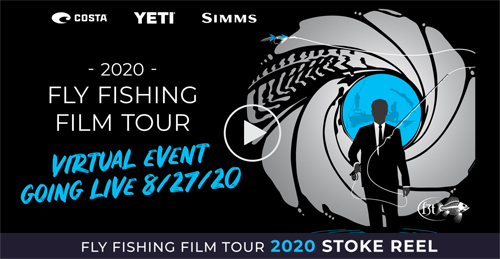 Well this is something that looks original in its presentation. The Fly Fishing Film Tour, aka. F3t, is an annual event that gives gave the hardcore fans a chance to gather and flash their phones – containing their own fish porn – at their fellow attendees … flipping through images, videos and skipping over pictures of gorgeous girlfriends, children and wives … and landing on shiny slimy fish that may have cost them all they paid forward to the aforementioned girlfriends, children and wives. It is as predictable as anything we know in fly fishing. And in reality, it is as entertaining as the Film Tour's big screen event – for me.
GET TICKETS: https://flyfilmtour.com/buy-tickets/ This event is scheduled to last only a week! Actually, it says, "… purchasers have one week to enjoy it." I don't know what happens after that, but here is the Trailer Link on YouTube – https://www.youtube.com/watch?v=NGP929cUx3w and here is their YouTube Channel Link – https://www.youtube.com/channel/UCwOHRyBTZGniG7-1s6fI-MQ I get the impression, based on their channel, that it is a "new" channel, because as of this writing there are only 41 subscribers to that channel today. I bet we can boost that a little bit from here!
If YOU ever want to see past film tours, be sure to look at your Apple iTV menu and click on movies. Fill in the search, and enjoy what you find. I own every single tour film up to 2019, and I run them while fly tying in my shop – CONSTANTLY.
Category: Events, Fly Fishing Video, Industry, Life Observed, Movies DVD Video