We were dead in the water and drifting gingerly toward the dam, and trying to decide just how we want to proceed tactically. As you may recall the boat died, dead, muerto, when we made the turn to run the 455 Dam on Ray Roberts during an early morning game of find the sand bass.
My solution, drop the trolling motor and ride it back, was snuffed out once Joel figured out how to unlock the motor and drop it in. About thirty seconds of little power was followed by none at all. The trolling motor battery was dead right there as well.
I try not to have flashbacks to the many, many boat breakdowns that haunt my childhood memories of the Lower Laguna Madre. I remember the time we were coming in fast to the Three Islands house, buffeted by a norther coming in and a thirty-mile-per-hour wind at our backs. The big wood cabined Dargel Boat died just as the throttle was pulled back to neutral headed for reverse. We hit the end of the dock hard enough to run a protruding two-by-eight deck board, strategically placed on the north end of the pier, through the hull – way above waterline, but the psychological damage was done. Then there was the time the same boat (I have a deep distrust of Evinrude motors) died while fishing at night with ballyhoo under the old causeway. By then we had new wood paddles on board, and the return only took about three hours to go about one-and-a-half miles. Imagine how many nightmares would have been wiped out if cell phones existed in 1974.
"Well at least we died here," Joel said, as we began to drift closer to the dam. Not knowing much about boats, but knowing that little bubble that pressurizes gas to the motor, I reached back and squeezed it. Soft … soft as in empty, no gas, nada.
Apparently, the tuneup of this particular motor means it now guzzles gas like a drunk drinking Lone Star in a bar on Saturday night. We had put in four gallons two hours earlier, run around Ray Roberts a bit, and were now drifting on empty. This motor is old enough to have multiple carbs, pre fuel injection. The last few years we've been out, Joel now posited, we were running on about half the number of carbs that were supposed to be pouring fuel in the engine. Imagine that.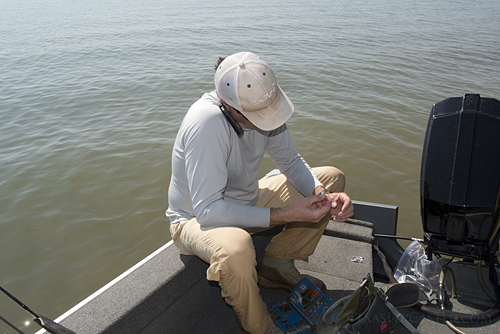 Calling home for gas.
When in doubt, whip it out. Joel makes the call, and his wife is on the way with a gas can. Now, while Joel is talking on the phone, I am fishing the dam. Visibility is good down to nearly five feet, and my simple silver spoon stops on the second cast. It was an educated guess on my part that fish were actually there. I had read on the TPWD fishing report that catfish were on the dam in great numbers, and I reeled in a channel cat that weighed almost two pounds. Good enough to eat, and into the YETI it goes as desperation sets in.
We throw out the sand anchors, two to stop the swing, and fish on. About ten more casts in, and my drag takes off with a good run. It didn't feel like a cat, bass or anything familiar. Another couple of minutes and up comes a familiar face – a gaspergou. Three pounds and a beautiful fish, my pride vanishes completely, and into the YETI it goes. I won't say the coolers were bad luck, but if the cooler could talk it may have a differing view of these transactions.
In the cooler exists the most motley crew of fish known to me, a gaspergou, a sand bass and a catfish. Visions of simple sandie tacos disappear into the reality there's a smorgasbord board of fish being assembled, most I never ever keep.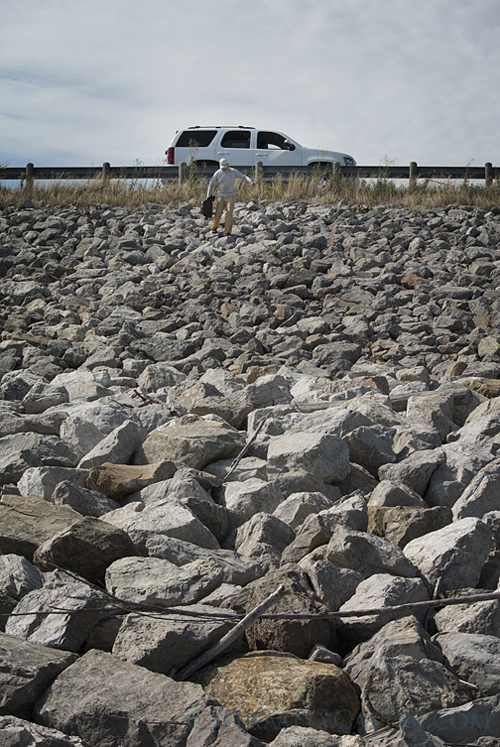 Joel boulder hops his way down the dam with enough gas to get back to the ramp. Sometimes friends wish I didn't have a camera with me.
Joel's wife finds us on the Dam, where Joel climbed up to flag her down. As she pulls up, I can hear Joel's son … laughing pretty hard from the back seat – adding insult to injury as ten-year-olds are prone to do.
Gassed up, the engine starts right back where it was before it was starved to death, and we are back on plane headed for the flats and a carp fix. We beach at a point near the boat ramp and hop off to start stalking carp back in a common cove. The wind was all the way down, and we didn't see much going on where there should have been massive carp action. Joel worked it with the fly rod, while I kept with my conventional looking for bass. We really never thought it would come to fishing for carp on a day intended to catch tacos, and I didn't even bother to bring a fly rod.
As we are casting off the boat from the point, we notice more nervous water about a hundred yards further off the point. As we idle closer we see fins sticking out of the water swimming in circles – sharklike. Our eyes begin to adjust, and there are live grasshoppers everywhere. The sharks are actually catfish! They're everywhere, and swimming on top slurping the hoppers off the glass surface. Water clarity turned the phenomenon into something you would see at Sea World. Did Joel have a hopper fly? Logically, no. Would they take anything else? Well, after hitting them on the nose, and passing conventional metal objects within sniffing range, the answer to that was also no.
Not that I like to "mess with" trout elitists, but these catfish were rising to gently take grasshoppers off the top. It was surreal. Surveying the action, we began to see carp, big carp, doing the same thing, coming up and trying to suck in grasshoppers. It was a display to remember, as the carp had to try hard to take in the morsels and their mouth action actually pushing the hoppers a little further ahead of their moving lips. Yards away, we see a dorsal fin sticking about four inches out of the water, slowly moving in circles and other widely curved directions. It's attached to a catfish that would weigh, by our estimates, twenty pounds. We got close, casted, but these fish had only one thing, and one thing only, in mind – grasshoppers.
Enough was enough. We didn't even have anything these discerning fish would take, so we took it to the ramp, done for the day. I don't know how predictable your fishing exploits are, or how predictable you want them to be, but unpredictable can be good sometimes.
POST SCRIPT – Knowing what I knew, and seeing the dead calm weather predicted for this past Monday, I loaded the kayak, hastily tied some grasshopper flies and went back to the same spot. The stars once again aligned, and for the first time in my experience, I caught carp, gar and catfish – at will on a topwater grasshopper fly. There were numerous refusals, just as a discerning trout refuses, by catfish that had the time to really eyeball the fly. Fights from these fish were spectacular, with a tail-walking 30-inch gar and deep pulling, heavy carp. The cats were so freaked when hooked that they would actually break the surface and jump to get pointed the right way down, and fight on. Epic.
Category: Culture on the Skids, Fishing Reports, Fly Fishing For Carp, Fly Tying, North Texas