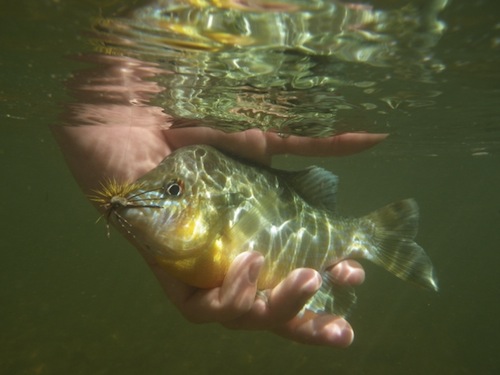 COURTESY PHOTO – Living Waters Fly Shop
Last year's one fly tournament was a smash hit so we decided to make it an annual event! Just like last year, in order to fish in the tournament you need to pre-register via email or by calling the shop. In order to fish in the tournament you must attend the pre-tournament briefing held at 9:00 A.M., just before the start of the event. The rules aren't too complicated; however, if you have any questions just call the shop at (512) 828-FISH. There will be prizes awarded so fish hard! Last year Matt Bennett won with 6 species, see if you can beat the previous record! We look forward to seeing you here!
EVENT SCHEDULE
8:30 A.M.– Tournament Entrant Check-In @ Living Waters Fly Fishing
9:00 A.M. — Pre-Tournament Briefing (Mandatory for Entrants)
9:30 A.M. — Tournament Begins!
12:00 P.M. — Tournament Ends
12:15 P.M. — Photo "Weigh In"
12:45 P.M. — Winners Announced/Prizes Awarded
1:00 P.M. — Lunch at Las Brisas (formerly Garcia's)
TOURNAMENT RULES:
1. THERE IS NO ENTRY FEE BUT YOU MUST PRE-REGISTER TO FISH THE TOURNAMENT!
2. You must attend the tournament briefing in order to fish the
tournament. — This is essential so that you know boundaries, regulations, and rules.
3. You can fish with only ONE fly during the duration of the tournament.
4. If the single fly is lost and cannot be retrieved, you must leave the water and return to the fly shop for fish species photo review — you may return to the creek to fish after your photo entry if you wish.
5. This will be a multi-species tournament — the winner of the tournament is the individual that catches the most species of fish on a single fly. Keep this in mind when selecting your fly.
6. A Clear Picture (showing markings, profile, etc..) of the fish will be required at the close of the tournament for proof of species.(BRING YOUR OWN DIGITAL CAMERA)
7. Chris Johnson and Matt Bennett will be judging all fish species caught at the close of the tournament and can be contacted during the tournament hours for ID questions. Photos in most cases will be able to be seen on the camera screen but if necessary we can download the pictures to a computer for viewing. Bring appropriate, related camera cables if in doubt of your camera's viewing quality.
8. In the event of a 1st place tie, the two top finishers will compete in a tie breaker of epic proportions!
9. All fish must be caught and released within set boundaries. (To be announced at tournament briefing)
10. Abide by property laws — If it says NO TRESPASSING then DON'T TRESPASS!
11. Tournament Fishing Hours are from 9:30 A.M. – 12:00 P.M.
12. Photo "Weigh-In" will be held at 12:15 P.M. For late "weigh in" arrivals, we will deduct a single species from daily catch per every 5mins late to "weigh in".
13. ALL CONTESTANTS MUST HAVE A VALID TEXAS FISHING LICENSE!
Tight Lines,
Chris and Matt
Living Waters Fly Fishing
(512) 828-FISH
www.livingwatersflyfishing.com
Category: Fly Shops, Tournaments and Contests