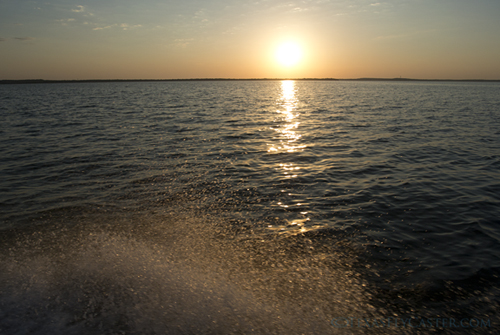 Running the lake looking for sand bass on Ray Roberts last Friday.
Sometimes you gotta' eat.
The first few times I went on meat runs with Joel, I-don't-call-him-purple, Hays, it was a whole new experience for me. In some ways it reminded me of the early '70's and the kind of action we got into catching speckled trout by the ice chest load, but the freshwater bounty we pursued was, and still is the sand bass.
Sand bass are just about as good a fight as there is in freshwater, and their instinctive behavior has a distinct saltwater flair at times. And those are the times we like to chase them – when they are forcing shad to the top in open lakes, and birds get into the act, circling and diving on the shad as the topwater slaughter ensues. Sand bass are highly aggressive and frenzied during these blitzes, and eat to the point of regurgitation, then eat more.
Fly rods are put away, and we break out the spinning rods with lures as complex as a Heddon clear Torpedo, and for me typically a retro silver spoon. I try to keep a good supply of retro lures just in case conditions demand putting away the feathers and fur.
Sand bass, if you are unfamiliar with them, are big time reproducers and sand bass or white bass as they are also called, are some of the best table fare that run on Texas lakes. To give you an idea of their abundance, Texas Parks and Wildlife Department's size and bag limits statewide are 25 fish and a minimum size of 10 inches. I am not much of a keeper nor cleaner of fish, so my size limits depend on the action, but run from 12 and sometimes 14 inches. Sandies do make fantastic fish tacos, and when the request comes in for fresh meat, I must abide.
We loaded both YETI coolers in the boat after pulling it out of the storage garage a stone's throw from Lake Ray Roberts. Coolers on fishing trips seem to be a blessing and a curse. If you catch fish, they're a blessing, and if you don't they can take credit for your curse. Nevertheless, we had good intelligence and the drive to pursue sandies wherever they may be.
The boat belongs to Joel's Dad, and comes with its own set of unique instructions that Joel follows, and I have learned, to a T. We brought along four gallons of petro and gurgled it down the pipe. It's not an elegant, nor new boat, and it bears no resemblance to a flats boat, but it does the job quite well. It had just been tuned and the boxy cowling of the Mercury started and purred like never before.
Once we were out of the no wake zone, Joel hit the throttle, and we were on plane quicker than ever before. I thought about asking if he laced the gas with viagra. Chasing sand bass on top is a lot like stalking on the flats, but at high speeds and over much wider areas. The water was pretty smooth, but there were no birds to be seen as the sun began to rise. When there are no blatant signs of sandies, it's pretty common to swallow the pride and chase clusters of boats who may be on schools we can't see. The vast majority of boats looking for sand bass go along, and get along with this process, and the only problems arise when someone is simply unaware of the protocols around a school of sand bass.
We found some nervous water early on, just off Wolf Island, but that was inconsistent and the fish seemed not to be at full tilt yet. I caught three in about five minutes, and one made the cut.
We moved around the lake looking at typical spots for action, but decided to make one more pass by the dam before heading to carp flats to get a good bend in a fly rod. We flew back to the dam and just as we were making the turn to parallel the dam the motor sputtered and quit.
Dead in the water, we drifted thankfully toward the dam. How unusual is it to have a prevailing north wind in North Texas in June?
To be continued …
Category: Culture on the Skids, Eating and Drinking, Fishing Reports, North Texas