[display_podcast]
I managed to grab some video of a carp fisher, a youngster, who knows how to get it done … with a little help. Make sure to watch the close encounter at the end! There's no catchy music overdub, just cinema verite .
WEATHER
It's house shaking thunder and lightning today, and for a couple more days according to forecasts. They are even showing those little clouds with the animated lightning bolts into next week. The gardens need it, and there's not a lot of runoff, so we will just have to roll with this one. Besides, you know how summers can get.
TPWD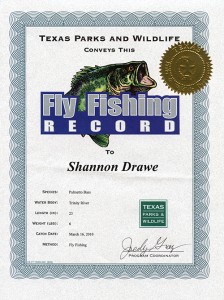 I just discovered today that Texas Parks & Wildlife is running a new beta site parallel to their current site. If you get a chance, go take a look, and make sure you do the survey – I have voiced my opinions on their methods and layout for the fish records, and did so once again on the survey. All I think they need to do is group the records to the actual waterbody, AND have a group thing where just the new records show whenever they are registered. Speaking of records, one came in today for my palmetto on the Trinity River – talk about a record made to be beat, heck I had it beat before this one was hooked. I must have done something wrong with the 15.5 inch 2.5 pound sand bass, so when I find out how I botched that form, I will be sure and let you know.
NEW DFWYFLYFISHING.COM
I am working on Joel Hays'(JH) site www.dfwflyfishing.com this weekend – to be converted into a wodpress site in time for the heat of the carp season fast approaching. He won't believe how much fun it will be running on wordpress! Pimp that site Joel. Be sure to check it out now and in about three days. Remember to contact JH if you are wanting to sample those golden bones on the North Texas flats.
Category: Culture on the Skids, Fish Podcasting, Fishing Reports, Life Observed, North Texas