texas fly fishing in oklahoma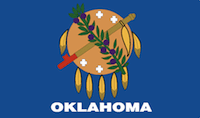 Just a short report from yesterday at Beaver's Bend Broken Bow, Oklahoma.
If you were somehow thinking you would miss the Oklahoma spring break crowd, and hit the stocker trout at Beaver's Bend … forget about it. The place is completely overrun with Texans. And the entire place is being pounded mercilessly.
We thought we were being smart planning around the OK spring break, but parking lots are filled to overflowing with Texans, and the same goes for the campgrounds, and just about everything else.
Trails are beat to dust, and lawn chairs dot the holes. Screaming kids running rampant. Needless to say, it was a disappointing outing, and especially so since I had't visited the place for a few years. Enough of that.
Don't bother. And next week is Oklahoma spring break, so a second week of pounding is about to run into the first.
You are better off staying in Texas and headed south and/or east (from DFW) for some real good old fashion sand bass runs that should be in full swing where the water is.
Category: Destination Fly Fishing, Fishing Reports, Oklahoma Report, On The Road