fly fishing texas fly fishing houston
NOTE – I don't know about you, but I can feel the pebbles and cracks of the sidewalk through a "soul" worn thin by recent events and a brutal winter, but the promise of spring does much to thicken it back up, get it ready for our pursuits yet to come. If you fly fish, you've got to be an optimist, don't you?
Welcome to your Monday morning wherever you are across Texas, and across the USA. For so many folks it's now that time of year – Spring Break! And nowhere else do we feel it more than right here in Denton, TX, a town proudly boasting about 45-thousand university students, and a significant number in public schools as well.
That giant sucking sound you hear is the sound of gasoline coming out of the station's tanks and being force fed into fleeing vehicles of all shapes and sizes, an outright exodus.
Fortunately for me, if you are reading this on Monday morning, I am already on the water as you read. This time it is Broken Bow, OK, and a ride along trip to do some photography, maybe fish a little, and see just what has become of Beaver's Bend – Broken Bow.
The Bow is high on DFW (freshwater) fly fisher's list of places to go for a cheap trout fix, and while I have been there quite a bit over the years, it has been years since I've been back. Many years. With a little luck, and a little weather, maybe I can bring back a good update on all the changes since the floods there. It's hard to believe how long it has been.
OVER THE WEEKEND
TEXAS FRESHWATER FISHERIES – FLY FISH TEXAS EVENT
Over the weekend, I made a trip out to the Texas Freshwater Fishery Center to do another "Carp Fly Fishing" presentation, and it was the last slot of the day, which looks to me to be the worst slot of the day judging by the dozen attendees, several of which were waiting for their Moms to pick them up. They probably thought they were caught in a warp when the brand new presentation came off more like an environmental science lecture. Is anyone listening? Well, yes they were, and it only takes one among the dozen for me to consider the effort a raving success.
If you have a club or group who wants to hear about current methods, and challenges to fly fishing for carp, be sure to contact me. The current lecture also contains a substantial dose of reality about the water situation we find ourselves in here in Texas. My next speaking engagement is at the Red River Fly Fishers monthly meeting in Sherman, Texas, on April 1. That's no joke.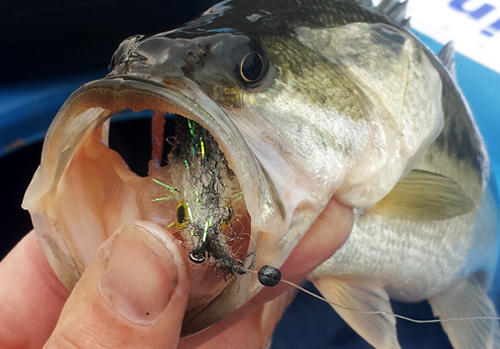 Photo Courtesy – Danny Scarborough
REPORT FROM HOUSTON AREA – Danny Scarborough
You are probably becoming more familiar with the flies (sold at Pops Fly Shop) of Danny Scarborough who lives in Houston, and Danny is stepping up to also keep us posted on the conditions in that lush part of the State.
Danny's New Fly Report: "We're doing good here this spring. Lake Conroe is only a foot low. Highest I've seen it in a long time. On Lake Houston the white bass have been here and there but definitely spawning. The crappie have really thick this year.
Lake Livingston's white bass spawn is going strong as we speak. I've been seeing limits almost daily. I really should of fished there but didn't want to make the drive.
I had to work yesterday morning till 10. So instead of going to any of the fishing shows, I decided to fish Lake Houston and test the Game Changers. They are now tested and approved for bass, gar, and a huge crappie (sadly lost at the boat)."
TRIPPING
In tripping down to Athens for the presentation with Joyce riding along, I was excited to hear about her upcoming fly travels. She's headed to Montana for a trip with Steve Hollensed and even booked a trip to go bone fishing in October (also with Hollensed)!
Joyce is a member of Texas Women Fly Fishers, an organization that I thought was only for women. She informed me that it isn't "a sexist organization!" and men are welcome too. Okay, since all the recent club drama where I am a member, it only seems logical to give the TWFF group a look. One thing is certain, the Texas Women Fly Fishers know how to have fun.
One bug she also planted in my ear (and she's not the first) is to begin planning my own group trips to great destinations. Honestly, I haven't a clue how to do one of these as of this writing, but momentum is gathering …
Have a great week, and great spring break for those of you lucky enough to get a Spring Break!
Category: Adventure, Culture on the Skids, Destination Fly Fishing