SKIFF READINESS
Undertaking a long journey of nearly 1-thousand miles round-trip is cause for reflection. Not only do I remember my illness of four years ago, it is also same time I picked up KoKo, my skiff, in Florida. Four years means some things must pass away, especially two well-worn bias-ply tires that came stock on the Continental Trailer. Two new tires taking their place, this time radials instead of bias. Why radial boat trailer tires?
Bias are great for short runs, but radials run cooler, don't flatspot and are made to go distances. I have been way less than satisfied with my stock tires, which should be of little surprise. It's not like a trailer builder is going to spend a lot on the tires for the trailer – doesn't happen.
In fact, from the beginning, my trailer has spun the axle (hub) caps off the driver side to the tune of losing about six caps in a wide variety of styles. I've managed to hammer the curbside cap on well enough that it hasn't spun off in awhile. Why do the axle hub grease caps spin off?
It could be a cheap hub that is not balanced. It could be a tire that was cheap and never balanced. The only choice is to start with the simple stuff.
All bearings have been replaced and packed the way they should be – marine grade grease NLGI GC-LB to the hilt. After I did all that, I had spun off two more caps on the hub, so that is really what forced me to look at the tires. My expectations are high for the tires …
I replaced them with Continental tires from Sam's Club and got in-and-out for about $120 with mounting and balancing.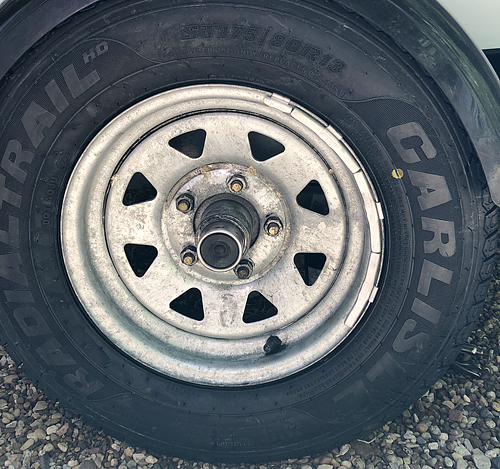 Why balance a boat trailer wheel? If you look at the photograph, that question is answered. Not only were the tires cheap, the rims are obviously nearly worthless. One of the boat trailer rims has 6.5 ounces of lead on one side. That is not the new radial tire causing that. For now, I will run these rims until they throw the lead, then begin the search for some better boat trailer rims. As below average as the the tires are, the rims are / were until balanced — the root of all the problems.
The ride is extremely different now FOR SURE. The boat really has quieted down, and most importantly, the trailer sticks to the road better; there's no more of that "bounce house" effect that sends the trailer flying off the ground when I hit the bumps and holes in our TERRIBLE TEXAS ROADS. It just stays stuck to the pavement, smooth and quiet.
TEXAS SHALLOW SKIFF READINESS
RAISING THE OUTBOARD MOTOR FOR LOWER LAGUNA MADRE
As for the shallow readiness – remember how shallow the Lower Laguna Madre is? – I raised the outboard one notch which is just about the limit for one person and standard load. I can hear the change in the sound of the intake telling me that any higher and we have cavitation. This particular boat and motor should probably have been set up at this height a long time ago! I picked up about two-miles-per-hour immediately, and the agility is greatly improved.
For those unfamiliar, this particular technical poling skiff does have a pretty flat bottom – as most do, but does not have a tunnel hull. However, I've realized it would benefit from a jack plate simply because it allows adjustment for load and secondarily depth. As far as jack plates go, the one below is (as best I can tell) the de-facto best on the market for small motor setups for shallow Laguna Madre depths.
If I were close to the coast, I would have had to have a tunnel hull up front. That I am not, means I need what I have, and will have to experiment with things to see just how shallow a person can get without a tunnel — when I NEED to get shallow.
Experimentation in Texas Gulf Coast shallow water technical poling skiffs, without a tunnel, means looking ahead to a Shaw Wing (those are permanent mounting), and learning about the rocket science of props for quicker hole shots (that also result in lower top speeds). The great thing about props? They are easily changed out.
OBVIOUSLY, these last things are based on true COMMITMENT to going to salt a lot more than I currently do. The great thing is, going to salt is a 365 day (all year) possibility, as opposed to the floods, desert, floods, ice, wind and boiling temperatures of North Texas. THEY'RE ALSO BASED on a bit of an investment as well.
On the NEXT installment of Texas Shallow Skiff Readiness …
Electronics
Marine Radio
Phone
We will take a simple look at the reasons for one, or all the electronics at a place like the Lower Laguna Madre of Texas.
Category: On The Road, Saltwater Fly Fishing Texas, Texas Gulf Coast, Texas Skiff, TIPS