blue river oklahoma fly fishing tishomingo flooding #flyfishing denison dam fly fishing striper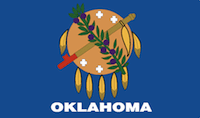 I saw some differing information on the Blue River near Tishomingo OK, the other day, and decided it was time to get back to one of our fall Basic go to places. From Denton, it's only about an hour-and-a-half up HWY 377 to get to the Blue River out in the middle of nowhere Oklahoma. Now while we're on the subject of of Tishomingo, I was trying to pry myself awake early this morning to the classic Cohen Brothers film, "O Brother …" and I got to the scene where they picked up a bluesman named "Johnson" at the crossroads, and got a wild hair to go over to a radio station in Tishomingo and cut a track with their new hitchhiker from hell.
Now, there's one I had missed, but when they pull up to the radio station … I could easily imagine that place as the Tishomingo I have seen so many times.
I got ahold of Barry Schrader the defacto guru of the Blue River, and here's what he said about the situation on the ground at the Blue River:
Shannon,
I plan on visiting Blue soon.  Parts have been closed due to the floods. Area 1 is scheduled to open up this week. 
The river is really beautiful now.  It was blown absolutely clean with almost 50 inches of rain over a 10 week period.  Sandbars we use to stand on are no longer there.  New sandbar formations have been born.  The river is wider in places.  Banks have been eroded.
I will send you an update along with some pictures.
Take care my friend. 
Barry 
There you have it. If you do decide to go, remember that Oklahoma stocking begins again November 1. So any early visits may as well be focused on exploration and mapping for a redesigned location! It's pretty exciting to think a place as predictable as the Blue River could be rendered NEW AGAIN, but it sounds like that is exactly what has happened. There'll probably be some of the rubs between the catch-and-release folks and the killers, but once the lines are known, it's a place where everyone pretty much gets along fine.
Remember to do a search on the right side "Search This Site" using the words "Blue River Oklahoma" for a thorough listing of all stories about the Blue that reside on this site.
NEW BRAUNFELS SAN MARCOS THE GUADALUPE
Images were creeping onto my Facebook feed late this morning; apparently there has been another x00-year flood event down there, and the have been doing whitewater rescues all day long. I wonder just how many of these "100" year, or however many hundred years, rain events have hit that area in the last, what, fifteen years?
Timing is everything, so there may be a mass migration to Oklahoma if the Guadalupe takes another of those major hits like it has in the recent past … hope they are all okay, and recover as soon as possible. If you hill country guys do need a "Plan B" though, you may just want to look at Oklahoma.
PLAN C
There is a Plan C. It's called The Red River at Denison Dam, where I am getting reports much like the floods of years past. There are a large variety of striper sizes to be caught there – now that they were dumped by the flooding, and are getting a bit hungry a few months into their exile. Don't make the mistake other fly guys make, and think they're going to be there forever. The local killers will come in and clean every one of those stripers out they possibly can, and they won't stop coming until they're all gone. I did get an invite to go do this, but striper below Denison Dam is one of the most physically demanding fly outings there is around here, and I am just not up to it yet. You really need to bring a second person, good boots with spikes and a wading stick. The last time I had success there, I was fly fishing the Oklahoma side during the beginning of the release. Action would get fast and furious when they opened it up, and lasted about an hour. It was a perfect, if ancient, memory.
Remember to do a search on the right side "Search This Site" using the words "Denison Dam" for a thorough listing of all stories about the striper at Denison Dam that reside on this site.
Category: Culture on the Skids, Fishing Reports, Oklahoma Report, Science and Environmental, Texas Hill Country