I assumed the stance on the South Padre Jetties yesterday, you know the one – the stance that keeps you from being completely blown off the Jetties by the gale force winds whipping up the froth in the channel and leaving the windsurfers on the north side completely in a state of bliss. Fly fishing was never on the agenda, even fishing ideals had left the region, not just the building.
The wind surfers moved so fast, if I glanced away for a second, they were far removed from my last reference. I searched for the kite, the lines to it invisible, and down to a tiny speed demon tearing the Gulf of Mexico a brand new wake. Wind surfing will probably not make my bucket list, but if you're young enough? This is your Valhalla and these past few days have been what we surfers used to call, "EPIC!"
South Padre Island
I would love to be giving you these glowing fly fishing reports, but the wind has been crushing us here for several days now. In retrospect, it turns out I took good advantage of the ONLY day last week that would support the long rod, and made some good of it.
Sweet and Saline
We went out from Adolph Thomae Jr. County Park at the end of civilization for the Arroyo Colorado. This park didn't exist when I was a kid fishing the river at night under the lights, as well the little fishing town was still a little fishing town back then, and not much more. Now, this Arroyo Colorado is another "destination" for all types of fishermen's fantasies. Lodges and houses geared toward their pursuits line the shores of the Arroyo Colorado, a river that provides some prize species the balance they need between sweet and saline. More on that in the future.
The Skull Island Skiff was a first for me. This is a skiff that is a Florida boat through and through. Narrow for the Glades, brilliantly altered for Texas with a jackplate and even the shallow water pickup by Mac Jank – the Zephyr Cove Pickup.
While well modified for the skinny Lower Laguna Madre, I had a hard time adjusting to the "tip-ability" of the Skull Island, and while we did manage several sizes speckled trout, my internal balance beam was pretty well shot by the time we got back to Harlingen and my monster burger was on the grill.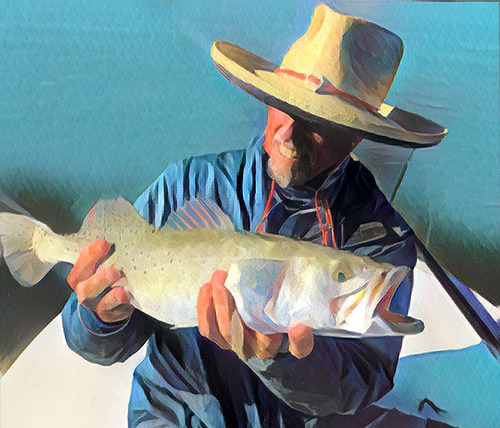 If you want to see the fly that I finally settled in with on these specks last week? Just shoot me a message at 956-986-1595, saying, "Speck Fly?" and I will send you a photo. I would give you the name, but this is a nameless "one-off-fly" that just happened to work. Will other flies in other categories work? Yes they will, and yes they did – but not at a hook-up rate anywhere near what this one did. It's an easy fly and once Los Pescadores' doors are open – you can come by and get your eyes on this fly and dozens more! Heck, we can even sit down and tie one on for you.
I have a map for subscribers on Patreon – showing where this speck was caught last week. So if you want a look at that, be sure to slide on over to Patreon Fly Fishing to get your eyes on that aerial map.
Speaking of Los Pescadores
What can I say that I haven't already said about the Valley's premier fly shop? Well, I can say that I have been working behind the scenes to get it online for many days, and you can now buy many of the things you need NOW at the Los Pescadores Coffee and Outfitters shop! After this story hits this morning, I will be back at it – loading more merchandise into the store. And the only reason for that is? Like the last two days of working on the store, this wind is beyond your wildest imagination. It is so loud, how loud is it? It is so loud that you can probably tell I am sleep deprived while writing this … it really is that loud.
The brick-and-mortar store is another story, and one that reads like "War and Peace" at this point. Tolstoy got it right when writing, "The strongest of all warriors is these two – Time and Patience." I wish I we had a lot more of both about now. Let's just say "Island Time" is told on one of those clocks that runs backwards, it seems, at times.
Category: Adventure, Body-Mind-Soul, Destination Fly Fishing, Fishing Reports, Los Pescadores Coffee and Outfitters, Saltwater Fly Fishing Texas, South Texas, Texas Gulf Coast