Way back in early February I began my research into the White River. The more I read the more it scared me. I started with Mark Williams' book "So Many Fish, So Little TIme," a wonderful book that gushes about the White River.When I first mentioned the Arkansas White River to my guru Joel Hays, he said, "That's a big river." I pressed, "What else can you tell me about it?" "It's a BIG river," he said almost as if haunted.
I can't say I wasn't warned.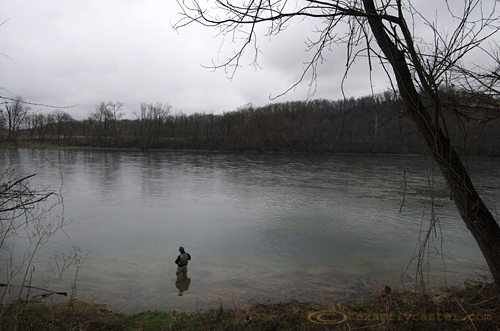 The trip for me was the first of its kind, a get in the passenger seat, and basically plug myself into the plan. I've done the vast majority of my fishing solo, whining all the way, but I saw an opportunity to sit back relax and leave the thinking to fellow fly fisher Dusty Montgomery. You may recall Dusty and I have had a few adventures, including the Paluxy River and Broken Bow (a few times).
Dusty had already been to the exact location we were headed to Rainbow Drive Resort and Campground, and we were even staying in the same cabin. Driving Monday and driving Saturday left a four day window to see if we could notch up a few brown trout the White is so famous for producing.
The drive itself took about eight hours going up at about 465 miles. The route runs from Denton – Gainesville, over on 82 to 75/69 North to 40 East, and east to 540 North. It becomes a twister after that, heading east on 412/62 toward Mountain Home. We were off to the Rainbow Drive Resort which is up Denton Ferry (what a coincidence) road, past the fly in Valley Airport.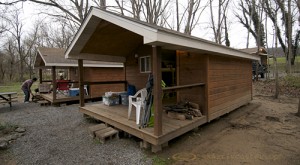 We stayed in a fantastic small cabin set back just a few feet from the bank drop off into the White River. Let's just say if you are not a top shelf, mint on your pillow kind of fly fisher, then these cabins are for you. And they're ridiculously affordable. They remind me of a man cave except for the bunk count (at bunks for four and a queen for two more). The generous sized front porch certainly gets a lot of use when it rains, and is homey as any I could imagine.
At the end of the drive, we offloaded out gear to the bunks above where we slept and of course all over flat surfaces everywhere. With a head count of four, and sleeping for six, there's more room than you could ever use. A small but tall refrigerator (sorry no bar inside) was great for those things needing refrigeration, while we stacked ice chests on the porch with various cold beverages.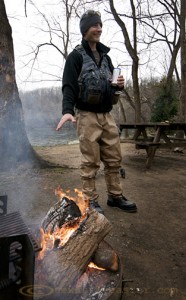 The river as we first looked at it, was "a big river" flowing rolling and boiling. We found out that is what it looks like at four generators running at the dam. Think of it as Denison Dam during normal generation, and you get the picture of the volume we're talking. Although the water was clear as gin over the gravel and sand near the banks, it was way too much current to wade into.
Electricity Generation at Bull Shoals and Why it Matters
So, there we were with a raging torrent of water outside our front door, generated by Bull Shoals Dam, and people's need for electricity. That's your first hint. When do humans need electricity most? When they are either hot or cold. From that simple truth, we can deduce that the dead of winter and the scorching summers will be a rocking time for the generators to produce electricity. Translation; down time for fly fishers. Sure, you can get in a jon boat and run and drift, and actually catch some nice fish. This information is for the DIY'ers who want to plug themselves in, step into the water, and catch fish. As much as I have heard about generation and water levels, unless you've already seen it, you won't be ready for what you see.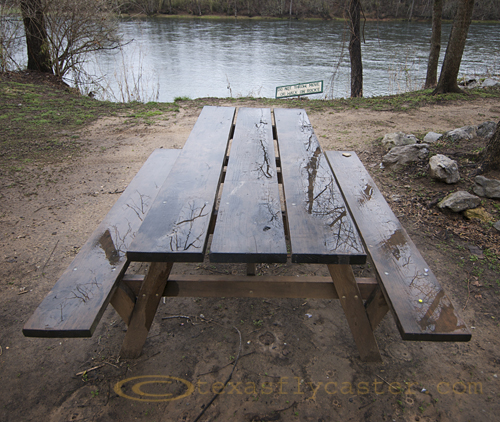 Part 2 – Getting Norforked
Category: Arkansas Report, Culture on the Skids, Fishing Reports, Life Observed, On The Road, TIPS