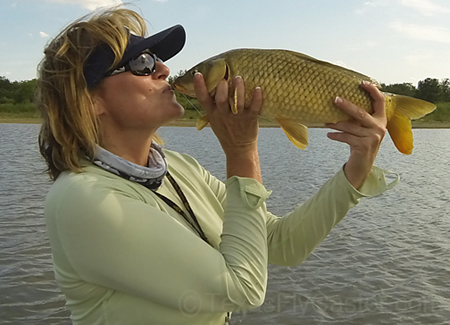 Taking stock of the loss of another tiny part off the GoPro Hero 3 this morning, and downloading some image files off the Hero 3 to find … this image of Orvis Dallas' Sharon Leissener's first carp on the fly caught late yesterday afternoon – at a location she found on Lake Ray Roberts. It was obviously … a happy … moment for Sharon, even though she broke her Winston Boron III five weight on the fish. Last night's outing sparked the idea of creating one day a week, where all schedules allowing, women fly fish for free.
Well, there were a couple of Chuy's margaritas and a Chuy's famous Chicka-Chicka-Boom-Boom meal, so I guess Wednesday Ladies Night won't be exactly free. The precedent has been set, and I like it. I may get fat(ter), but I like it.
I'm catching a lot of heat for not getting more fly fishing porn out to the addicts, and my only excuse is being too busy shooting the porn to edit and publish the fly fishing porn! Rest assured, after getting a music video from last weekend summarily shot down, I will be doing the voice-over right after this goes live.
FOCUS CHANGES AGAIN NOW
There always seems to be things popping up in between trips to the Texas Gulf Coast, but a week from today I will be headed for the Lydia Ann Flymaster's Tournament in Port Aransas, Texas. I believe my fly assortment is collected, and it's really a matter of gathering the kayaking strength, in a weeks time, to make this enjoyable.
I may be getting a little spoiled riding around in front of a 40 horse, or 250 horse outboard, and pointing far off to the horizon and saying, "let's go there!" I'd be lying if I said I haven't been trying to subtly influence friendly boat owners to enter this tournament.
FULL CIRCLE and Tightening a LOOSE LOOP
Just the the publishing of new video from the GoPro Hero 3, video and stills (like the one at top), is generating a lot of interest for the camera from people I fish with regularly. Again, I have to say there is a steep learning curve. This camera does not come with any live view capability, and that alone takes me back to film days, and sometimes HOLGA camera days when things don't go as anticipated. And they rarely go as anticipated with a GoPro. So there's the learning curve, lots of tiny parts to lose, a sketchy firmware on board from the factory, and virtually every way of mounting the camera is proprietary. Battery life is dubious with original size batteries, and there's no external charger to allow for charging outside the camera.
All that, and the damn camera is still so … addictive. Size alone makes it stupid to ever leave it behind. It is the ultimate fly fishing (video) camera for size and waterproof quality. The video is stunning. The stills are satisfactory.
REVIEW THIS!
There are still several reviews to write regarding the new generation of fly fishing cameras, and the eight weight fly rod shootout. In case you missed it, the review of the Winston Boron III-SX ran after I had my hands on it on the water at Port O'Connor ran recently.
Get ready for some videos!
Category: Culture on the Skids, Eating and Drinking, Equipment, Fly Fishing For Carp, Fly Rods, Life Observed, Photography, Reviews