Battle of the Eight Weight Fly Rods Begins
I thought, in an effort to make the eight weight fly rod shootout more clear and organized, I would take these fantastic fly fishing sticks one at a time. Conditions were exceptional for testing these rods last week; windy, fishy, wading and on boat.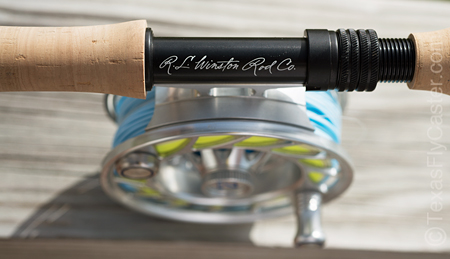 Today we start with a beautiful setup that fell into my hands last week at Port O'Connor, Texas. I fished three different eight weights last week, one of them being the Winston Boron III- SX crowned with a Hatch 7-8-9 reel loaded with saltwater fly line.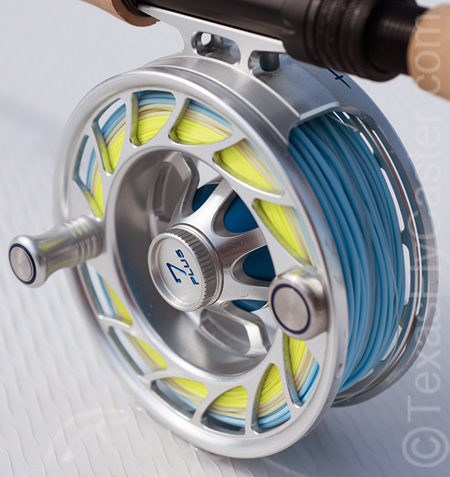 More on Hatch Reels in a future post.
On our first day, I was not fishing the Winston Boron III-SX, but did stand and watch as Scott Sommerlatte was showing CK some casting details with that rod. Until a day later, I thought I had stepped off into the twilight zone. Scott was good for sixty, seventy feet; that was no big deal (for him), but what I was seeing was our rudimentary two piece fluorocarbon leaders making perfect presentations. He had my complete attention.
A day or two later, I finally had the Winston Boron III-SX in my hand, and out rolls a perfect presentation … aha! Distance, accuracy and presentation – all score top marks. Then there's the "feel" and "energy" thing.
The rod felt alive in my hand, that lighter than air feel and it seems to reach all the way through the cork handle – end-to-end. It's hard to describe, but easy to feel … kind of like you can feel the hollowness of the blank moving sensation (vibration) through the cork.
You already know I care less about beauty marks than most, and you probably already know the Boron III-SX has the typical color of a Winston. What's not typical is the huge saltwater guides, largest of all rods tested so far, that clearly state: "This is a saltwater nasty!" The guides on the rod are huge and polished, while the snakes are (brilliantly thought out) black. Boron rods, weight-to-weight, are a larger diameter than their counterparts by Scott and Sage, and I guess that could matter to some (the rod hardly fits in the factory tube) … I could care less.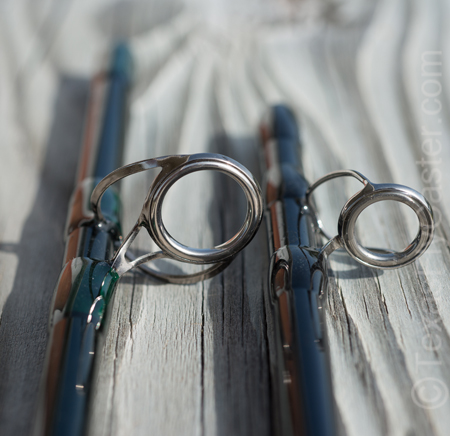 Winston Boron III-SX on left – compared to another 8 weight with largest guides I could find.
And a great blank with well considered components contributes to what I'll call (or maybe someone has called?), "energy conversion." The Winston Boron III-SX takes very little energy to convert a cast … it's just not a lot of work people! That means for the amount of energy you expend, you get a lot of distance and accuracy, and in the case of the Winston Boron III-SX , beautiful presentation as well.
Although I hardly consider myself a "gear guru," a "fly rod engineer," and my testing is hardly scientific or empirical … I would like to think I am a lot like the folks reading this. On a scale of ten, I have to give this rod an overall 8.5 remembering that no rod is perfect, so ten is still an illusion. For my hand (and an 8 weight), I think the full wells grip could be larger circumference, but all components, distance, accuracy and conversion, all are top shelf all the way. There's a reason why guides on the salt use Winston Fly Rods and this is it.
Knowledge From Banning Collins
I received this comment after the story went online:
"Shannon – I am glad you got to experience that rod. It is truly a strong and efficient rod. The BIII Series – BIII X and BIII SX – have a wide range of efficient casting distances which makes it very capable of shorter range casts and longer distance/heavy or wind resistant flies. The use of Boron in only the handle section aids to this power and great lifting power. The Winston feel is in the loading and unloading of the rod load yet this series holds up power and high line speeds."

Let me know if you have any questions, always happy to help,

Banning
When you want to get your hands on these top-shelf components, the Winston BIII-SX series, or a Hatch Reel, be sure to go to your local fly shop of course! You can find these at Tailwaters Fly Fishing in Dallas, TX, and at Backwoods in Fort Worth, Texas. Be sure, as I know you will, to mention who sent you …
NOTE – Thanks for hanging in there the past few days, while the site was working, but not working for me! If you ever need website work (as in a hardcore mechanic), be sure to visit – www.fixmywp.com – especially if it's all Greek to you. Makis is your man.