guadalupe river trout #flyfishing in texas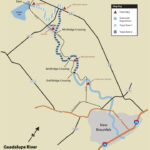 FROM THE TPWD WEBSITE
The map on this page shows the trout fishing area of the Guadalupe River between the Canyon Lake dam and the City of New Braunfels. Trout will be stocked at Guadalupe Park, Whitewater Sports, Rio Raft/bridge crossing in Sattler, Third Crossing, and Camp Huaco Springs.
Many camps and resorts in this area offer river access to paying guests. Free public fishing access is provided at the following locations:
Year-round: Guadalupe Park, operated by the US Army Corps of Engineers
December 5, 2014 – March 5, 2015: Texas Parks and Wildlife Department has signed temporary lease agreements with Mountain Breeze Campground, Rio Raft and Resort, and Whitewater Sports. Anglers have free access to the river from 30 minutes before daylight until 30 minutes after dusk. They may use the properties for bank fishing and to launch non-motorized watercraft such as rafts, kayaks and canoes for the purpose of fishing. These leases were made possible with grant funding provided by the U.S. Department of Agriculture's Voluntary Public Access and Habitat Incentive Program.
December 5, 2014 – February 8, 2015: Free access will be available for trout anglers at Camp Huaco Springs.
Please note: Two sections of this river are subject to special harvest regulations on rainbow and brown trout. In these sections, all trout harvested must be caught on artificial lures, and the following bag and size limits are in effect:
Beginning 800 yards downstream from the Canyon Dam release gate and extending to the easternmost bridge on FM Road 306, there is a 12-to-18-inch slot limit. Trout 12 inches and under or 18 inches and longer may be retained. Daily bag limit is five trout, and only one can be 18 inches or longer.
From the easternmost bridge on FM 306 downstream to the second bridge crossing on River Road, there is an 18-inch minimum size limit, and a one trout daily bag.
Category: Destination Fly Fishing, Fishing Reports, Guadalupe River, Hot Spot