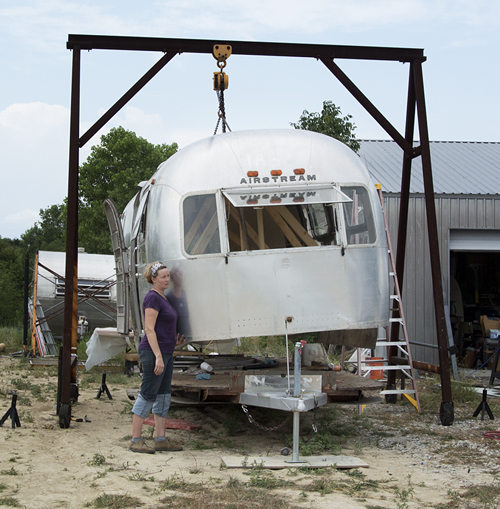 In a nutshell, this is what the apex of an Airstream Full Monty looks like. Coming to water near you very soon.
Whether it's photography, fly fishing, guiding, cycling, Airstream trailers, website design or a few other odds-and-ends, occasionally the lines between subjects intersect. And so it goes with today's work on our 1970 Safari '23 Airstream trailer.
For those just tuning in, the Airstream has been with us for a very long time now, and mostly it occupied space in the driveway, while I was distracted by so many other things. As I recall, the entire debacle began with looking under a tile on the floor and finding questionable floor decking underneath.
What followed, in short order, was a complete destruction of the interior as we found it very easy to demo(lish) the inside of an Airstream. We have been all the way down to the walls for quite some time as I manhandled the interior walls – called skins – wanting to remove the original finish, and take it to being a shiny aluminum interior.
Labor, in this instance, is a labor of pure love. There's no way we could afford to have done what we wanted done, and since we have some skills, we have been doing all the work ourselves. Skills are good, but knowledge is better.
To make a long story short, we went down the rabbit hole, where I found a light in A&P Vintage Trailer located in Cottondale, Texas. There is where the trailer sits now in probably its most destructed state.
For those of you unfamiliar with the demolition and resurrection of an Airstream trailer, there is a process called doing the "Full Monty" in which the upper part of the trailer (twinkie looking silver part) is separated from the base (decking and chassis below) in order to do a ground-up rebuild. And we ARE talking ground up.
Among the things that provided road blocks was the lack of knowledge about how to pull off the "Full Monty." Well, with extensive knowledge and help from Paul at A&P, today was the day we finally achieved lift off today.
There's not much further down one can go on an Airstream rebuild, and everything looks bright from here. Decisions on the build-back will now come in fits and flurries. Where to put the bedroom, where to put the outdoor shower for washing off boots and waders as well as those hard to reach places, the electrical, the gas, the plumbing … on and on.
So what does all this have to do with fly fishing? Put on your imagine hat, and imagine once again if you will, a mobile fly fishing hideout, a place wherever it stops is where it is. And with luck, you will choose to come along for the ride, and stop wherever the Airstream stops.
If you want to see another piece of the puzzle, be sure to visit the Airstream Diary. It's a diary of an Airstream trailer – its life and adventures.
Category: Culture on the Skids, Destination Fly Fishing, Guides