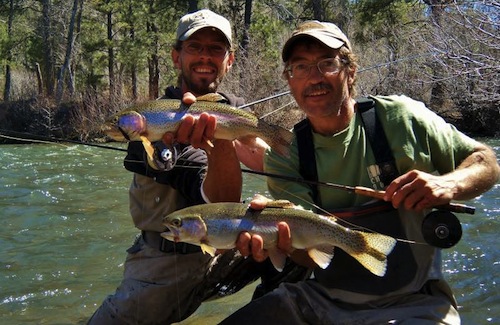 Photo Courtesy – Joseph Eichelberger
Weather & Water Conditions:
Everything has been around one Month earlier this year for water conditions, weather conditions, and hatch activity. I did discuss this with some of you through emails, on Facebook, in my fishing reports on fishound.com, and on the streets or in the shop. Looking back to this Spring I really wish I had the funds to start sending this Newsletter earlier to inform you on all of this, and may be get you here sooner to enjoy the fantastic Winter and Spring Fishing this year. Sad to Say but, hindsight is 20/20, or you should have been here yesterday….
However, on the OPTIMISTIC side, this area of Southwestern Colorado was much closer to average snowpack in most all our area drainages compared to a lot of the state. Also in comparison to the drought of 2002, we had a good early start to winter/snowpack and currently are very close to average or even above average water storage than in 2002. The Upper Rio Grande drainage reported the closer to average reports in the entire state. We are also looking at better forecast of lower temperatures and more precipitation in the near future.
San Miguel, Dolores, Animas and San Juan Basins Report:
Out of the 16 SNOTEL sites located in these basins, none of them had any measurable snow remaining at them on June 1. By May 27, warm temperatures coupled with dry conditions had completely melted out the well below average snowpack nearly a month before the average melt out date. The combined San Miguel, Dolores, Animas and San Juan basins fared better than other basins in the state this year as far as snow accumulation was concerned. They did not approach the low snowpack numbers reported during the drought of 2002.
USDA / NRCS Report: COLORADO Water Supply Outlook Report as of June 1, 2012:
http://www.wcc.nrcs.usda.gov/cgibin/bor2.pl?state=co&year=2012&month=6&format=text
Current stream flows are significantly below average for this time of year, but still fishable and earlier, with denser hatches. We are not totally dried up we are just on a schedule that is a month or so earlier than average, June was and is more like July. Current Real-Time Stream Flows: Division 7: San Juan/Dolores River Basin & Division 3: Rio Grande River Basin
Current Weather and Future Outlooks are currently at above "average" Temperatures and below average precipitation. We are looking at forecast for this week of Highs in high 80's to low 90'sF and cloud cover moving in with a slight 20% chance of thunderstorms, in the Pagosa Springs area. Long-range outlooks for Southwestern Colorado for the next two weeks show nearing average temperatures and above average precipitation, a more optimistic Outlook for July and into the rest of the Summer of more normal or average precipitation.Current Weather Forecast in Pagosa Springs, Colorado.
Other areas of concern are the "Wildfires". As I stated many times over the years we are nowhere near Denver or the Front Range. What you see on national media/cable TV rarely has anything to do with our little corner of the state.
We do have a Wildfire, The Little Sand Fire. It is not effecting too much of our area other than smoke. The Little Sand Fire started in the Little Sand Creek drainage a tributary to the Piedra Drainage. Most of the Williams Creek and Piedra Area are still open to fishing, camping, hiking, horseback riding, etc… Some areas are closed to the Public. Some trails that go into the fire and a couple roads that either go into the fire or are being used by the firefighters are closed. They are updating twice-daily closures and current changes associated with the Little Sand Fire at the link below and personally updated to me daily. Please feel free to check online a site below or contact me directly for fire updates. http://www.inciweb.org/incident/2878/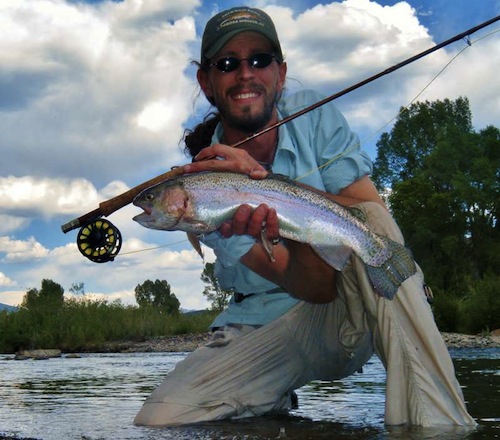 Courtesy Photo – Joseph Eichelberger
So what does all this weather, water, and fire information mean to all you Flyfishers out there?
Well, I guess to sum it up quickly, we are NOT totally dried up in this area. There are still plenty of places to fish and really good hatches and Dry Fly Fishing, just a Month or so earlier than "Average". Being that our local weather and water conditions are on an earlier than average schedule this year, I would say try to get here as soon as possible and expect conditions, hatches and fishing as if you were here at the same time in July. The High Country is fishing excellent with more shade, cooler water temps., and great hatch activity, with more fishable flows than most years at this time. Lower elevation larger rivers are fishing well. More easily fishable than most years at this timeframe and dense insect activity. Some lower parts of larger low elevation rivers that are open to a lot of sun exposure are warming in the later afternoon. Please be careful, use a thermometer in the afternoons in these areas.
Fishing Reports:
Now to all the good stuff. It is Dry Fly Season here in Pagosa Country about one month earlier than average. All of our moving waters are fishing GREAT with many insects hatching in dense numbers & diversity. This has been one of the buggiest years I have seen around here. Insect activity is progressing a good bit faster through the drainages than usual. The long and short of it if you read reports of a particular insect hatching or hatch activity on a specific fishery you would like to fish please try to take advantage of it as soon as possible. It may not last as long as it has in other years, but may be denser than you may have experienced in other years.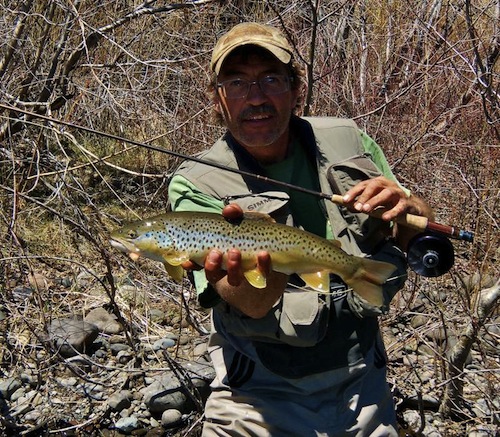 Courtesy Photo – Joseph Eichelberger
Big Rivers:
The Entire San Juan Drainage has been fishing fantastic.
The San Juan in downtown Pagosa Springs has been fishing great. The town and the state have stocked the river, plus our pre-stocking fishing was very good with many holdover fish and wild fish caught prior and post stocking. There are Yellow Sallies and PMD/PED's hatching daily and some Caddis hatching also. Fishing early in the morning will be best for now; we are getting warm water temperatures in the afternoons. Please check water temperature often and stop fishing if water gets around 68F. Usually by then the tubers/swimmers are playing around the river. Evenings are producing good dry fly fishing with some insects hatching and returning spinner/spent egg laying caddis & mayflies on the water. Most tubers are gone by then. Again, please check water temperature though before you start fishing.
The Upper San Juan northeast of Pagosa is fishing well. Due to being higher up the drainage, with more tree cover, less irrigation, and less hot springs. The hatches are lasting a little longer with good fishing conditions/cooler water temperatures extending throughout the day. Hatches in the Upper river; Brown stones, Flavs., PMD/PED's, Blanketing Caddis of two species, and yellow sallies.
The East and West Forks of the San Juan are both fishing excellent, much earlier this year than usual. Lots of insect activity that is usually not seen in most years due to higher flows or colder water temperatures and/or taken advantage of by the fish due to murkier water. This year, water is low and clear (compared to average). Easily fishable and great dry fly fishing. Both the East & West Forks are producing many larger fish than usual and still have good hatch activity. The Salmonflies continued hatching through the forks as of last two weeks and still have fish willing to eat a salmonfly dry up high. The brown stones have been dense too, and should be slacking off sooner than later, but caddis will only get thicker as well as flavs, pmd/ped's and yellow sallies throughout the next week or so.
The Piedra River:
The Lower Piedra is open to fishing and is below the fire from the Sheep Creek down to Hwy. 160. Fishing is good with Caddis and PMD/PEDs & Yellow Sallies Hatching. Most larger stonefly hatches are done in the lower, but look forward to Goldens hatching. They will be early too this year.
The Piedra from the Sheep Creek to Piedra Road is "CLOSED!" due to the Little Sand Wildfire. Please Check http://www.inciweb.org/incident/2878/ for Updates.
The Upper Piedra, Middle and East Forks are fishing very well. Cool, clear water, good insect activity and Dry Fly fishing…. Expect yellow sallies, caddis & flavs, with possibility of some brown stones around sporadically.
Navajo River:
The Navajo is fishing very well, has considerably better flows than some of our other local waters. Caddis and PMD/PED's hatching and good terrestrial fishing in this ranch land meadow stream. Many large fish moving about the river and seeing a good bit of smaller wild fish this year, which is a good sign towards the future of this fishery. Dry/droppers are preferred rig on the Navajo but a few of the deeper pools a streamer or deep nymph rig can pull up some surprisingly large fish in this little river.
It is dry fly time in Pagosa Country, but do not forget to probe the larger waters. The main stem of the San Juan, Piedra or Navajo with Nymph rigs or streamers will produce the most and biggest fish. Do not be scared to do the same in the bigger deeper pools of the Forks/Tributaries either. A dry/Dropper rig is a good idea too, "Double your Odds"….
The Smaller Creeks & Tributaries:
Williams Creek:
Williams Creek is open to fishing and fishing very good, especially with less pressure this year than average. The Campgrounds along Williams are Open and have plenty of room due to misinformation about the Wildfire. It can be smoky up the Piedra & Williams Area especially in the mornings or depending on wind direction. Williams again is fishing well. Dense, diverse hatches, as usual, in one of our buggiest little creeks. In addition, there is terrestrial action too. A good bit of nice sized fish being caught this year with the lack of fishing pressure and more fishable conditions much earlier. Please check http://www.inciweb.org/incident/2878/ or contact me for updates. Hatches; You can expect a little of everything on Williams most of the time this year. Dry/Dropper fishing will produce well daily with Grand Slams and trophy size fish possible.
Fourmile, Turkey, Quartz, Wolf, Blanco, Navajo, South Fork of the Rio Grande, Pass, Park, Beaver, ETC. Etc. etc…..:
All fishing much earlier than usual and Great Dry Fly Fishing! A lot of hatch activity, on these little mountain creeks an attractor dry or an attractor dry/beadhead attractor nymph dropper rig will do the job wonderfully. Many happy hungry wild trout feeding heavily….
Lakes:
Lower elevation lakes had fished well much earlier this year, but trout fishing is slowing down with the warmer air & water temps and bright clearer sunny skies. The lower elevation lakes are much weedier this year too, so a boat or float tube is much more useful right now. I would suggest not trout fishing in the lower warmer lakes currently, but you can take advantage of the warmwater fishes, with the warmwater species much more active this year. Bass, perch, crappie, sunfish, catfish and carp fishing has been excellent this year.
The higher elevation lakes are fishing extremely well this year. Many of these higher lakes are usually very cold and extremely deep and have limited hatches that can make them much more difficult to fish most years. The window of good fishing is usually fairly shorter, due to a later Ice-off. Snowpacked trails are accessible until monsoon season, but that is not the case this year.
Other Area Waters:
I have usually always have updated information for the Animas River, Pine/Los Pinos River, Vallecito Creek & Lake, Florida River & Lemon Reservoir, and other smaller creeks & lakes locally not listed above… Contact me directly for updates or for information on guided trips on these waters.
I regularly receive updates on the Rio Grande River, if you are planning to fish there. I will not report on the Rio Grande through this newsletter or fishing reports because I prefer many other waterways over Rio Grande and do not fish it very often. You can contact me directly for updates on the Rio Grande or Contact: Animas Valley Anglers@ http://www.gottrout.com/, http://duranglers.com/, http://www.ramblehouse.net/, Rio Grande Anglers & http://www.southforkanglers.com/, orhttp://wolfcreekanglers.com/. for updated fishing reports or guided trips.
ATTENTION: A Stream Thermometer can be one of your best tools this year, and its use appreciated by the fish as well as your fellow anglers. If you are fishing the lower portions of a stream, areas that receive a lot of direct sunlight, areas that have noticeably low flows, or the water feels warm to the touch, please take a water temperature reading every couple of hours. If the water gets around 68F or higher "Please STOP Fishing!". The fish may still be feeding but the stress of the fight and any mishandling will kill the fish. You may have the best intentions of an ethical catch & release angler, but just because a fish swims away does not always mean it's going to survive. Oxygen levels are depleted as water temperatures rise and a long drawn out fight of a trout can kill it. In addition, the use of a landing net is encouraged. A rubber bagged net is best it's softer on the fish, does not remove slime or scales and flies are not tangled up as easily as with other nets. Finally, the use of a Ketchum Release tool or forceps to remove hooks quickly without touching the fish or removing it from the water is recommended.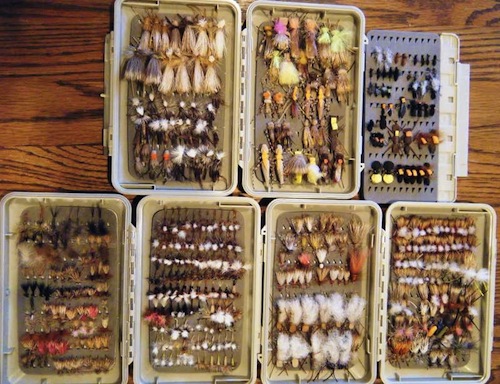 Courtesy Photo – Joseph Eichelberger
CONTACT INFORMATION
Joseph Eichelberger at Ski and Bow Rack in Pagosa Springs, Colorado
Category: Colorado Report, Fishing Reports, Fly Shops, Guides, Technique, TIPS