Conejos River and Pecos River fly fishing for trout – brown and rainbow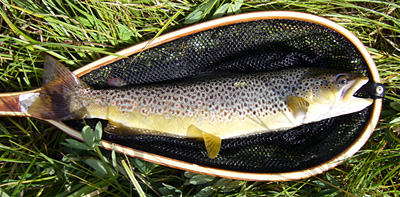 I can still hear the rain, or is it sleet, tinkling on the tin roof of the Skyline Lodge from the little room I have to retreat to and try to keep my wits as another fly trip takes on a persona all its own.
We actually arrived in Platoro on Friday, after I picked up LK in Santa Fe on Thursday evening. It was irresistible to redeye it from Denton to the Pecos River in New Mexico early Friday morning. The Pecos is basically the most talked about river in that part of New Mexico, and it certainly has all the hallmarks of a fine river. But by early August, it was starting to show the wear of also being one of the most popular and easily accessed rivers in the state. The Pecos is a scant 30 minute drive from Santa Fe, and there are well worn paths along the banks and plentiful trash to indicate its proximity to "civilization". I stopped at a store just at the entrance to the park and picked up my New Mexico license and tried to glean information on the fishing. The old store was one of those twilight zone places where time froze about 1960, give or take, and if you looked behind the new merchandise on any given shelf, you could probably find something of interest to the Antiques Road Show. Wooden floors that creaked with every step acted as an archaic security measure – letting the employees know where someone was at all times. The fishing had been "good", and they just stocked the river the previous day, which to me seems to always amount to a blessing and a curse. A blessing in that the probability of catching something increases dramatically, and curse in that the masses descend on the fresh meat with one goal in mind – catch and kill as many fish as the law allows (and more if you're in Oklahoma).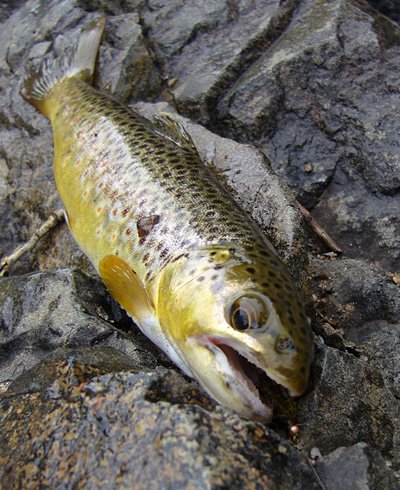 Pecos River Brown Trout
THE PECOS
To make a long river short, the upper reaches of the Pecos is a neat area where the water is probably running a little warmer at this time of year and seems pretty beaten down. I did manage to catch a Rainbow and a Brown Trout though, by fishing some of the deep pools formed by water running down at a high volume. This area seems less wadable, and at the same time cannot be mistaken for a creek. Wading just barely seems necessary as the river is not so wide and the downward momentum of the water creates mostly small areas where water has carved out under rocks and created pools beside them and at turns which hold fish. This river, at this time of year, can be fished in a day – as long as you aren't delayed too much by actually catching fish.
The drive from Pecos to Cowles amounts to about twenty miles along 63 which mingles with the river along the way, with designated "fishing sites" such as Monastery Lake (stocked and loaded with folks harvesting that day), to Terrero (site of a wonderful old bridge) where 122 branches off, and on to Cowles where the Cowles Fish Ponds were also in full swing due to recent stocking of fish. What could make the Pecos worth a more in depth look are the large number of creeks that feed into the Pecos in this area. Mora Creek, Windsor Creek, Doctor's Creek and Holy Ghost Creek are just a few of the names for creeks feeding into the Pecos – some fishable and some not. If you are looking at the New Mexico Atlas & Gazetteer, it is pages 24, 25. Other creeks within striking distance are Cow Creek, Pecos Box, Panchuleta Creek, and one I had written down from another book – the Mora – Pecos Campground about 2.5 miles north of Terrero.
THE CONEJOS
The Conejos is located in the Rio Grande National Forest in south central Colorado. To the west are the San Juan Mountains, but as one of the guys working at The Reel Life in Santa Fe said last Friday, "It's all northern New Mexico to us. It's really ours", and to my way of thinking, this part of Colorado is distinctly unlike typical visual images that come to mind when one thinks of Colorado. It is more arid, and the people seem a bit more accepting of non-locals. This time of year, the weather runs like a swiss watch; lower 50's at night, 75 by noon, and get ready to hunker down for the rains that are currently coming early afternoon, and typically let up by sunset. A rough translation of that last part means this: Get after it because you will only get a half day of fishing at best.
We drove in along FR250, a dirt road, which runs along the Conejos River Valley, undulating from almost parallel to the river to high climbs through Aspen with no visual of the bottom of the ravine or the top of the mountain we were edging along at a snail's pace. The road is good enough for just about any car, but the tougher the car the better. There are portions with serious craters, embedded oil pan craving rocks, and the predominate washboard surface, all combine to give a typical car an average speed of about 15 miles-per-hour. Remember that when looking at the map – the distance from paved road to the metropolis of Platoro is about 20 miles, and driving from fishing spot to spot takes much more time than you would guess by looking at a map.
We did a little research Saturday, and got warmed up by fishing at the Platoro Reservoir just about 2 miles above the town of Platoro. (If you are going here, you might as well get the National Geographic Topo Map #142) It was easy to see trout snacking on the surface of the huge reservoir, but it was also easy to see they were pretty safe due to sheer drop offs that made access difficult at best. We finally decided to fish along the dam, and take our chances with backcasts. At an altitude of 9970, the reservoir acts as a valve to keep snowmelt runoff in check when the spring thaw comes. It is amazing to see the debris lines along the dam that indicate just how full the lake gets as it bulges with spring runoff. Vast areas of the shoreline are inhospitable as is typical of these types of watersheds. The dam itself looks like a no-man's land of sorts with large boulders and rocks holding back the water. With no signs to keep off, I began rock hopping my way over toward the water outflow and more fish rising. It wasn't long before I began to see Rainbows following my tried-and-true woolly bugger in from the deep water. I was also giving the Winston / Lamson combo its first taste of trout Colorado style. It wasn't too long before I felt a bigger take, than the 6 previous Rainbows, and saw a flash of gold brown. Finally, a real Brown Trout – of size! It took a bit longer than it should have to get that first Brown in, just because I wanted it so badly. I landed him and had LK rock hop over as quick as she could to get a picture, and then released it to fend off the weekend warriors. I caught a second, even bigger one later, but it was easy to see these fish were skinnier than the photographs of Browns I was used to seeing, and I figured it was because a lake Brown does not have to work nearly as hard as one fighting current in the river. The discrimination begins. What is more difficult than catching a Brown (for me)? It must be catching a Brown in the river of course.
So, today was "Catch a Brown in the Conejos Day". I decided to hit a spot below town where the river valley levels out enough to give the river the look of a wide open plains style river – just flat enough to slow it down some and give the fish a chance to feed. It actually meanders enough that it has cut some alternate routes over time that cut away and back to the main flow, adding to the intrigue and learning curve. Although it levels out somewhat, the flow is still great, and behind Volkswagen sized submerged boulders, lurks eddys and backflows that create feeding zones. Those boulders and boulder dams, along with the bends in the river, create slow(er) spots where, according to fishology 101, there should be fish lazing in the weak current, and occasionally coming out into the fast current to eat. Sure enough along one such curved spot that also had boulders in the curve, I spotted a slurping fish coming up in the boil created by the flow behind the boulder. Thirty feet down from that spot and before another huge curve, I could see Brown gold at the bottom (probably 8 feet deep) and back of a huge bowl. I hit the boil with everything I had, Blue Dunn, Stimulator, Mosquito, Caddis, all laid gently in the boil to no avail. I went Texas on the fish in the bottom of the bowl and went after him with a green Woolly, but although he rose to look he would not be fooled by a foreigner. Then, with the morning quickly getting away, I decided to hit the road again and headed up to Lilly Pond. Lilly Pond is just that – a lilly pond located along FR257 and followed by Kerr Lake. Both of these were recommended by the guys at The Reel Life (TRL) in Santa Fe, and from what I can tell by looking, Lilly Pond is devoid of fish, and the route to Kerr, make no mistake, is one for four wheel drive only. This was the apex in altitude today, and it was almost instantly punctuated by sleet, rain and a temperature drop to 48 degrees.
I regrouped and looked at the list of other spots with potential (from the TRL guys), and recognized one when they had said it and had heard of it before – Lake Fork. From the map, it looks like Lake Fork comes off the Big Lake and meanders its way down until it joins the Conejos well below the Lake Fork Campground. I fired up the Sub, the defroster, the wipers and down the mountain I crawled … and crawled. The sleet turned to rain, but not the kind you could bank on – spotty and intermittent. I followed along the Conejos down past the campground where 140 meets 250, probably about 6 miles from Platoro. The road drops down quickly and crosses a bridge, but before I had even arrived at the crossroads, I went squirrelly as the mud between the rocks on the road took on the flavor of Texas Gumbo. This really was a "Crossroads" in the Robert Johnson sense of the word – do I take the new Subaru, with muddy paper plates, down the slippery slope and into the super unknown, or crawl back to the upper reaches of the Conejos and see if there is any hope for me there? It's only Monday, rainy Monday. I punt.
Back on the Conejos below town there is nothing going on, and no one fishing but me. I go though the typical scenarios. Is it because it's Monday and everyone here yesterday is at work today? Is it because they know there are no fish? Am I just smart to be here when they are not, and I am about to slay? It slowly dawns on me after hitting about five spots; the water is up about a foot from yesterday … they are releasing more water from the dam, or there was that much rain an runoff. Rocks that were visible are now gone. Logs that were sitting high and dry now float by. Curves in the river have lost their inside banks, and places that were crossable yesterday are now definitively impossible.
I feel the cool wind of another more solid storm coming up the Conejos River Valley, and pack it in for the Skyline Lodge. I sit on the red painted concrete front porch as it works its way up slowly obliterating the mountains with clouds and rain, making the infinite vista desperately more finite. My mind lingers on Lake Fork. If I can finally get there, weather patterns being what they are, I may not be able to get out. I can think of worse places to get stuck.
[/ppw]<a href="https://plus.google.com/u/0/100255665006284789771/?rel=author">+Shannon Drawe</a>
<a href="https://plus.google.com/118192832425476365249″ rel="publisher">+Texas Fly Caster</a>
Category: Colorado Report, Fishing Reports, Fly Fishing for Trout, Life Observed, New Mexico Report, On The Road, Paid Reading Content, Writing