Fly Fishing the Conejos Day 2 Cutthroat trout
When I've been skunked and need to get the smell off (the human smell), I have to go for what I know. I knew the reservoir held fish, and I knew I could catch at least one to get the fish stink back on me. So, first thing Tuesday morning I headed up to Platoro Reservoir for a quick fix before tackling the Lake Fork. The rain had cleared from the previous night, but on the outside edges of the valley big cumulus clouds were already in place and looking for a spot to fire up their afternoon storms. It seemed a little early for those clouds to be visible, and my thoughts went to the gumbo road leading to the Lake Fork.
At the reservoir, I went a little further along the dam and dropped down, again, at just about the middle and worked my way all the way to the far side – right above the drain. I experimented with different flies to see what would and wouldn't catch, and practicing my straight up backcast to keep everything off the dam rocks. One thing I haven't mentioned is the hacksaw job the Sharkskin line did to my fingers the first day I was out here with LK; I looked down to see my pointer finger bleeding and couldn't remember how it happened. I guessed it was a hook or a fish, but then I saw the wear mark on my second finger as well – it was starting to wear through where the line was making contact while being stripped in. Houston, we have a problem. Today, while bandaged and stripping, I began to see small particles of what looks like pumice accumulating on my finger band-aids. I realized it may not be the line that is doing the cutting, it's the particles the line picks up that provide the cutting agent. After about a dozen nice Rainbows, I packed it up and headed for the Lake Fork turnoff. At 11 in the morning the threat of rain was already visible. The fishing window here seems to be getting smaller every day, but the easy and close Conejos had risen about six more inches overnight and is beginning to look like a flood stage river – over the banks in low areas and into the grass and other low spots.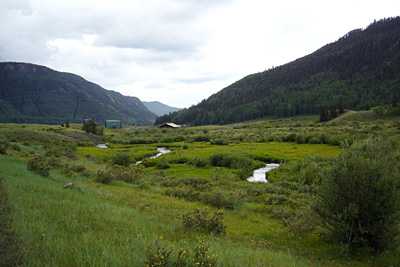 The Valley Where the Lake Fork Winds Through to Connect to the Conejos.
The sun had done a pretty good job of firming up FR250 in the gumbo area just before the FR140 turnoff, so down I went and a hard right onto FR140 where I stopped again and just looked at it. Deep ruts and puddles of water in the ruts and potholes made me think, and then before I could think some more, I went for it. It turned out to be firmer than it looked and I managed to keep out of the ruts and in control. To either side was a slight drop off with grassy pasture land certain to take ahold and not let go. The bridge was a welcome, if still muddy sight, and all in all just a hop-slip-and-slide from the main road. There are designated parking areas around the bridge obviously for fishermen as they have all the signage "Special Regulations: artificial lures and fly fishing only. Daily limit of two fish over 18 inches." I don't think I have to worry about that limit anytime soon.
Over the bridge lays the first decision as the road takes a hard right – and a hard road – or continues dead ahead along a very smooth and civilized stretch. No signs, so I follow the four wheeler that buzzed past while I was stopped and looking down at the map. We head out of the valley and immediately begin climbing. Wrong choice. (I later learned the barbell shaped icon across the road on the map is where a private fence has closed a once public road.)
I turn around and head back to that hard right and take the turn. In only about 100 yards a huge dip with a bowl full of mud at the bottom appears. There is a barbed wire fence to the left, and I begin to get an inkling of what Colorado property ownership is all about. I back down from this mud bath, and turn back to park at the bridge. This was going to be a walk in, a long walk in thanks to some sorry property owners. You can even see where there used to be a road leading straight to the area I was trying to get to, a road that now has a barbed wire fence going across it with plenty of "POSTED" signs with every aggressive composition laid out for those looking for the easy way in.
At the trailhead, yes this was going to be a real hike, a sign of hope "Rock Lake 1.5 Big Lake 3.5". The muddy ground showed no signs of anyone being there for days, either on foot or by amphibious vehicle. That is a good sign – no pressure. No pressure on what though? From the river valley the ascent begins almost immediately. Off to the left, I can see where the Lake Fork meanders through the private property and meets the Conejos behind me. The purpose of this climb is to go up around and past the property so well delineated with barbed wire and signs at every point you would start thinking about a short cut. Up and into the Aspens via soaked but firm switchbacks, and still not a recent tread mark to be found. The excitement builds as I realize the 1.5 mile distance is really minimal, but daunting enough for those weak of heart or foot. Finally the trail levels off, and goes parallel to, you guessed it, a barbed wire fence. They have run their fences the maximum allowed distance up the mountain with proprietary zeal. Finally, I get to a fence crossing the trail. Short of blood to the brain, I think something is wrong, but completely miss the turnstile opening to the right. Through that and the decent begins at a safe and relaxing angle. The trail breaks out into the open again as I descend below the fence line. I realize the fence is getting further away, but a good stretch of the Lake Fork is also being left behind. I drop off the trail and go straight down as close as necessary to the fence line, where inside the fences are cabins, A frames and assorted other buildings obviously there for business and pleasure, but not homes.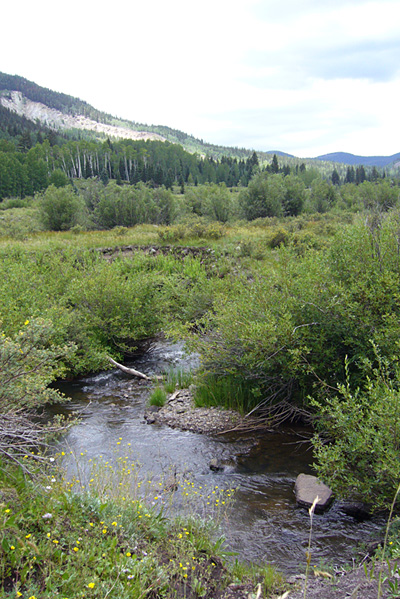 A Portion of the Lake Fork.
This stretch looks like something you would find in west Texas – but the major difference being there is cold water running through it all the time. It drops down anywhere from two to five feet below the wide valley that must have accommodated a much bigger flow in earlier times. I immediately see fish – a Native Cutthroat spooked and running for cover. My mind goes back to the Small Stream Manifesto by Joel Hays. All the big river and lake thinking had to be put away now. This was going to be hand-to-hand combat up close, and with as much stealth as I could muster. Start low and work my way up. Stay hidden as much as possible. I tied on a mosquito since they seemed to be all around me and threaded it between the brush about 10 feet up the stream. It was one of those spots where even if you don't see fish, you know one is there. (The width here is about five feet.) Boom! A Cutthroat gulped and spun on the fly heading upstream while I was looking for a place downstream to bring him in for a landing. I managed to get him turned and at the same time dropped down to water level in a flat curve about 10 feet behind me. He made a couple more diagonal runs up close once he new he had been had. Tired, I slid him in close and took a quick photograph before sending him off for recovery. What a great start!
Perhaps the best way to describe this stream, on its surface, is for you to think of one of those small dry creek beds you pass along the way to nowhere in particular in west Texas. As you speed by, you see this deep cut and think, "Wow, that would be great if it had water in it", and know in your mind that it virtually never happens. This is one of those deep cuts that probably has more or less the same amount of water running through it during respective seasonal variations. Unlike those west Texas breaks, it cuts through mostly rock, and the shorelines are porous, with what seem to be "tunnels" under them that cut straight in from the bank in some areas. This makes walking treacherous where these "tunnels" have collapsed. There are also deep cuts in the rock where the water has either exposed riffs in the rocks, or carved out deep (it was too cloudy to see how deep) gouges for fish to hide completely undetected. There are also plenty of cuts under the banks held in place by plant life and hard rock out croppings (all below foot).
I began to work my way upstream seeing large numbers of Cutts spooked and running up and into the deep riffs and gouges. Not good on my part. I did hit a couple of pools and managed to get some slurps and even a baby Rainbow, but those big Cutthroats were smart and wary. One shot is all you get.
The trail goes along the same line as the Lake Fork, but it goes in a much straighter line. I was stealthily hopping my way up, taking shots at pools and spooking more than catching when I finally saw what looked like the first signs of a lake. And then I spotted a beaver dam with the pool it created at eye level. It was a natural for holding fish, and they were carelessly swiping and slurping the hatch off the surface. The monsoon was coming up behind me, so I knew I needed a fly bigger than what I had been using in order for it to look like more than just a bubble from a raindrop. I tied on a number 12 Blue Dunn and casted to the top of the pool. My uneducated guess was that these fish see so little pressure, they would taste just about anything. A couple of quick samplings and a couple of near hookups and the rain started to come. I lost sight of the Dunn and put tension on and it was on – another beautiful wild Cutthroat Trout was racing across the pool looking for a place to hide and hope it was all just a bad dream. Such fighters. I finally land him, a quick photograph, and he races back to the depths. Two Cutthroats make make my day complete. I pulled out of the stream and went ahead to look at the lake – Rock Lake. It was more like reaching a distance goal than a place to try to fish. There were small fish rising, but the lake looked both barren and highly vegetated under the surface – probably not a good combination. The light was waning early as the clouds were thickening and continuing to wring the daily allotment of rain. It was time to head back.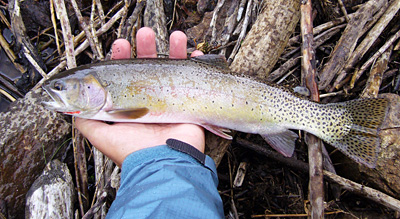 Wild Colorado Cutthroat caught in the Lake Fork.
The return was much quicker than the first leg because I simply took the high road, literally, and enjoyed the view of the Lake Fork, the mountains, the rain clouds, the trees and birds. I was running the old "She loves me. She loves me not." through my head but with the words "I tell them. I tell them not." about today's fishing. I walked fast enough to leave the cloud of mosquitos and flies behind, and arrived back a the Subaru just as the cold wind of the real rain began to buffet the car. Heck, I might as well tell them, if they ask, because I have yet to come across a fisherman here that is in the physical shape to make the hike to this sweet spot.
What to do tomorrow? The Conejos continues to rise and is probably about a foot higher than it was when we arrived. I watched new arrivals fish down from their cars parked along the roadside, and wondered how they could possibly be catching something in this kind of flow?
Category: Colorado Report, Destination Fly Fishing, Fishing Reports, Fly Fishing for Trout, On The Road