Spotlight on Lake Texoma Striper summer action on fly – all you need to know right now!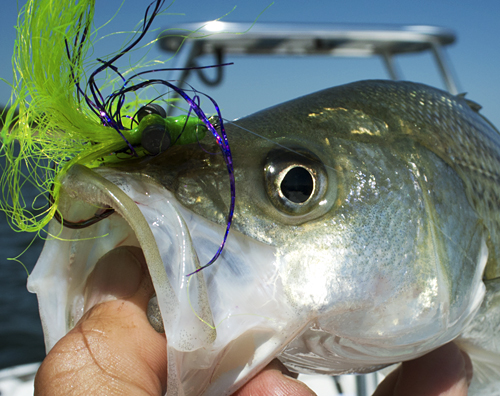 HOT
If you are looking for a break from the heat, don't head to North Texas! It's crazy hot here now, and that heat has evacuated the flats where I fish the most – on Lake Ray Roberts.
I just love throwing down definitive words, like "evacuated," because it triggers a response from lurkers who make it their mission to prove me wrong. They go out, torture themselves, in adverse conditions … and sure enough … they blast the airwaves with their proof of life, and superior abilities. All I can say today; you go boys and girls!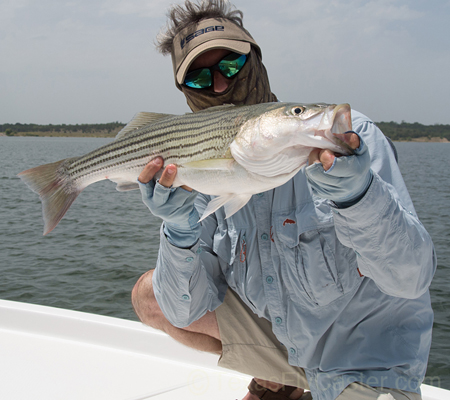 Texoma striper (August 2013) when guest on board with C.Keating. 
TEXOMA STRIPER TIPS AND PATTERNS ON FLY
I was off Texoma before the high heat of the North Texas afternoon yesterday. My plans to redeye to the coast were waylaid earlier in the week, when I should have left, for the 800-mile round trip.
There were enough photos of striper on social media outlets, that the seed of chasing the saltwater fish on a North Texas lake seemed the most viable alternative. All I had to do is find these constantly moving fighters. That's always the rub with Texoma's striper population.
Dink striper are everywhere – from the release waters below Possum Kingdom lake, the release waters at Texoma's Denison Dam along the Red River, and by the hundred-thousands on Lake Texoma proper.
Based on my extensive memory banks of fishing history stored here (not in my head), I recalled a time, about this time of year, when the striper "blacked out" the electronics of the boat I was on – along a fairly short area next to, and parallel to the dam.
The great thing about that location, on a lake as huge as Texoma, is that it is close to a boat ramp – right up against the dam at the Lake Texoma Spillway ramp, which costs $5 to use and is operated by the USACE. So bring your fiver and a pen to fill out the envelope!
NO GADGETS
The first thing you'll want to know is: If you are hunting striper on Texoma, there are two ways to do it – 1) look for birds (which is inconsistent and seasonal), and, 2) use ELECTRONICS to locate fish. Let's see … rely on birds or space-age technology? I will take the technology, and watch for birds. Is that the right answer BoB?
If you have never heard the word, "Blackout," it's a term for when the imaging on the electronics shows a school of fish so dense that it blacks out the sonar image with a solid mass of fish off the bottom of a lake. I've seen a few blackouts, and seeing them on electronics is a lot like when you are playing a video game and you're headed toward your personal best, or have just beaten your personal best and have one space ship left to blast with. It's a rush.
I didn't see any blackouts on my Helix 5DI-SI yesterday, but in talking to guys at the ramp, they were more experienced with the location, and made the call "blackout" within 100-yards of the ramp (location 1 for you!).
What I did see Thursday morning was a slow start that hit speed about 11:30am. At that time I was beginning to see "strands" of fish on the Helix, but the reason I call it a "strand" is because they were (unless I was off to one side or the other) in narrow moving bands along the original river bed in an area from Perot's to the launch (location 2 for you!). I saw occasional surface push action, given away by the splashing and almost instant appearance of birds.
I moved back along the dam about 10am, and ran electronics in regular sonar, and side-down scan – in multiple lines parallel to the dam. The height of the dam on the lake side gives you an idea that the depth drops off steeply and the fish can be holding up next to the dam to exponentially more depth – just 20-30 yards away from the dam rocks. BEWARE – There are what are called "turnouts" on the dam where piles of rocks were left extended off the dam for the original construction trucks to turn around after dumping their loads (a major structure for smallmouth bass catching by the way).
Since I didn't see anything on the imaging, I went back to the boat launch area, down-scanned and waited for the fish to come. In a classic whack-a-mole move, as soon as I got to the launch I saw massive topwater action – about 1/2 mile long and 200-yards wide, just off (west) the dam by about 1//4 mile off the dam (location 3 for you!), and that was 11:30am – birds and all. I powered up and chased, but high winds shut down fly casting in the wide open middle lake. In all the action I saw, most of the surface blows looked like dinks. There was one exception and the were closer to the Oklahoma side, and all were big and the size of that school was smaller than the rest (their lip smacks flew a foot in the air). I think that would be what you would want to hit, but I was too far away and the whole thing was happening in seconds.
I caught one dink there with a silver spoon before they went down (and I thought) to hole-up at the dam. I ran the dam again, but still no blackout. It was starting to get hot, and I was running low on fuel, so I decided to get close to the ramp and scan there, but one boat (the one that made that "blackout" call) was on the only school around. So you can ASSUME that the schools are small and tight. And you'll have to follow them as they move, and they can move FAST.
Here's my list of tips for striper on fly on Texoma right now:
A kayak will do the job

Location – Perot's to the spillway ramp

Time – be there at sunup and don't plan to be there after 3 (unless they are biting of course!)

ELECTRONICS – See the Fish

Full sinking fly lines

Big bait patterns weed out the dinks (flies 5-inches or longer!)

Sharp hooks

Heavy rods

Fluorocarbon leaders – less than 10#? – take you take your chances (straight 15-20)

Super fast retrieve

Visual – birds and blowups are your only option without electronics

Visual – Birds will land and stop onshore BEFORE the fish blow up nearby!

Set yourself up ahead of the action –

think about waiting (on the spot) for that 11:30am mass

off the center of the dam

SAFETY FIRST – This is a huge lake that can turn on a dime. Take all precautions and a marine radio

Take your kid or a youth who needs to see and catch fish – THIS IS the action they will remember
This pattern includes a water temperature of 84-degrees at the surface (July 20, 2017). I think that as the water heats up further down, that previous pattern – fish below the thermocline, holed-up at the dam – will kick in. You won't see much, if any, surface action in those temperatures – dinks perhaps.
Good luck! A full day is probably a waste of time, but the evening bite can be good without warning. This is what WAS happening. You tell me what IS happening now!
Category: Adventure, Fishing Reports, Hot Spot, North Texas, On The Water, Paid Reading Content, Technique, TIPS