fly fishing fly tying fish art #flyfishing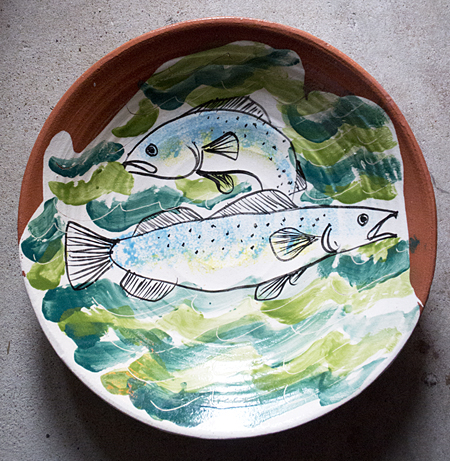 I ended up trading some of my work for a fantastic platter by Max Butler.
Hello again, and I hope you are finding the Texas Fly Caster site in satisfactory condition this Monday morning – after a full frontal hack attack that started just before the weekend kicked in. If anything looks, shall we say … "foreign" … please notify me immediately. I am not familiar with mandarin, but I had to kill some features of the site because I believe that is the language the hack is written in. What a pain! Do you remember when being hacked meant something completely different than it does nowadays?
Saturday's backyard art show here at the house was a raging success for the artists we hosted, and I had a long, oft interrupted, fly tying session with Fort Worth fly fisher Mandy Mendez, who sold a few flies during the show. I don't mind admitting Mandy taught me a thing or two about her style and approach to fly tying. We had a great laugh sitting together, comparing her Renzetti Vise to my Dyna-King Barracuda. She labeled my Dyna-King the "Steam Punk Vise," which compared to the Ferrari Renzetti, seemed extremely accurate. I have to admit sitting with friends and tying flies made me think about resuming a regular fly tying session, like when I first started (the short lived) having invites to Fuzzy's Taco in Denton to tie flies. There may not be a lot of great fly fishing opportunities in North Texas, but there certainly are a lot of opportunities to tie flies with friends in a lot of locations – across DFW. And for the next few days, that's about all this weather will be good for …
You are probably a lot more interested in fly fishing opportunities than reading about the art world – although I hope not! Well, the North Texas fly fishing is being slapped silly by some weather that we will again file in the "New Normal" file for winter in this decade. About the time I call weather strange, it will probably normalize and blast us with a prolonged winter, a real winter like those of the past. So, I won't challenge Mother Nature today.
About the best I can do locally is GO SEE about the striper action at Denison Dam, and maybe offer up a report later this week. I have always liked it cold at that location, and if they are generating electricity – it's EVEN BETTER! I'll keep an eye on it, and let you know. Otherwise, it will be to the salt for Christmas vacation – just a short run from Houston (the plan so far).
LET ME KNOW IF YOU want to receive the newsletter that went out this morning. That e mail list was apparently hacked as well. Let me know if you are on the list and did not receive that mail chimp newsletter, and I will try and figure out how to get it to you.
Thanks for reading! Stay tuned.
Category: Complimentary Reading, Culture on the Skids, Fish Art, Fishing Reports, North Texas