NEW CATEGORY NAME – "CANYAKS"
…CONTINUED From HTown Monday …
Two distinct needs are present in the eventual purchase of a river kayak. One is the need for carrying enough gear for multi overnights, and when I say, "multi," I mean MULTI overnights on the rivers of Texas wherever they may flow.
I was too stoopid to realize my old Native U12 was the perfect watercraft for this purpose. A true innovation in kayaks, the original U12 was lightweight, versatile and STABLE to stand up in and cast from. I continue to beat myself up over this sale, just in case you haven't noticed.
While in recovery from my beatings, I reluctantly began researching (as all fly fishers DO research don't we?), and came across a couple of contenders in the kayak and canoe world.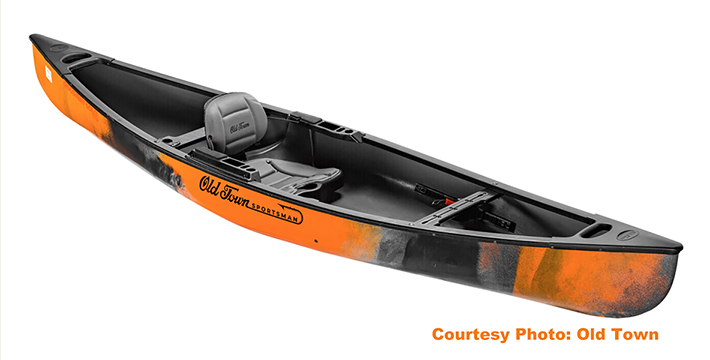 OLD TOWN CANOE CROSSOVER SUV CANYAKS
The Old Town company, a subsidiary of Johnson Outdoors nowadays, is making strides to try and keep their beat-down canoe category alive and paddling. Their Old Town Discovery Solo 119 has all the characteristics of a fly fishing machine, but is 11-feet 9-inches and not endorsed for standing up – still that's not a deal breaker if you know how to cast. Upon looking through their site, there is a new potentially BETTER "canyak" showing there – the Old Town NEXT coming in at a foot longer, slightly higher freeboard and more agreeable colors – The NEXT might just be the NEXT for me. Oh, don't forget a seat to die for as well! Seats may seem like a trivial thing, but if you are assless like me, or making long hard paddle and fish days? A comfortable seat is MY best friend. Someday … it'll matter to you too!

I am almost willing to bet I can stand on that extra foot of boat as well! If I can stand on a 12′ surfboard, I don't see why I can't do the same in this canyak on my local pond and at times in the river's slack. Standing serves many purposes –
Standing Up to Cast
Standing Up to Stretch the Legs
Standing Up to paddle
Standing Up to maneuver
Getting in and Out
Detangling
Seeing for goodness sake SEEING!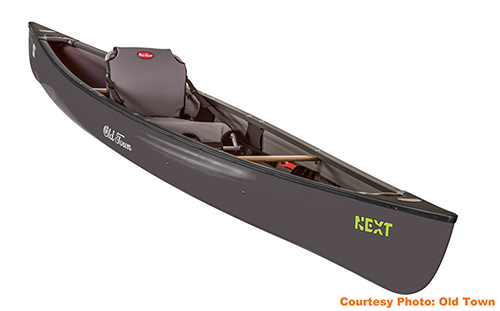 The main thing about a canyak is that it is distinctly NOT sexy. Ask me if I care. Also, there is a major shortage of surfaces to attach the needed accessories – a REAL shortage. I think this factor – mounting areas – is the main reason canoes and canyaks, in their current designs (2022), will not move into any real competition with kayaks. We are not even getting into drive systems because I don't believe in them! Get a skiff if you want to stop paddling! My rule: Paddle Only!
I look at the pros as –
Affordable
Weight Savings
Availability compared to Yaks
Ease of portage compared to Yaks
Volume of gear
Maneuverability
Durability
Seating is supreme
I look at the cons as –
No good surface mounting options
Weight – still heavy!
Wood in the NEXT
Can't stand up like in U12
Tracks poorly?
Seat height along freeboard?
Wheels that fit are hard to find
Catches air in transport and catches air when carrying
Small water only – not long and straight runs
SINKS
TIPS
*NEW INVENTION – I have another possible invention for canoes and kayaks that will turn any kayak or canoe of a REASONABLE LENGTH into a stable standup platform. It is so simple and low tech – someone must have thought of it already!
NEXT TIME – A New Design Kayak That Caught MY Canoe shaped eye …
Category: Adventure, Industry, Kayak, kayaking, Store Merchandise