Talk about a sleepless night! North Texas was caught in the middle of a "train effect" line of storms (south to north) that brought the most amazing rumbles of thunder I have ever heard. It also brought nearly four inches of rain to the immediate area, and more or less to the region. And I guess the train is going to pass over again tonight and tomorrow, with confident predictions for more rain from the talking weatherheads.
I let the second anniversary of "the one that got away but didn't" pass with little fanfare on the 15th., but amazingly we could be in line for a repeat if the lake keeps rising, and they open the gates. Looking back, I guess the story about "the one that god away, but didn't" hurt enough that I hardly spoke of it, or maybe I just forgot where I spoke of it – time can blur sharp memories. Believe me, everyone is watching the data, and the e mails have already started flying.
Hybrid bass in close are hard to beat, and it doesn't happen often enough to get used to, or anywhere near predictable. The elements are lining up though, and with the intervention of man – open those damn dam gates! – we are looking at a spring event.
In case you are new to the hybrid bass, or palmetto if you prefer, here's what you could be in for:
2010 Hybrid Bass Action
HYBRIDS ON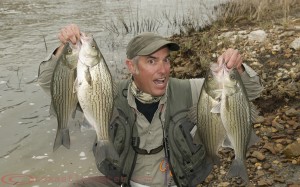 Category: Science and Environmental