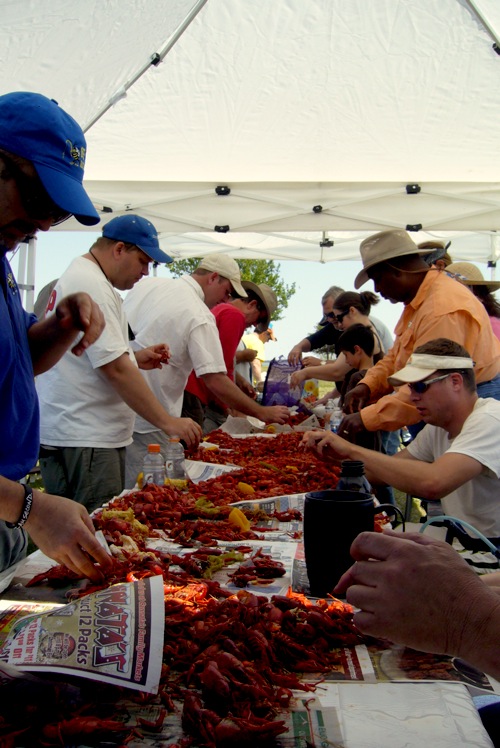 Come for the great food, if nothing else! Last year at the Ray Roberts gathering where kayaks were abundant, and the Diablo team took a shaky third place.
When: 1st Date – Saturday April 14th 2012
………2nd Date – Rain out/Bad weather date – To be determined
Where: Grapevine Lake
Park: Murrel Park
Time: 8:AM – ?:PM
Some of us will be coming & going all weekend.
Murrel Park Contact Info: Murrel Park Link <--- Click here for camping information <-- This looks like a fun event at Lake Grapevine, with a donation box for "Heros on the Water," and local kayak retailer Mariner Sails there along with Kayak Instruction, Inc., there as well.
Grapevine is an interesting lake to fish, and is centrally located in the DFW Metroplex. There are almost always plenty of sand bass around, and the lake has largemouth bass and an illusive smallmouth bass population as well.
Weather and water levels on Lake Grapevine can vary greatly, and with the floods we are having now, the lake is above capacity and they are releasing water in epic proportions. It's not a lake I have spent much time on, but it does have enough opportunity to go around. Besides, you can get good looks at it flying in and out of DFW Airport.
This was a good event last year (April 18, 2011) at Lake Ray Roberts where Austin Anderson and I fished and gave demonstrations and rides of the Diablo Kayaks. I will be working in the far reaches of North Texas during April, but will try and get down to Grapevine for this event. The food and friendship is fantastic.
I will include more information as it becomes available. April 14 will be here before we know it.
Category: kayaking